Lucifer Fans Are Oozing Feels On Last Day Of Production For Final Season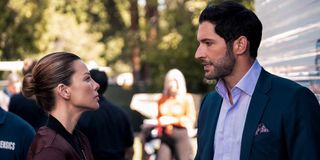 After a roller coaster of cancellations and renewals over the last few years, Netflix's Lucifer is getting ready to deliver its big finale, even though audiences have yet to see Tom Ellis' protagonist in the back half of Season 5. The network-turned-streaming series entered he final day of production for its sixth and final season on March 29, and fans are appropriately feeling all kinds of feels about the show's impact on their lives.
In conjunction to the cast and crew of Lucifer marking the last day of production, fans created the hashtag #ThankYouLucifer to show their appreciation for the devilish drama, the beloved characters and the even more beloved cast they've come to love for the past five seasons. And all that attention didn't go unnoticed, as co-showrunner Joe Henderson reflected fans' appreciation right back at them on Twitter after seeing the hashtag emerge.
For many fans, television is not just a form of casual entertainment, but a means of helping one feel that all is right with the world, even for a little bit. (Even in a show with subject matter such as this.) One fan admitted that Lucifer has helped her in so many ways, and that she's immensely grateful to the cast and crew.
Because of Lucifer, plenty of fans have also found new friends online whom they now call family, meaning the show has successfully changed some fans' lives forever. As well, the Neil Gaiman-inspired series and Tom Ellis' devil have also inspired some viewers to engage in their own creative pathways. As one fan put it:
Believe me when I say 100% of the posts are like this, too. But Lucifer fans aren't the only ones getting emotional. The cast, many of whom have gone through all kinds of renewal and cancellation worries over the last five years, are also saying goodbye to the characters they have played and grown connected to after so long. Fans have been sharing an Instagram by Rachael Harris, who plays Dr. Linda Martin on the show, that depicts her final day on set along with Lauren German (Chloe Decker), Aimee Garcia (Ella Lopez) and D.B.Woodside (Amenadiel):
It's now common knowledge that Lucifer was once canceled by Fox after three seasons, but due to hundreds of fan campaigns and outcries, Netflix picked it up for another season. The series soon became a streaming hit and has topped Netflix's charts when new episodes get released. Fans are obviously grateful for the never-ending second chances they've gotten, not only with the series, but with the close-knit cast continuing to return with each renewal:
While Season 6 is still a while away from making its Netflix debut, we now know that Season 5B's long-awaited release will happen on May 28, so that's something to look forward to! Still, it's hard to not feel emotional when seeing cast and crew sharing photos and videos from the last day of production. With everything the series has been through, the entire Lucifer family; cast, crew, and fans, share a special bond that not many shows have. There aren't too many series out there that were given multiple second chances and actually held up for the better.
Thank you, Lucifer, for being such a great escape for so many of us and giving new meaning to the Devil. We can't wait to see what you have in store for these final episodes!
Your Daily Blend of Entertainment News
Passionate writer. Obsessed with anything and everything entertainment, specifically movies and television. Can get easily attached to fictional characters.