Super Sema's Latest Mission Doesn't Go As Planned In Exclusive Clip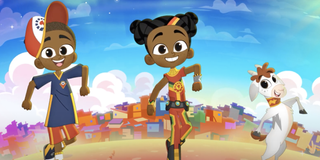 The new YouTube Original series Super Sema is beloved by children worldwide, and while I don't have kids myself I'll venture to say this is a fun one for parents to watch, too. Following young Sema and her twin brother MB on their mission to protect their African town of Dunia from the villainous Tobor, Super Sema is full of adventure. Sometimes plans go awry and the day is not so easily saved, as seen in an exclusive clip from an upcoming episode.
For the Disney fans out there, Super Sema gives some serious Kim Possible vibes. Both shows feature a young female hero, although Sema is extra-impressive in that she's a superhero with STEAM (science, technology, engineering, art and math) fueled powers. Her message is that determination and creativity along with technology and science make anything possible. Her twin brother, MB, more closely resembles Kim Possible's techy friend Wade than sidekick Ron, and together MB and Sema keep Dunia safe. Check them out in the clip below:
Toward the end of the clip, Sema makes a mistake while sneaking around Tobor's lair. She drops a tool, setting off alarms and waking her foe. Tobor and his robot drones start closing in, and we have to watch the brand new episodes dropping today to see how she gets out of this!
Super Sema comes from Kukua, an edutainment company headquartered in Kenya, with an award-winning female team working at the intersection of technology, entertainment and education. It's a great show for kids because of its positive messaging, STEAM education, and writing that's very easy to follow. But I think parents will also enjoy the storylines and appreciate the work that went into the animation. This beautiful series is African-produced, and inspirations from the culture are evident throughout.
Beyond seeing Sema in a sticky situation, which is a great reminder to kids that even with careful planning things can go wrong, the clip also reveals touching moments between Sema and her twin MB. At the start of the clip, he fills her backpack and says he'll be watching her every move. It's such a sweet moment to see between siblings, and throughout the series these two provide a great example of teamwork.
Representation is so important, especially in programming for youth, because a lot of young people learn how society views them and find their identity in people and characters they see in the media. The stars of Super Sema are African, which is a huge step in representation for the African community, but beyond that they represent kids who love learning. Science is cool in Super Sema; these kids aren't nerds.
More than that, we have a female superhero, but the male lead is not forgotten or diminished in any way by not being the superhero. MB is just as involved in the missions as Sema. They defeat the bad guys together, sending the message that both are heroes, and putting their knowledge and skills together is what really saves the day.
Super Sema is streaming on YouTube. Looking for more for the little ones to watch? Here are the best streaming services for kids. If you've already cried during Soul and thought it was too deep for the kiddos, we have a few reasons Soul is more for kids than you'd expect.
Obsessed with Hamilton and most things Disney. Gets too attached to TV show characters. Loves a good thriller, but will only tolerate so much blood.
Your Daily Blend of Entertainment News
Thank you for signing up to CinemaBlend. You will receive a verification email shortly.
There was a problem. Please refresh the page and try again.