How The Rich Culture In Africa Inspired YouTube Original Super Sema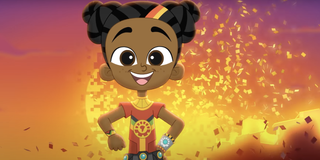 On International Women's Day, YouTube Originals debuted the first African-produced series Super Sema. The animated series follows ten-year-old Sema, a female superhero with powers fueled by STEAM (science, technology, engineering, art and math), who resides in the neo-Africa-futuristic community of Dunia and must save her village from a robot villain. Inspired by the rich culture in Africa, Super Sema not only provides an excellent role model for children but also much-needed representation.
Super Sema was created by Kukua, a multidisciplinary media and technology company that combines education and entertainment. Kukua is headquartered in Kenya where Super Sema was developed by an all-female team. Chief Product Officer, Clara Muthoni, shared the following about the series inspiration:
It sounds like incorporating both the positive and negative was one of the most important aspects for the world of Super Sema. The villain of the series doesn't always have the community's best interests at heart, as with any antagonist, but he is able to learn from Sema as the overall vibe of the show reminds light and fun. Lucrezia Bisignani, Chief Executive Officer of Kukua, elaborated on this when describing the story and character dynamics of the series. Here's what she said:
Super Sema is programming for kids to both enjoy and learn from. As we've now reached the generations who are growing up with no knowledge of life without technology, it's pretty cool that Super Sema showcases a futuristic technological world that offers both the positives and negatives of said technology. Although the villain is a robot, the message is not that AI is bad, but rather that there are good and bad potential uses for it.
Beyond the educational side and giving viewers a look inside Africa, Super Sema is revolutionizing representation for young people of color. This was very important to the team at Kukua when creating Super Sema. In the words of Chief Operating Officer Vanessa Ford,
That truly is the power of storytelling. You can join Sema on her world-changing adventures in Super Sema, now streaming on YouTube. Be forewarned, you'll be singing the theme song for weeks to come. For more streaming options, check out these HBO shows for kids or these Nextfix shows that are just as great for parents.
Obsessed with Hamilton and most things Disney. Gets too attached to TV show characters. Loves a good thriller, but will only tolerate so much blood.
Your Daily Blend of Entertainment News
Thank you for signing up to CinemaBlend. You will receive a verification email shortly.
There was a problem. Please refresh the page and try again.