Cobra Kai Season 4: 7 Quick Things We Know About The Netflix Show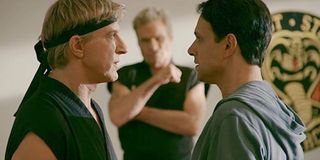 You know, I never would have thought a year ago that I would be obsessed with a show about karate and morals. But, as I started to binge-watch Cobra Kai, I realized how great of a show the Netflix series is. In January, when Season 3 of Cobra Kai kicked into action, already there were people wondering when Season 4 was on its way after several stories were left unfinished, with villains seeming to have arisen from the ashes.
What exactly do we know about the upcoming season? When is the Cobra Kai Season 4 premiere date? Will Netflix order more seasons after this? There are so many questions that we want the answers to – and luckily, we have a few of those answers already. These are seven quick things we know about Cobra Kai Season 4.
Production On Season 4 Of Cobra Kai Has Already Begun
Everybody calm down! Thankfully, production of this great show has not been taken away from us yet. According to a @NetflixGeeked on Twitter report at the end of February, the production of Season 4 has already begun, adding a picture of the script for Season 4, Episode 1, aptly titled "Let's Begin."
For those who don't remember what happened at the end of Season 3, the studios of Cobra Kai and Miyagi-Do combined to take on Kreese, Johnny's former karate instructor, so it seems that we are getting right back into the conflict that Season 3 left off on.
Writer Jon Hurwitz Says Season 4 Of Cobra Kai Will Come Out Roughly A Year After Season 3
Also, for fans who are impatient (like I am, honestly) we won't have to wait that long for Season 4 of Cobra Kai to release. According to a Twitter post, the writer for Cobra Kai, Jon Hurwitz, gave a good estimate as to when Season 4 would debut:
While that's not a confirmation, it does at least give us a little bit of a guess as to when it's arriving. Season 3 premiered on January 8, 2021, so I'd say that the earliest we will most likely get Season 4 of Cobra Kai will be January 2022. And, since production is currently underway, who knows? We might even get it earlier.
Vanessa Rubio And Peyton List Will Become Series Regulars In Season 4 Of Cobra Kai
I'm pretty sure we can all guarantee that most of the main characters that we have grown to love over the last couple of seasons will return, especially classic characters Johnny and Daniel, and their kids and students. But, two characters, who have mainly stayed on the sideline for some time, are finally being promoted to main character status in Season 4 of Cobra Kai.
According to Deadline, Vanessa Rubio, who plays Carmen Diez, Miguel's mother who is extremely hard-working and has been around since Season 1, is finally being promoted to the main cast. Along with this comes Peyton List, who plays Tory Nichols, a troubled teen who isn't afraid to fight for what she believes in.
Rubio has appeared in 16 episodes since Season 1, and List has appeared in 15 episodes since Season 2. Because both of their stories were starting to get quite interesting in Season 3, with us learning more about Tory's mother and Carmen starting a potential relationship with Johnny, it's not a surprise that we are going to be getting more of them in Season 4. I, for one, am very excited!
There Will Be Some New Faces In Cobra Kai Season 4
Just because we got some news on characters we already love in Cobra Kai, that doesn't mean we don't have some new faces joining the crew. Two new cast members in the form of Dallas Depree Young and Oona O'Brien will be joining in recurring roles. Young will be playing Kenny, a child who is bullied and wants to use karate as self-defense.
O'Brien will be playing a different kind of character, a potential karate student who is both studious and competitive but is quick to have a temper.
For an already diverse cast of characters, it'll be fun to see the addition of two new faces to the Cobra Kai family.
Season 4 Of Cobra Kai Will Not Be The Last
Rejoice if you thought that Season 4 of Cobra Kai might have ended up being the last, because in an interview with TV Line, executive producers Josh Heald confirmed that Season 4 will only continue the story, not end it.
Now that is some awesome news to hear. Not going to lie, I was a bit scared that Season 4 might have been the end, but hearing the producer say that makes me feel way better!
There Will Be Several Storylines Expanded On In Season 4 Of Cobra Kai
I've always looked at Cobra Kai as this overarching story that intersects at so many points, which is what makes it really good TV. But obviously, there are guaranteed to be some stories expanded on.
In an interview with Entertainment Weekly, the producers of the show commented on several storylines that are going to grow in Season 4, namely the story of Robby and his constant struggle with right and wrong, and how karate fits into that.
There are so many stories at the moment that I sometimes find it hard to keep track. Hopefully, the writers can find a way to somehow intersect all of these and make it flow fantastically, as they always have.
The Love Stories Will Also Be Expanded In Season 4 Of Cobra Kai
Finally, we can't have a Cobra Kai Season 4 without the love stories, which, honestly, have been a fun addition to an already great show. Of course, as the show progresses, we are going to get more of these love stories told, specifically with the love triangle of Miguel, Robby, and Samantha.
In an interview with Teen Vogue on Instagram, Mary Mouser, the actress behind Samantha, talked about the future of her character – along with her two love interests from the past.
It wouldn't be Cobra Kai without some great teen drama thrown in there, right? But, I'm not complaining. Bring on the dramatic love triangle!
With all of this news, I'm even more excited for Season 4 of Cobra Kai. Can January 2022 come sooner? I wish I could see it sooner, but turns out we'll just need to be patient for a little longer.
Your Daily Blend of Entertainment News
Big nerd and lover of Game of Thrones/A Song of Ice and Fire. Will forever hate season eight. Superhero and horror geek. And please don't debate me on The Last of Us 2, it was amazing!