Ralph Macchio: What To Watch If You Like The Cobra Kai Star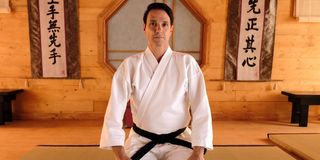 CinemaBlend participates in affiliate programs with various companies. We may earn a commission when you click on or make purchases via links.
When I think of eighties stars, Ralph Macchio is one of the first that comes to mind. After having starred in many classics of the eighties, such as The Karate Kid and The Outsiders, there are few that stand out so much. But what exactly has this popular star been up to since those days? And what are the best ways in which you can find things he has been in?
This is your go-to list for that. For all your Ralph Macchio needs, here are the best films or TV shows that you can find the legendary karate kid in that are streaming or available to rent.
The Outsiders (AMC+)
I always had a deep fondness for The Outsiders since I was a kid, mainly because it was one of those books I was required to read back in middle school – however, I ended up loving it all the same, and the movie is just as great. The Outsiders tells the story of Pony Boy Curtis, someone who believes that he is an outsider to society, as he struggles to understand what is right and what is wrong.
The movie itself is a great coming-of-age tale, just as the book was, and for anyone who needs a good, short read (the novel really isn't that long), it's worth a shot. But if books aren't your style, check out the film instead. Ralph Macchio, in one of his earlier roles, does a great job portraying Johnny Cade, and the rest of the cast is spectacular as well, with a young Patrick Swayze taking on a lead role. It's most certainly worth your time.
Stream it on AMC+ through Amazon Prime.
Rent it here.
My Cousin Vinny (Amazon Prime)
Now moving over into the comedy genre, My Cousin Vinny covers all those marks incredibly. The film follows two young New Yorkers who are traveling through Alabama when they are arrested and put on trial for a murder they did not commit Bill (Ralph Macchio) hires his cousin to defend him. While Vinny (Joe Pesci) is an attorney, he only just passed the bar and doesn't have much (or any) experience at trials or murder cases.
As someone who grew up in New York – as did Ralph Macchio – I can see why he was drawn to this film. Most of the humor seems to stem from the cultural difference between the brash New Yorkers and the more laid-back Southerners of the United States. However, that doesn't mean that it's still not a funny as heck movie, and the comedy works so well. Stars like Joe Pesci, Marisa Tomei, and Mitchell Whitfield star alongside Ralph Macchio in this big hit. If you're a comedy fan, this is the film for you.
Rent My Cousin Vinny here.
Beer League (Amazon Prime)
Moving on to another comedy film, Beer League tackles the sports movie in a funny way. The film follows the story of an unemployed man who is trying to inspire his softball teammates to improve their game so they don't get kicked out of the local league that they play in.
While it's not everyone's film – meaning I feel that you have to be into sports to really like it – there are some fun moments in it that anyone would find funny. Ralph Macchio takes on one of the starring roles along with Cara Buono and Laurie Metcalf, so it's not like this film isn't without star power. Sports fans rejoice, as this film is for you.
Stream Beer League on Amazon Prime here.
Hitchcock (Cinemax)
I always believed that Hitchcock became an all-time classic, for many reasons, mainly because we got to see a deep-dive into the mind of one of the best filmmakers of all time. Hitchcock lets us learn the story of how the classic Alfred Hitchcock movie, Psycho, was made, and the drama that went on behind the scenes.
While his role is smaller than others that he has been in, Ralph Macchio still shines in the movie, alongside plenty of other big-time Hollywood stars like Anthony Hopkins, Scarlett Johansson, Jessica Biel, and more. Not only that but the story is quite interesting if you're a film buff. It really does reveal the craziness that went on behind the scenes of one of the most iconic movies of all time and shows how even the most brilliant minds can have issues with their own pieces of work.
Stream Hitchcock on Cinemax here.
Rent it here.
He's Way More Famous Than You (Pluto TV)
Moving back into the comedy scene, He's Way More Famous Than You tells an age-old story of trying to hike up your bootstraps and find a solution to an issue when it feels like there is none. This film is all about Halley Feiffer, a once-promising actress who loses her career, her boyfriend, and her agent all at once. So now, she decides that the only way to save herself is to try and make her own movie.
One of my favorite things about these smaller films is that all of these scenes seem to be really intimate, so you get to see into the mind of the main character. And even as a comedy film, you really get that in this. Ralph Macchio has a main role, alongside co-stars like Jesse Eisenberg, Ben Stiller, and several others that really pull this movie together.
While a bit more unknown on the list, He's Way More Famous Than You shows the power of perseverance, and what someone can accomplish if they put their minds to something – even if it can sometimes be a little ridiculous with how crazy some of these comedic scenes can get. It's most certainly a "balls to the wall" kind of comedy show – but it has heart too.
Stream He's Way More Famous Than You on Pluto TV here.
Rent it here.
Lost Cat Corona (Tubi)
I know that the last word almost feels cursed now, but hear me out when I say that Lost Cat Corona is actually a good time. In another comedy entry on this list, Lost Cat Corona tells the story of a man who is searching for his wife's missing cat, and this journey brings him to face his colorful and crazy neighborhood – but also the dangerous parts as well, where he needs to confront his fears to make his wife happy.
This movie is so silly, but that's really what makes it watchable, as long as you don't take it seriously. There are some parts in Lost Cat Corona that are ridiculous and have you scratching your head, but once you put it in context, it fits surprisingly well. Ralph Macchio, starring as the husband searching for the cat, shines in this comedic entry, no matter how zany the plot can get sometimes. If you're down for a quirky yet fun comedy, this film is for you.
Stream Lost Cat Corona on Tubi here.
Rent it here.
Psych: The Movie (Peacock)
This made-for-TV movie is based on the USA Network dramedy of the same name. In Psych: The Movie, the old gang from the television series comes together during the holidays after an assailant targets one of their own, and it's up to them to figure out who this assailant is.
For those who don't know about Psych, the main series was about detectives and the fact that the main character was able to solve cases with supposed "psychic abilities," which we really just extremely sharp observational skills. While you should definitely know a bit more about the original show before watching, Psych: The Movie provides good comedic fun that is also full of mysteries and zaniness that you would come to expect. Ralph Macchio is a great return to this already killer cast of stars from the original show, with him reprising his role from the series. I won't say who the assailant is though – that is for you to deduct and find out for yourself!
Stream Psych: The Movie on Peacock here.
Rent it here.
The Karate Kid Movies (Amazon Prime)
You know them. You love them. They were a classic of the eighties. The Karate Kid films follows the tale of Daniel LaRusso, the new kid in town who ends up getting bullied for "stealing" the popular guy's girl (even if they weren't dating at the time). So, it's up to Daniel to train with Mr. Miyagi and learn the art of karate to take down Johnny Lawrence and his crew of goons.
It's a classic eighties film for a reason. And Mr. Miyagi himself shines with some of the wisdom he offers to Daniel about life, and how even the moves he uses in karate can provide some great life lessons. The second and third films aren't quite as good as the original (in my opinion), but they still offer some great scenes no matter how formulaic the plot may still be. And as always, Ralph Macchio is amazing at the role of Daniel. The chemistry that he has with Pat Morita (Mr. Miyagi) will always be top tier.
Rent The Karate Kid movies here.
Cobra Kai (Netflix)
I mean, it's why you're here, most likely, but I might as well take the time to talk about this awesome show. Cobra Kai is a direct follow-up TV show to the Karate Kid movies, where both Ralph Macchio and William Zabka (who played Johnny Lawrence in the original film) star. Cobra Kai is actually originally from Johnny's point of view, and when his life seems to be falling apart, he decides to build his own dojo and return back to his roots, naming it Cobra Kai after his original dojo.
For fans of the Karate Kid series, this is a must-watch for you. Not only are there so many callbacks to the original movies, but it's genuinely interesting to see these two characters fleshed out in a way that we never quite saw before, and see what they have been doing for all this time.
The rivalry that sparks back up between them brings back memories, and somehow, the same formula still works – one must beat the other. Not only that, but the stories are actually compelling, and of course full of fun fight scenes that end with plenty of drama. It's definitely one of Ralph Macchio's best projects to date. Even if you've never seen Karate Kid, I believe you can still find some fun in this Netflix series.
Stream Cobra Kai on Netflix here.
Rent it here.
Hopefully, this list will provide enough Ralph Macchio options for all the fans out there. On that note, I'm going to go and rewatch Cobra Kai for the umpteenth time – I think I need to start getting my own karate lessons now at this point.
Your Daily Blend of Entertainment News
Big nerd and lover of Game of Thrones/A Song of Ice and Fire. Will forever hate season eight. Superhero and horror geek. And please don't debate me on The Last of Us 2, it was amazing!