Why SEAL Team Needs To Be Renewed For Season 5 After Bravo's Recent Struggles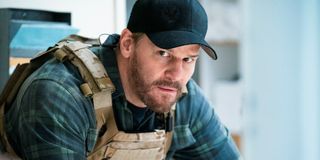 Warning! The following contains spoilers for the SEAL Team episode "Do No Harm." Read at your own risk!
SEAL Team is deep into Season 4, and while other CBS programming like S.W.A.T. and NCIS have gotten the green light for another season, the David Boreanaz series is still in limbo. I think I agree with most fans when I say it needs another season, especially with the rough shape Bravo Team is in at the moment.
Jason Hayes is back as team leader but is perhaps overcompensating a bit in trying to fix everyone else's problems. The guy just skated back in like he didn't get court-martialed just a couple of weeks back and tried to get on Ray about his behavior during the mission. Granted, he was right to do so, especially after Ray almost got physical with a nurse who he felt made a disrespectful comment about his relationship with his wife.
Ray confessed that his outburst was due to ongoing struggles at home with his wife Naima, though told Jason things had been shaky since before he was taken hostage. Obviously, the hostage situation only made tensions worse, but we got no real resolution of whether Ray would seek help and try to work things out with his wife.
We've known Sonny had been struggling prior to this, but his baby mama and girlfriend drama apparently isn't the worst of it. Jason caught him drinking after the op went sideways, which was a reckless move that could've gotten Bravo sidelined immediately if someone higher up discovered it. I can't really get behind Sonny's reason for drinking, though I also empathize with the fact that nothing has really gone right for him as of late.
Then there's Clay, who isn't really having anything negative happen at the moment, but he's shaping up to have some sort of confrontation with the rest of Bravo soon. Clay was approached and complimented on his skills in the field, to the point that it was suggested he could likely lead a team on his own. Clay brushed off the notion, though it's hard to imagine he won't eventually want command of his own one day. The problem was it seemed the suggestion was that he takes Jason's job, which would be a major betrayal not just to his team leader but to the rest of Bravo as well.
We're deep in the season, and things look shakier for Bravo Team than they've been in some time. Should the show not be renewed and end with them in this state, we could be looking at a real bummer of a series finale. For that reason alone, SEAL Team should get another season, but CBS hasn't given the word yet one way or the other.
SEAL Team airs on CBS (opens in new tab) Wednesdays at 9:00 p.m. ET. For those curious about whether the cast and crew are hoping they'll get another season like fans may be, David Boreanaz at least is invested in keeping the series going for a couple of reasons.
Your Daily Blend of Entertainment News
Mick likes good television, but also reality television. He grew up on Star Wars, DC, Marvel, and pro wrestling and loves to discuss and dissect most of it. He's been writing online for over a decade and never dreamed he'd be in the position he is today.