6 Great Shade-Throwing Moments From The Real Housewives Of Atlanta Season 13 Reunions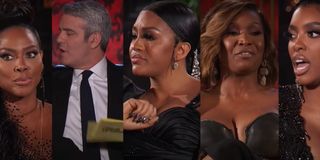 (Image credit: Bravo)
Real Housewives of Atlanta's thirteenth season was one of its more jaw-dropping ones in recent years. Any show that becomes defined by a "StripperGate" scandal is doing Bravo a favor. But the real Real Housewives fans can tell you: the drama and shade-throwing at reunions are even better.
Last year's Real Housewives of Atlanta reunion fell a little short of expectations due to the quarantine rules that forced a "virtual reunion" on us. Plain and simple, it was boring. There's just something about physical eye-to-eye contact, it seems, that creates better drama. The 3-part in-person reunion this year delivered some of the best shade-throwing moments atop an already scandalous season. Let's take a look.
StripperGate Unpacked
The number one thing on everyone's minds going into the final Real Housewives of Atlanta reunion was Bolo the Stripper – and who he supposedly slept with at Cynthia Bailey's bachelorette party. It's on people's minds precisely because Kenya Moore refused to let people forget. She accused Porsha Williams of the sex dalliance and, of course, it was pinned to the metaphorical cross at the reunion.
Kenya Moore and, oddly, Marlo Hampton were very pressed to get Porsha William to admit that she slept with the stripper. She didn't admit to it – but made it loud and clear that the women were "slut-shaming" her and proceeded to do a peacock strut around the stage. While she did so, she threw a little shade at Moore and her impending divorce: "I only wish you were this obsessed with your husband." However, Hampton tossed at Williams, "You've always been a fan of me. You need lypo. You got those big horse teeth." It's obvious that StripperGate was clearly at the expense of Hampton and Williams' once close friendship.
Drew Sidora Vs. LaToya Ali: False? Prophets
Apart from Bolo the Stripper, another third party that was a huge draw for the last reunion special was the "Prophet" who supposedly started something with LaToya Ali and prevented Sidora from having a baby blessing by him. On the last half of Season 13, Sidora labeled Ali as a homemaker and a "Delilah." It only got worse at the reunion.
The whole "Prophet" situation didn't exactly get resolved, but it was perfect stomping shade ground. Even host Andy Cohen threw a little criticism at Drew Sidora, saying, "If you're gonna be a housewife, you have to deliver these receipts." Sidora could only clumsily say that perhaps he was a "false prophet" after all. To which, LaToya Ali's eyebrows were at the roof and hilariously asked, "A false prophet was supposed to bless your baby!?"
Kenya Moore Vs. Porsha Williams: Black Lives Matter
Season 13 of Real Housewives of Atlanta filmed during a very pivotal moment in our nation's history. The pandemic was in full effect and, simultaneously, waves of Black Lives Matter protests erupted after George Floyd's murder. Porsha Williams became very active in the movement for deeper social justice – and was even arrested while protesting in Breonna Taylor's name. If you think something as serious as Black Lives Matter was off-limits for shade, though, think again.
Kenya Moore was asked why she dismissed Porsha Williams' activism during the season, and she referenced a PSA for voting that Williams excluded her from. In turn, Williams noted that these projects "come from a very humble place," shadily alluding that Moore isn't humble. But Moore hit back with, "Her actions show me she doesn't care about all of our lives." It's surprising that Williams didn't interpret that particular comment more as fighting words.
Kenya Moore Vs. Porsha Williams: Native American Faux Pas
Kenya Moore caught a lot of backlash from fans when she was spotted wearing a Native American-style costume to a Halloween party. She would later apologize for her actions, but Porsha Williams wasn't willing to let Moore off that easily at the second reunion special for Real Housewives of Atlanta.
During the season, Kenya Moore threw the first dart, apparently, by joking about Porsha Williams' current activism in contrast to her infamous underground railroad faux pas from years ago. You could tell Williams was thinking about this when the discussion turned to the backlash Moore was receiving and she served this expert moment of underhand shade: "I'm proud of you for educating yourself because you recognized that it was very ignorant, very hurtful to that culture."
Childish Drama: Kenya Moore Vs. Kandi Burruss Vs. Bravo?
The one golden rule of the Real Housewives franchise is: do not bring up the kids in the drama. It also just so happens to be the rule that the ladies break all the time. With both Porsha Williams and Kenya Moore being first-time mothers and Kandi Burruss with her third child (conceived by surrogacy), it was bound to be a topic of conversation – and ammo for when the drama got high. On the second part of the Real Housewives of Atlanta reunion, the women unpacked the kid rule breakers this season.
Kenya Moore doubled down in her defense of herself that she didn't need to specifically tell the other women that they could bring their kids to South Carolina, shadily saying to Kandi Burruss: "You arranged a whole dick-n-the-box to come but if you wanted to have your child there, I think you could have made it happen easier than I made it happen." Burruss didn't seem to like that much, but one of the more interesting revelations from the discussion was that the error wasn't so much that Moore didn't extend the kid-friendly invitation, but that apparently, Bravo production has a blanket no-kids policy for girls' trips. It read like shade toward Bravo policy, given they are all working mothers.
Marlo Hampton: Friend Of The Show Shade
Now, Marlo Hampton has never been a part of the main cast of Real Housewives of Atlanta, but she is the ultimate queen of "friends of the show." She seems to maintain this position through iconic sideline shade-throwing moments. And she deployed this superpower throughout Season 13 and the reunion specials.
There seemed to be a specific undercurrent of dislike between Marlo Hampton and another friend of the show, Shamea Morton. In fact, Morton kept remarking again and again that Marlo Hampton had liposuction surgery. No matter, Hampton shadily stage-whispered that Morton's reunion style was giving "Coming to America" vibes. Ouch. Hampton took the shade to another level with Porsha Williams next. She claimed during the second part reunion that Williams' and Kandi Burruss' newly reforged friendship was suspicious, even going so far as to say that Burruss "must have dirt on her or something."
Prophets, strippers, bad wigs – Real Housewives of Atlanta has still got the drama and the women still got their shade-throwing crowns. Except Cynthia Bailey, of course. No shade! With the thirteenth season closed out, though, I guess all that can be said is – what happens in the dungeon, stays in the dungeon.
Your Daily Blend of Entertainment News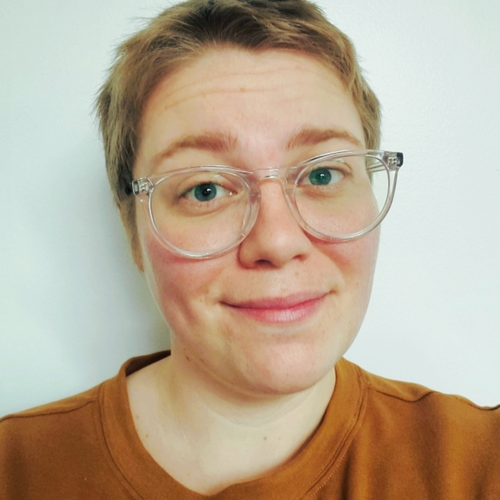 Movies and TV News Writer
Freelance writer. Favs: film history, reality TV, astronomy, French fries.