Human Resources: 5 Quick Things We Know About The Big Mouth Spinoff Coming To Netflix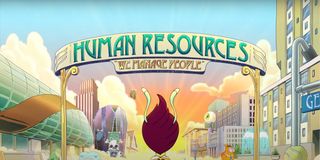 Netflix TV shows are all the rage. The animated comedy Big Mouth made waves when it originally landed in 2017 with its absurd sense of humor and rolodex of hilarious characters. Chief among them were the aptly named Hormone Monsters, otherworldly creatures that appeared to guide their adolescent charges through puberty. The show so far has only shown us glimpses of the universe the Hormone Monsters inhabit, but that's all about to change. Netflix's Human Resources is a new Big Mouth spin-off series that will focus on the trials and tribulations of being a Hormone Monster. Interested? Here's 5 things about the spin-off we know for sure.
Our Favorite Hormone Monsters Are The Stars Of The Show
Big Mouth centers on Nick Birch (Nick Kroll), Andrew Glouberman (John Mulaney), and Jessi Glaser (Jessi Klein), three middle-schoolers navigating the horrors of puberty. The series introduced two Hormone Monsters, Maurice (also Nick Kroll) and Connie (the Emmy-Award winning Maya Rudolph), two otherworldly creatures claiming to help the kids through their transition. While Connie and Maurice are merely the icing on the cake that is Big Mouth, Human Resources will see the oddball monsters take center stage.
According to Netflix's original announcement, Human Resources "pulls back the curtain on the daily lives of the creatures - Hormone Monsters, Depression Kitties, Shame Wizards and many more - that help humans journey through every aspect of life from puberty to childbirth to the twilight years." We can probably expect to see a wider array of weird beasts, not that anything can really get weirder than whatever's going on with Rick the Hormone Monster (and yes, that is also Nick Kroll).
The Human Resources Cast Includes Several Comedy Mainstays
Returning cast members include Nick Kroll, Maya Rudolph, and David Thewlis as the vaguely British-sounding Shame Wizard. There's no word on whether or not other main cast members from Big Mouth, such as John Mulaney and Jason Mantzoukas (Jay Blizerian), will be appearing on Human Resources, but there are some new cast additions that are sure to excite stalwart comedy fans, per Variety.
First up, we have Randall Park, who you may recognize from the ABC's Fresh Off the Boat and the Netflix original rom-com Always Be My Maybe alongside comedian Ali Wong (who has also appeared on Big Mouth as a fellow adolescent). He'll be playing a so-called 'Logic Rock' named Pete. Joining him is Saturday Night Live alum and Shrill co-producer/star Aidy Bryant, as well as Big Mouth staff writer Brandon Kyle Goodman. He voiced a few unnamed characters on Big Mouth but will transition to a series regular on Human Resources.
Last, but certainly not least, is talk show host and Hustlers actress Keke Palmer. Aside from Randall Park as Pete the Logic Rock, none of the newcomers' characters have been revealed. It's probably safe to assume they'll join Maurice and Connie as hormone-themed creatures. Aidy Bryant has addressed body positivity in Shrill, so she would fit right in as a Hormone Monstress singing songs like 'I Love My Body' with Connie - not to mention that it will be a fun SNL reunion for Maya Rudolph.
There's No Confirmed Release Date For Human Resources (Yet)
Netflix has not officially set a release date for the Season 1 premiere of Human Resources. The show's original announcement was posted to Youtube in 2019, but COVID-19 most likely threw a wrench in any production plans. Big Mouth typically takes a year-long break between seasons, so it's possible that Season 1 of Human Resources could take the same amount of time to create. However, that depends on the length of the episodes and how many will be in a season. The average season of Big Mouth includes 10 episodes ranging from 25 to 45 minutes each. If Human Resources follows a similar template, it could be released as soon as mid-2022 if production has already begun. Fingers crossed that it comes sooner rather than later - the next season of Big Mouth doesn't have a release date, either, and I feel absolutely deprived.
It's Going to be More 'Adult' than Big Mouth, If That's Possible
If you're reading this, it's probably safe to say that you watched Big Mouth. And if you watched Big Mouth, you probably know that the show can get a little... well, gross. And vulgar, and vile, and definitely not PG-13. It stands to reason that Human Resources would be the same, but apparently it's going to handle more 'adult' topics. That's pretty hard to imagine, considering the graphic detail that makes Big Mouth so hilarious, but I wouldn't put it past the people who made Andrew Glouberman send suggestive photos to his cousin Cherry. Or wrote several musical numbers for a middle-school production of 'Disclosure the Movie: The Musical'. Or had Jay Bilzerian date both an anthropomorphic pillow and a couch cushion at the same time. Co-producer Mark Levin described the show to Inverse as 'Big Mouth Meets The Office.' Increasingly disgusting humor, photocopiers, and meetings that could have just been emails? Doesn't get more adult than that.
It Will Be The First Project for New Production Company Brutus Pink
The four creators/producers of Big Mouth (Nick Kroll, Andrew Goldberg, Mark Levin, and Jennifer Flackett) have formed their own production company Brutus Pink. The fledgling animation house signed a multi-project deal with Netflix that includes the first season of Human Resources and all future seasons of Big Mouth. Brutus Pink will also produce several other animated projects for Netflix over the next few years, although no other titles have officially been released. The future looks bright for Big Mouth and Human Resources: many Netflix original shows don't make it past the first couple of seasons (RIP The Get Down and American Vandal). Netflix's deal with Brutus Pink almost guarantees that the shows will stick around, which is good news for fans of raunchy humor and graphic depictions of cartoon puberty. And, let's be real, who isn't?
Your Daily Blend of Entertainment News
Actor, singer, and occasional dancer. Likes: fashion, books, old buildings. Dislikes: cilantro, the NJ Turnpike, sneaker wedges.