His Dark Materials Season 3: 7 Quick Things We Know About The HBO Series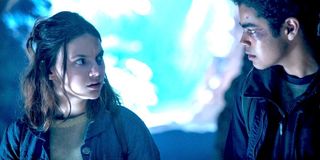 CinemaBlend participates in affiliate programs with various companies. We may earn a commission when you click on or make purchases via links.
The popularity of the His Dark Materials books has translated very well for HBO. The show has overall been well-received by fans of Philip Pullman's original material, critics, and families--achieving respectable viewership. The series had two dynamic seasons so far but His Dark Materials Season 3 may be the best one yet.
His Dark Materials Season 3 will continue the adventure of Lyra Belacqua (Dafne Keen) and Will Parry (Amir Wilson) as they explore new worlds and find their way back to one another. The upcoming season will have plenty of action, surprises, and exciting reveals. We can't wait for His Dark Materials Season 3. It may be several months before the new season hits HBO, but we now know quite a bit about His Dark Materials Season 3. Let's examine some of the quick things we know so far about the new season of this HBO series.
Warning: minor His Dark Materials spoilers ahead.
His Dark Materials Season 3 Is The Final Season
In October 2020, before His Dark Materials Season 2 even premiered, Deadline reported that HBO and the BBC renewed the series for season 3 and it would be the final season. The announcement of His Dark Materials Season 3 being the last shouldn't have come as a shock to many, as originally the His Dark Materials books were a trilogy.
However, in November 2019, His Dark Materials producer Jane Tranter told Deadline that she would have liked to split the events of the third book into two seasons. She believed the third His Dark Materials book had enough material to flesh out over the course of two seasons.
She also mentioned the possibility of His Dark Materials team also adapting Philip Pullman's other books set in the world of His Dark Materials, such as The Secret Commonwealth and La Belle Sauvage. The books go more into Lyra's history and follow her as an adult. Because of the time jump, there is still a possibility that these books could eventually be adapted by the BBC and HBO.
His Dark Materials Season 3 Follows The Events Of The Amber Spyglass
His Dark Materials Season 3 follows the event of the third book in the original trilogy: The Amber Spyglass. The other two previous seasons followed the events of the first and second books, The Golden Compass/Northern Lights and The Subtle Knife. Like previous seasons, we're expecting His Dark Materials Season 3 to be a fairly faithful adaptation with a few changes.
The Amber Spyglass is the largest of the three books, so there is a good chance that some storylines and details will be omitted because of limited episodes. His Dark Materials Season 3 will follow Will and Lyra as they travel across worlds to find each other.
His Dark Materials Season 3 Has Eight Episodes
His Dark Materials Season 1 had eight episodes and Season 2 was supposed to have eight episodes, but one episode couldn't finish filming due to the COViD-19 production suspensions. Therefore, it makes sense for His Dark Materials Season 3 to have eight final episodes as well.
This means the series will have a lot to cram into each episode to offer Philip Pullman and His Dark Materials fans an ending that satisfies and stays true to the books.
Dafne Keen, Ruth Wilson, Amir Wilson, And Others Return For His Dark Materials Season 3
Many of the main characters from His Dark Materials' previous two seasons return for the final one. Stars Dafne Keen and Amir Wilson return to reprise their roles as Lyra and Will. Ruth Wilson will also be back as the devilish Mrs. Coulter. James McAvoy will return as Lord Asriel.
Simone Kirby makes her return as Mary Malone, a character that was introduced in Season 2. Also returning are Will Keen as Father President MacPhail, Jade Anouka as Ruta Skadi, and Ruta Gedmintas as Serafina.
One character that's unclear if he will return is Lee Scoresby (played by Lin-Manuel Miranda). Lee makes an appearance in The Amber Spyglass, so there is an opportunity for Miranda to return but any future appearances on His Dark Materials depend on how the writers' approach the book and Miranda's availability, but in December 2020 he told Variety that he would be open to a return.
His Dark Materials Season 3 Introduces Plenty Of New Characters
His Dark Materials will add several new cast members to the final season. Adewale Akinnuoye-Agbaje will play Commander Ogunwe. Jamie Ward will play Father Gomez. Amber Fitzgerald-Woolfe plays Ama. Kobna Holdbrook-Smith, Simon Harrison, and Chipo Chung are the rebel angels Balthamos, Baruch, and Xaphania.
Ogunwe is part of Lord Asriel's military forces, Father Gomez will be part of the twelve members of the Consistorial Court of Discipline, and Ama will likely have a role in Lyra's third season storyline. The three angels play a major role in the rebellion against the Authority.
His Dark Materials Season 3 Began Filming In May 2021
In June 2021, Bad Wolf Productions released an image of the first day of filming His Dark Materials Season 3. Though the image wasn't released until June 2021, the clapperboard shows a date of May 24. His Dark Materials is mainly filmed throughout Wales and England.
Filming on His Dark Materials Season 1 wrapped in December 2018. Season 1 didn't premiere until November 2019. Production on the second season began before the first season aired. Filming wrapped on Season 2 before July 2020 because they weren't able to film the stand-alone eighth episode that focused on McAvoy's Lord Asriel. His Dark Materials Season 2 premiered in November 2020.
It's a safe bet to assume that His Dark Materials Season 3 will premiere in November, but whether that's November 2021 or November 2022 is yet to be determined.
His Dark Materials Season 3 Will Be "Down And Dirty"
It's still unclear how faithful of an adaptation His Dark Materials Season 3 will be to the book, but we do know Lord Asriel will continue his war and battle against the Authority. James McAvoy spoke to The One Show and gave very basic details on the upcoming season of HBO's hit series.
We're definitely in for an exciting His Dark Materials Season 3. We may have to wait until the fall to see His Dark Materials Season 3, but there are plenty of 2021 Summer TV Shows to keep you busy. The first two seasons of His Dark Materials are available to stream on HBO Max. Stream it here.
Your Daily Blend of Entertainment News
Spent most of my life in various parts of Illinois, including attending college in Evanston. I have been a life long lover of pop culture, especially television, turned that passion into writing about all things entertainment related. When I'm not writing about pop culture, I can be found channeling Gordon Ramsay by kicking people out the kitchen.