Sorry To Adam Levine, But There Was Only One The Voice Personality Who Was Invited To Gwen Stefani And Blake Shelton's Wedding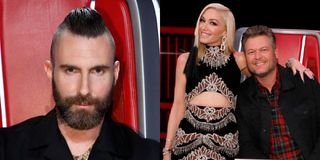 If you've been watching NBC's The Voice from the very beginning, or even sometime before Adam Levine's departure in 2019, you should have noticed a seemingly tight bond between Levine and Blake Shelton. The two long time judges have a certain chemistry, each taking turns throwing apparent friendly shade at one another. Even so, there seems to have been only one The Voice alum who was invited to Gwen Stefani and Shelton's long awaited wedding - and it wasn't Maroon 5's lead singer!
Even though Blake Shelton and Gwen Stefani met because of The Voice, Stefani having appeared alongside Shelton as a judge sporadically throughout the years, Carson Daly seems to be the only personality from the show to attend the musically inclined couple's wedding. It would also seem that Daly actually officiated the wedding as well.
According to a source for The Sun, Adam Levine was not the only oversight, either. There have been a ton of big names who have sat in those big, spinning judges' chairs on The Voice and, apparently, none of them were on the guest list. Here's what the insider source said, exactly:
While the practice of smaller, close-knit weddings certainly isn't new, especially since COVID still brings a whole new world of concerns for a lot of people, the omittance of Adam Levine honestly still may surprise both fans and Levine himself. Sure, it's been three years since Levine left the show, but that's not very long for him and Blake Shelton to be apart when you consider that they both regularly referred to each other as brothers on the show.
Of course, Adam Levine did throw a little trash talk the couple's way concerning their wedding, saying ahead of the ceremony that he would totally crash it if he weren't invited. The newlywed couple may have taken the Maroon 5's leading man a little literally, because apparently he found out about the wedding via social media after the fact. I mean, you can't crash a wedding if you don't know it's happening.
Despite poking a little fun at the couple, Adam Levine clearly would have been down for attending the wedding. Ahead of the big day, Levine even said he loves the couple and he would be down to play at his The Voice co-stars' wedding, if they had only asked him to. One can only hope he's not too heartbroken about being left out of all the celebratory fun.
Even though it would seem as though all the trash talk that has been dished between Adam Levine and Blake Shelton over the years is purely good fun between two brothers, the reality may be a little different. Of course, it may just be that the two stars have indeed grown apart over the last three years, not having been working side by side any longer, like they had been for 16 seasons. The two did reunite on the show, though, if only briefly, when Levine returned to The Voice for the Season 20 finale.
The two seemed to maintain their bromance during their reunion, it's just unfortunate that it didn't warrant a wedding invite for Adam Levine, apparently. Then again, since no other judges were invited, maybe the newlyweds just didn't want to play favorites... well, at least Carson Daly made the cut! Either way, love is always something worth celebrating and a huge congrats to Blake Shelton and Gwen Stefani on their new union!
Your Daily Blend of Entertainment News
Constantly thinking about books, coffee, and the existential dread I feel from Bo Burnham's Inside. While writing I'm also raising a chaotic toddler, who may or may not have picked up personality traits from watching one too many episodes of Trailer Park Boys.