6 Chicago P.D. Questions That Still Need Answers As Season 9 Begins Filming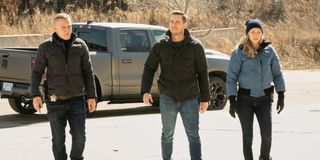 (Image credit: NBC)
Chicago P.D. ended Season 8 with a doozy of a finale that all but turned the Intelligence Unit upside down, and it left a lot of unanswered questions that P.D. will need to address when it returns in Season 9. Now, almost exactly halfway through the hiatus before all three shows of One Chicago are back on NBC, one P.D. star has revealed the beginning of filming for Season 9, and there are several questions that I think need to be answered sooner rather than later in the new season.
Jesse Lee Soffer, who has been playing Jay Halstead going all the way back to Chicago P.D.'s origins on Chicago Fire, took to Twitter a little after midnight on July 21 to reveal that filming for Season 9 was going to start in the morning (and he was still awake). In honor of the occasion, here are my picks for six questions that need to be answered now that the finale has sunk in for a couple of months!
Will Samantha Miller Be Back?
Nicole Ari Parker joined the Chicago P.D. cast as Deputy Superintendent Samantha Miller to lead the charge in police reform at the start of Season 8, but she sustained a personal loss in the penultimate episode of the season when her son was murdered. She arguably could have bent the rules to possibly save his life, but that was only obvious to her in hindsight.
Still, was the tragedy enough for her to leave her job? It's worth noting that Nicole Ari Parker was cast in two new TV projects over the summer, including HBO Max's Sex and the City revival, so I'm not counting on getting more of Miller after losing her son, but I'd like to see her again.
Can Voight Be Redeemed?
Voight has been crossing lines ever since Jason Beghe debuted on Chicago Fire back in 2012, but working with Miller had him at least walking closer to the straight and narrow... until the finale, when Voight went far off-book to get his hands on a man he believed could give up information on the kidnapped Burgess, and manipulated the hell out of an upset Upton when she arrived on the scene to try and help.
Whether or not Voight deliberately let the bad guy lift his gun so Upton would have to shoot to kill is up for debate, but he totally could have reported it to CPD as a good shoot since she pulled the trigger to save her sergeant. Upton was devastated and an emotional wreck after being pulled down into the mud with him, and P.D. has a lot of work to do on Voight if he's going to be redeemed for that, in my book.
What's Up Next For Upstead?
Of course, Upton is a grown woman who makes her own decisions, but can anybody really blame her for slowly but seemingly surely having an emotional breakdown after the authority figure in her life played on all her insecurities and trauma in the worst way? In a twist that would have been romantic under just about any other circumstances, a still very upset Upton proposed to Halstead. To his credit, he seemed to be able to tell that something was wrong, but the finale didn't reveal his answer. So what's up with Upstead in Season 9?
I've been a fan Upton and Halstead's evolution as a pairing, but I can't help but feel that an engagement would be doomed if Season 9 reveals that Halstead said yes after how and why she asked. He's a perceptive enough guy to know that something was off and that he didn't have the full story, but he also loves her, and I'm probably going to be nervous about it up until the Season 9 premiere. Plus, the man has been known to make some bad decisions when thinking with his heart over his head, and he has the scars to prove it. If they get engaged at some point, it shouldn't be like this!
Will Burgess Fully Recover?
Speaking of things I'll be nervous about: what will Burgess' road to recovery look like after being attacked and shot in the Season 8 finale? I'm choosing to believe that she'll survive and return to her job at CPD because I'd hate for P.D. to lose Marina Squerciati, but considering everything that Chicago P.D. has put Burgess through over the past couple of seasons, I won't rule out some long-term effects for her after her latest ordeal. She was barely even alive when rescue finally arrived, and her fate wasn't revealed before the finale ended.
All of that said, I also wouldn't blame Burgess if she survived her latest crisis and decided to retire and live a peaceful life with Makayla, or at least took a break from her life as a cop. Still, I'm guessing that she'll be back in Intelligence in Season 9. The question is just of whether or not she'll fully recover.
Will There Be A Time Jump?
The answers to a lot of these questions likely depend on whether or not Chicago P.D. picks up Season 9 on a time jump from the end of Season 8, and Chicago P.D. has gone both ways when it comes to starting new seasons. Season 7 picked up where Season 6 left off on the murder of Kelton, whereas Season 8 picked up after a time jump despite the cliffhanger ending of Season 7.
If there's a sizable time jump, Burgess might be well on the road to recovery, Upstead might already be engaged (or dealing with the potential awkwardness of Halstead saying no), Miller might already be gone, and a lot of my questions could be answered in the first five minutes of the Season 9 premiere. The cliffhangers this past season weren't so much tied to plot as character, so a time jump to get right into a new case isn't impossible.
And this brings us to the one question that I've been asking for the better part of a year now...
What Happened To Rojas?!?
There may come a day when I no longer want to know what happened to Lisseth Chavez's Vanessa Rojas, but this is not that day! Rojas was written out of Chicago P.D. between the end of Season 7 and beginning of Season 8, with Chavez landing a new role on a very different show and P.D. returning without addressing what happened to the seventh member of Intelligence, who also happened to be Upton's roommate.
Admittedly, enough time has passed that it might actually be strange if Chicago P.D. starts bringing her up again, but I for one still want to know what happened that Rojas left Intelligence and the bonds she was forming there. Besides, P.D. didn't fill her empty spot with a new series regular on a weekly basis in Season 8, with newcomer Cleveland Berto having a pretty minimal presence. I'll settle for just a dropped comment that Rojas is still undercover or Rojas transferred departments or Rojas quit the CPD to go live a peaceful life somewhere – I just want an answer!
Whether or not all of these questions receive their answers remains to be seen, but the end of hiatus is in sight. Season 9 of Chicago P.D. is filming, and the return date is set: P.D. will return to NBC on Wednesday, September 22 at 10 p.m. ET, following Chicago Fire (which ended on a stressful cliffhanger as well) at 9 p.m. and Chicago Med (which just cast some new stars) at 8 p.m.
Laura turned a lifelong love of television into a valid reason to write and think about TV on a daily basis. She's not a doctor, lawyer, or detective, but watches a lot of them in primetime. Resident of One Chicago, the galaxy far, far away, and Northeast Ohio. Will not time travel, but will sneak references to The X-Files into daily conversation.