American Horror Stories: What To Watch If You Like The Horror Series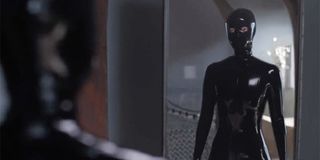 CinemaBlend participates in affiliate programs with various companies. We may earn a commission when you click on or make purchases via links.
I love horror stories, whether that be through television or movies, or video games. This is why when it was announced that American Horror Story producer, Ryan Murphy, was making a whole new spinoff of his famous show, called American Horror Stories, I was excited.
That show has premiered now, made exclusively as an FX on Hulu original series, but I can't help but wonder what else there is to watch for fans of this new anthology series while we're waiting weekly for new episodes to drop. Well, look no further than here, because there's plenty of movies and shows just like American Horror Stories, from the best movies on Amazon Prime to the best movies on Netflix.
The Fear Street Movies (Netflix)
In the Fear Street movie trilogy, we follow a group of teenagers in the town of Shadyside, who have to somehow combat an ancient evil when a series of brutal murders begins to take over their lives, something that has been happening in their town for centuries.
For fans of American Horror Stories, you'll like the Fear Street movies because of the characters. I feel like a lot of the stories in American Horror Stories are driven by the very characters that experience them, and that's the exact same with Fear Street. You'll find yourself rooting for these guys to somehow beat the crazy sorcery they are experiencing, and with how many amazing horror callbacks there are to classic horror films, you'll find even more movies to watch after.
Stream the Fear Street movies on Netflix. (opens in new tab)
Friday the 13th (Starz)
A classic horror film, Friday the 13th is a movie every film buff should see. At Camp Crystal Lake, we follow a group of teenage camp counselors who are killed off by an unknown murderer, while attempting to re-open an abandoned summer camp.
American Horror Stories often has callbacks to some of the iconic horror films of years before, just like this one, but even in Episode 2, there with all the teenagers having sex at a drive-in theater – that's a classic horror trope right there, something that Friday the 13th does exceptionally well.
Stream Friday the 13th on Starz. (opens in new tab)
Rent Friday the 13th on Amazon. (opens in new tab)
Black Mirror (Netflix)
Black Mirror isn't horror, per se, but it's definitely one of the most interesting Netflix original shows out there right now. Set in a world that's not that far from our own, each episode of Black Mirror covers how the use of modern technology can backfire against its makers, with each episode focusing on a different story and different characters.
For fans of American Horror Stories, you'll like this because it's an anthology series. Every single episode is new, with an interesting storyline, a talented list of actors, and plenty of twists and turns. It's an amazing show and deserves all the praise it has been getting over the last couple of years. I just wish another season would come out.
Stream Black Mirror on Netflix. (opens in new tab)
Rent Black Mirror on Amazon. (opens in new tab)
Penny Dreadful (Netflix)
Now if we're looking for a horror series, Penny Dreadful is the way to go. In this psychological thriller, we are sent tales of dark mystery, filled with vampires, evil spirits, beasts, and so much more.
American Horror Stories is one of the premiere horror series right now in my opinion, with plenty of dark stories that I'm sure are going to be told very soon, which is why Penny Dreadful is perfect for you. The first episode of the new anthology, with how much murder and crime is involved, is enough to make me want to watch Penny Dreadful for all the scary stories they have there.
Stream Penny Dreadful on Netflix. (opens in new tab)
Rent Penny Dreadful on Amazon. (opens in new tab)
Channel Zero (Shudder)
In this anthology TV series, each season focuses on different horror stories, from the tale of one man's obsessions over children's programming from the '80s to stories of hidden doors to several others.
Channel Zero is the perfect series for fans of American Horror Stories, and even more so, American Horror Story, the original series American Horror Stories is based on. Every season features a new cast, a new tale, and so much intrigue with each story they explore. I almost don't want to give away too much because it's one of those shows you want to go in blind to. It's a shame there were only four seasons.
Stream Channel Zero on Shudder. (opens in new tab)
Rent Channel Zero on Amazon. (opens in new tab)
The Conjuring (HBO Max)
Who said ghosts can't hurt you? The Conjuring, which spawned a whole Conjuring universe after it was released back in 2013, is based on the real-life paranormal investigators, Ed and Lorraine Warren. In this film, they attempt to help a family who is terrorized by a dark presence in their home, creating terrorizing situations in their own home.
American Horror Stories fans will love this film because it almost reminds me of the first episode of the series, where it is entirely based in the Murder House. It's all about literal demons/spirits in a home, trying to harm the people inside – exactly like "Rubber(wo)Man." Plus, what makes this even creepier is that The Conjuring is based on a true story – talk about a chilling tale.
Stream The Conjuring on HBO Max. (opens in new tab)
Rent The Conjuring on Amazon. (opens in new tab)
The Haunting of Hill House (Netflix)
I adore The Haunting of Hill House and even like the series that came after it, The Haunting of Bly Manor, but the first season of this anthology series will always take the cake. In this Netflix original show, we alternate between two timelines, the past and the future, showing the paranormal experiences of a group of siblings in their home, and how they must now return to it, decades later, after tragedy strikes the family.
Something that makes me like this series for American Horror Stories fans is purely how scary it is. This isn't one of those series that are full of jump scares all around and there are no genuine creepy moments. When you watch the horror in The Haunting of Hill House, you'll genuinely feel this sense of unease take over you. It's honestly one of the best TV horrors out there right now, in my opinion.
Stream The Haunting of Hill House on Netflix. (opens in new tab)
Rent The Haunting of Hill House on Amazon. (opens in new tab)
Trick 'r Treat (HBO Max)
Halloween is my favorite time of year – if you couldn't tell by how much I love horror – which is why Trick 'r Treat is next on this list. This story follows five interwoven stories on the scariest day of the year, with a common element – a strange child who is trick or treating in shabby, orange footie pajamas, and a burlap sack over his head.
What I love about Trick 'r Treat for American Horror Stories fans is almost its campiness mixed in with horror. There's a lot of comedy involved, with plenty of jokes told throughout the film, mixed in with some great horror aspects as well. Plus, who doesn't love creepy kids? It's almost one of the driving forces of horror movies, in my opinion. And with a star-studded cast that includes Dylan Baker, Anna Paquin, and more, you can't go wrong.
Stream Trick 'r Treat on HBO Max. (opens in new tab)
Rent Trick 'r Treat on Amazon. (opens in new tab)
The Twilight Zone (Paramount+)
Another amazing anthology series, except this one has been around for decades and has had several reincarnations. Today, we'll be talking about the most recent adaptation of The Twilight Zone, hosted by Get Out director, Jordan Peele. In this anthology series, we follow stories of the strange and unusual, in a world we call "the twilight zone," a universe not that far from ours.
For fans of American Horror Stories, the new The Twilight Zone is another case of an awesome anthology series, with different stories each episode, and it covers a wide variety of topics, just as American Horror Stories has done so far. From aliens to zombies to murders to everything else you can think of in the horror/mystery genre. So many guest stars have appeared on this show, like Minari's Steven Yeun, Silicon Valley's Kumail Nanjiani, and plenty of others.
Stream The Twilight Zone on Paramount+. (opens in new tab)
Rent The Twilight Zone on Amazon. (opens in new tab)
Creepshow (AMC+)
George A. Romero is known to be a king of horror, with hits like Night of the Living Dead, The Crazies, and more, but one of his best, in my opinion, is Creepshow, the beginning of an anthology series, with the screenplay written by the legendary horror writer, Stephen King. In this horror anthology film, we follow five short stories, all with their own plots and twists, and plenty of scares and jokes.
Creepshow is one of those films that I feel American Horror Stories takes a direct reference from for some of their scares because there's truly nothing like this movie. It's so unique in its premise, and with two other films that came due to the popularity Creepshow received, you already know that others love it as well. Without giving too much away, this film will spook and delight you. Give it a shot if you haven't already seen it.
Stream Creepshow on AMC+ through Amazon. (opens in new tab)
Rent Creepshow on Amazon. (opens in new tab)
Dawn Of The Dead (Amazon Rental)
When I watched Episode 2 of American Horror Stories, all I thought about were zombies, and mainly the ones in Dawn of the Dead. This Zack Snyder film follows a group of survivors, who take refuge in an upscale shopping mall when a zombie outbreak occurs.
Dawn of the Dead is a wonderful zombie remake and a great inspiration for American Horror Stories, especially with how everyone just instantly turns into mindless zombies during the film screening in Episode 2. There's just something about Dawn of the Dead, from the usage of makeup to the jokes to the setting, that makes it one of the best zombie movies out there. If you're going to watch a film about the living dead, give Dawn of the Dead a shot. You won't regret it.
Rent Dawn of the Dead on Amazon. (opens in new tab)
I for one can not wait for the upcoming horror movies that will be releasing soon enough, and hopefully, all of these picks can be enough to hold me over.
American Horror Story Season 10 will be coming out soon, and with episodes of American Horror Stories releasing each week, I have a feeling that no matter what, my craving for scary movies and TV will be fulfilled. Now if Halloween Kills could just hurry up, that would be great.