Netflix's Lucifer Is Bringing A Deadly First-Season Callback To Season 6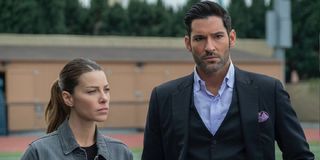 Lucifer's sixth and final season is finally premiering next month, and to say that it's going to bring with it a whirlwind of emotions for the cast, crew and fans would be an understatement. This will be compounded by the fact that the show is going to get pretty nostalgic during its final stretch, as it will include a major callback, one that has actually has ties to the show's very first episode.
Lucifer will be bringing back music producer Jimmy Barnes, from the pilot episode, in a "pivotal role in an early episode, as Lucifer works through exactly what it will mean to be God," according to TVLine. For those who don't remember, Jimmy (portrayed by John Pankow) had a drug dealer kill his ex-fiancé, who was close to Lucifer. And when Chloe visited him in his cell in the following episode, Jimmy kept screaming that Lucifer was the devil.
Following the God-like cliffhanger at the end of Season 5, it's hard to predict what might bring Jimmy Barnes back into the fold. Regardless of the circumstances, though, it's great to know that Lucifer is going back to its roots for the final season, and this development in particular could serve as a nice full-circle moment. Jimmy is practically the reason Lucifer joined the LAPD in the first place and, with him basically knowing that Lucifer is the devil, this could create a new set of problems for the titular character.
At this point, the final season as whole is mostly a mystery, so fans are likely chomping at the bit to learn what Lucifer has up its sleeve for its final batch of episodes. The recent sizzle reel for Comic-Con@Home didn't divulge much either, though it did tease the Devil's last days in Tinseltown. A lot has changed since Lucifer first began solving crimes with Chloe around Los Angeles, and his new role as God will likely be a focal point during these last episodes. And being the "Big Man" will probably change the dynamics between him and Chloe as well.
When production wrapped on the season a few months ago, fans were full of emotions and, now with the season officially set to debut next month, the end feels that much more inevitable. Still, fans can take comfort in the fact that they'll probably see some concrete resolutions for some lingering storylines. And since this final season is only going to have eight episodes, the show is going to have to put in a lot of work to tie up loose ends. Hopefully, Jimmy Barnes is only one of numerous callbacks that fans get to see over the course of the final season. There's a good chance this will be the case because, if Lucifer has taught us anything, it's that it knows how to surprise its audience.
To find out what happens on Season 6 of Lucifer, be sure to tune in when the final season hits Netflix on Friday, September 10!
Your Daily Blend of Entertainment News
Passionate writer. Obsessed with anything and everything entertainment, specifically movies and television. Can get easily attached to fictional characters.