Law And Order: Organized Crime's Chris Meloni Is Shirtless And Jacked For New Photo Shoot, And Fans Are Beside Themselves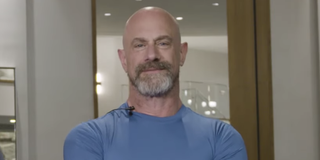 Christopher Meloni returned to his old Law & Order stomping grounds in 2021 as star of the new Organized Crime spinoff, but he's now generating all kinds of buzz for a project that has nothing to do with Elliot Stabler's single-minded pursuit of justice. A photo shoot has released to reveal that Meloni stripped down to show off some jacked muscles, and fans on social media are beside themselves.
Christopher Meloni posed in a photo shoot for Men's Health Magazine, and he showed just about everything in the photos that hit the web and blew the minds of fans everywhere. Just the cover photo alone has probably resulted in far more people than just the normal Men's Health target demographic showing a lot of interest in the magazine! Take a look:
Law & Order: Organized Crime would be a very different show if Chris Meloni got to play Elliot Stabler without a shirt or full pants! (Not to mention with a smile. When was the last time Stabler smiled like that?) The 60-year-old (!) star appeared in a number of photos even beyond the cover, and the reactions on Twitter prove that the flood of thirst tweets earlier this year weren't an isolated event. In fact, the Law & Order Twitter account went so far as to post a meme in honor of shirtless and jacked Meloni:
I don't think Law & Order has ever been more relatable with Twitter at large than with a tweet admitting to looking at Chris Meloni's photo shoot many, many times in one day. And honestly, it's probably hard not to see the images over and over again for anybody who uses Twitter, as the Law & Order account was definitely not the only one spreading the Meloni shots around the web.
The audacity, indeed, when it comes to the 60-year-old actor doing a split move that I'm guessing most people even considerably younger wouldn't be able to do! And then just casually tossing popcorn in the air a couple pics later, as if he wasn't going to blow the minds of people once the photos were published. No wonder he's grinning when taking the photos, since he could probably guess at the enthusiastic response!
After doing the kinds of workouts that were undoubtedly required to pull off his jacked look in the photo shoot, Chris Meloni has definitely earned a cupcake or two to celebrate. And at least one person would happily switch places with that cupcake to get up close and personal with Meloni!
Seriously, if you ask me, the split photo almost looks more like an optical illusion than a picture that actually could have been shot in real life, but Men's Health is a publication celebrating health, not faking their cover subjects' physical fitness. In a fun bit of trivia, Chris Meloni actually revealed on Twitter himself that stretching like that is why he never pulled a groin while acting. Fun for fans, functional for Meloni! Another fan on social media had a request for Meloni:
And fans who admire Chris Meloni from afar aren't the only ones who hit Twitter to show their appreciation for the photo shoot. Danielle Moné Truitt, who plays Sergeant Ayanna Bell on Law & Order: Organized Crime, chimed in with her own thoughts on the side of her co-star that she doesn't see with so much skin showing on set:
Chris Meloni may stretch on set, but I don't think fans should expect Stabler to be sporting any of Meloni's looks from the photo shoot, except maybe going shirtless. Stabler does get some shower scenes (from the waist up for NBC standards) sometimes, after all! And what would the flood of thirst tweets be without Meloni himself weighing in?
Chris Meloni just coined a new phrase that I can see fans using themselves if photo shoots like this one keep happening, but Meloni also might not have time to pose for any pics like this moving forward. Law & Order: Organized Crime is back in production for Season 2, so he may be in Stabler mode for most of his waking hours for the foreseeable future.
Law & Order: Organized Crime Season 2 will premiere on Thursday, September 23 at 10 p.m. ET on NBC, following the Season 23 premiere of Law & Order: SVU at 9 p.m. At the end of the 2020-2021 season, there were plans for a full Thursday night of Law & Order action with a For the Defense spinoff, but NBC has since scrapped plans for that spinoff and gone back to the drawing board for the next Law & Order series. For more viewing options as temperatures begin to cool and shows return to TV, check out our 2021 fall TV premiere schedule.
Resident of One Chicago, Bachelor Nation, and Cleveland. Has opinions about crossovers, Star Wars, and superheroes. Will not time travel.
Your Daily Blend of Entertainment News
Thank you for signing up to CinemaBlend. You will receive a verification email shortly.
There was a problem. Please refresh the page and try again.