My 600-Lb. Life Star Gina Krasley Has Died At 30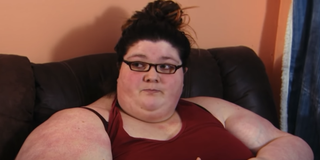 Gina Krasley, best known for her appearance in TLC's My 600-Lb. Life, has passed away. She appeared in an episode of the eighth season of My 600-Lb Life that aired back in January 2020 to chronicle her struggles with her health, and was just 30 years old at the time of her death.
Gina Krasley died on Sunday, August 1 at home, according to her obituary from Maxwell Funeral Home in her home state of New Jersey. Krasley's cause of death has not been revealed at the time of writing, but she passed away surrounded by her family. She is survived by her wife of six years Elizabeth Krasley, mother Cathy Devereux, sister Ali Samuels, grandparents, and more extended family members. The family requests that donations be made to a mental health charity rather than flowers.
The TLC network, which aired Gina Krasley's episode of My 600-Lb. Life, released a statement regarding her death on Twitter. The post reads:
Tragically, Gina Krasley is not the first subject of a My 600-Lb. Life to pass away since the show has been on the air. A total of ten patients have died since telling their stories on My 600-Lb. Life, including Renee Biran just months ago and James King back in 2020. The message from TLC not only acknowledges Krasley's struggle that was chronicled on My 600-Lb. Life but also extends sympathies to her family.
Gina Krasley, née LeMehaute, was 28-years-old when her installment of My 600-Lb. Life filmed, and she revealed for the show that what made her forget "that pain of being abandoned was eating" when she was a child, and subsequent physical abuse of her and her sister by their father only increased her habits.
Nevertheless, she found love as an adult after putting herself out there on a dating site and met future wife Beth Krasley. Beth Krasley revealed that she was drawn to Gina's personality, and that Gina had "a heart made of gold," describing her as a "fun-loving and caring person that everybody loves."
Gina Krasley's greatest passion was dancing, according to her obituary, and she started the "dancing has no limit" TikTok trend. In addition to requesting donations to a mental health charity in lieu of flowers, the family asks that those who attend the visitation for Krasley on August 8 wear her favorite colors of pink or purple.
Our thoughts here at CinemaBlend are with the family, friends, and loved ones of Gina Krasley in this difficult time following her death, and My 600-Lb. Life fans undoubtedly extend their sympathies as well after getting a glimpse into her life via the show.
Resident of One Chicago, Bachelor Nation, and Cleveland. Has opinions about crossovers, Star Wars, and superheroes. Will not time travel.
Your Daily Blend of Entertainment News
Thank you for signing up to CinemaBlend. You will receive a verification email shortly.
There was a problem. Please refresh the page and try again.