Kim Kardashian's Photos From Second Donda Listening Party Show Her Incognito Outfit And Kanye West Spending Time With Their Kids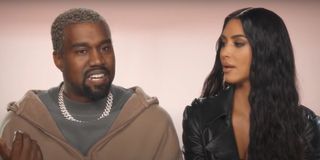 The buildup to Kanye West's Donda album release is getting weirder by the second. There's been not one but two listening parties – with a lot of cryptic visuals and lyrics to boot. (Still no album, though.) Not to mention, West also reactivated his Instagram account – with even more cryptic clues. His ex-wife, Kim Kardashian, is seemingly doing her part to add to all the mystique – in the way she knows best – by posting a ton of pics that include a show-stopping incognito outfit and family time with West.
Taken at the second Donda listening party, Kim Kardashian's behind-the-scenes pics show off her head-to-toe (yes, complete with ski mask) black Balenciaga ensemble. Her kids were present (all in matching black outfits, too) and Kanye West (also in black) is seen spending some quality time with them before the event. There are a few other head-scratching inclusions in the spread, but we'll get to that later. Check out the photos here:
Here's one of my personal favorite pastimes: riddling out Kim Kardashian's outfit. It's like Totally Spies meets Kim Possible meets serial killer in the mountains in stilettos. The ski mask was definitely a choice, one that was seemingly orchestrated by Kanye West. (The rapper wore a ski mask at both of his listening parties as well – for what artistic reasoning, I'll probably never know.) Kardashian apparently wanted to outdo herself from the first Donda listening party, where she was dressed in an equally formfitting red bodysuit. Just remember kids, her outfits aren't for us mere mortals to understand.
It's interesting, though, that Kim Kardashian and Kanye West have coordinated their outfits at both events, despite their previous issues and pending divorce. If that doesn't show a level of camaraderie, I don't know what does. But the former couple has reportedly been making an effort to still be a united family unit, as seen again at Donda Part 2 by the Kardashian-Wests' spending time as a family of secret agent performers.
Fans had their own thoughts and reactions to the seemingly awkward lyrics at Kanye West's initial listening party. However, Kim Kardashian supposedly had some input in the Donda album itself, and these recent pics seemed to underscore that point. Both her and West have posted similar cryptic pictures on their Instagrams that may just be the official album art. In one, it looks like a sparse living area (including a twin bed, a light, shoes, and something that looks like a sea urchin???). At the very least, the Keeping Up with the Kardashians star is actively helping her ex-husband promote the new music.
But unfortunately, I must reiterate again, Kanye West's Donda album has not been released officially yet. According to Apple Music's pre-order page (opens in new tab), it looks as if fans will now have to wait until August 13. The Kardashians will surely keep things interesting in the meantime.
Movies and TV News Writer
Freelance writer. Favs: film history, reality TV, astronomy, French fries.
Your Daily Blend of Entertainment News
Thank you for signing up to CinemaBlend. You will receive a verification email shortly.
There was a problem. Please refresh the page and try again.