Kim Kardashian Says New Thirst Trap Is 'Not For You To Understand' But Seriously How Does Her Dress Stay On?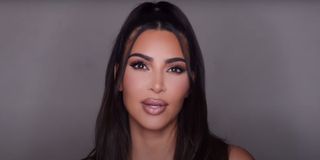 As a self-proclaimed selfie queen, Kim Kardashian has made it something of a sport (or art form) to have jaws dropping and heads shaking over her pics. One of her latest snaps is a hands-down thirst trap that's apparently on a whole other level, as she's telling spectators that it's "not for you to understand." Her language there was quite vague, but I kinda think she might be referring to logic and physics, because seriously, how did Kardashian's revealing dress manage to stay on?
The dress in question was posted on Kim Kardashian's Instagram with the cryptic caption about us mere mortals not needing to understand. The cut-out beige get-up - Kardashian's favorite color, no less - seems to literally defy gravity, and is held together in the front by what can only be described as tinsel that couldn't tie a toddler's shoe, much less be expected to hold an entire dress together. Nevertheless, the reality star accomplished the impressively risky feat without any apparently wardrobe malfunctions. Check out the post here:
The new thirst-harnessing photo certainly warrants a professional investigation on how it doesn't just disintegrate into a rather small pile of fabric. Kim Kardashian's signature curves probably help keep things afloat – especially if it is custom tailored to hug those curves, as most of the Kardashian-Jenner family's clothes are. But having a body like that (and a face like that) quite frankly can't compete with basic physics…right?
The strings used to tie this dress together, particularly the one around Kim Kardashian's neck, are so thin as to be scientifically negligible. Perhaps tape is involved? Or tiny super-powered vacuum suctions? To us mere mortals, though, a designer dress that needs to be physically taped to one's body might sound a bit extreme, especially when most of the point is just to take a manufactured photo. Alas, we apparently don't need to really understand these things.
Kim Kardashian's style choices over the years have usually adopted this shock-and-awe approach. From that infamous Paper magazine cover to her everyday bikini pics, the Keeping Up with the Kardashians star always manages to get people speculating about the hows and whys of her couture. In fact, many have claimed that her more recent and simple athleisure attire directly correlates to getting together with the notoriously minimalist Kanye West.
The divorce situation for Kim Kardashian and Kanye West is still pending, however. Beyond her mom, Kris Jenner, no one in the family has publicly spoken about the noteworthy divorce in any specific terms. (I guess that info isn't for us, either.) It's all hush-hush as the Keeping Up with the Kardashians races through its final season.
Speculation about the divorce hasn't seemed to stop the Kardashian content pipeline in the slightest. Fans have been treated to a consistent deluge of vacation pics and family shots that seem to convey that the divorce is not quite as dramatic as the public hoopla surrounding it. So I guess the real question might just be, is Kim Kardashian's caption alluding to her dress or to her private life?
Fans waiting for more news about the Kardashian-Jenner familyshould tune into Keeping Up with the Kardashians when it airs on E! on Thursday nights at 8 p.m.
Your Daily Blend of Entertainment News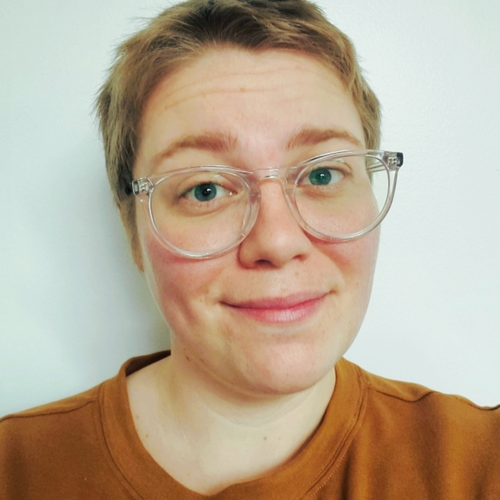 Movies and TV News Writer
Freelance writer. Favs: film history, reality TV, astronomy, French fries.