Kevin Hart And Snoop Dogg's New Olympics Coverage Outtakes May Be Even Funnier Than Their Fancy Horse Olympics Video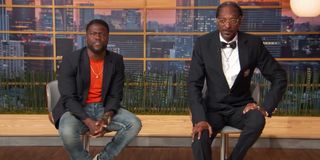 The 2020 Summer Olympics have come and gone, yet the event is sure to be remembered for years to come due to a number of reasons. There were a number of highlights, but one of the better parts of the long-awaited games was the beautiful commentary from Kevin Hart and Snoop Dogg, two people who probably knew very little about the Olympics before signing up for the gig. Still, the two were an A+ duo and, now, a new video has emerged that might be funnier than their viral horse video.
A blooper video from Snoop Dogg and Kevin Hart's Olympic Highlights was recently posted to the Peacock YouTube channel, and it further solidifies the fact that both stars were total novices when it came to different aspects of the Olympic Games. The footage is totally hilarious and at points and is honestly funnier than the commentary they did for "horse crip walking" a couple of weeks ago, which is saying a lot. Check it out the blooper reel for yourself down below:
In the video, Snoop Dogg and Kevin Hart are trying hard to keep it professional, asking questions and trying to keep focused on their cue cards. But naturally, they can't help but forget lines and resort to blurting out jokes and nonsense. As a result, the two can be seen talking about Hart's time hosting the Oscars and hilariously calling out a crew member, among other things. Olympic Highlights with Kevin Hart and Snoop Dogg definitely needs to be a regular part of the games moving forward. And if not, we could at least use another show with Hart and Snoop.
I honestly think that a raise is due to whoever thought of putting Kevin Hart and Snoop Dogg together to do commentary for the Olympics. The chemistry between the two was infectious, and it was honestly hard not to enjoy watching them together. It's clear they had a great time working together, and that camaraderie mixed well with the amount of improv they did.
Given how well the two performers did, NBC and Peacock may honestly want to consider a regular show featuring Kevin Hart and Snoop Dogg. Such a series could show the two providing commentary on various things, and you can believe that I would definitely watch it. In the meantime though, Hart has his own Peacock show, Hart to Heart, in which he has unfiltered talks with celebrity guests. Snoop, meanwhile, is just enjoying life and probabaly hoping to get a horse into his next music video.
Let's hope this won't be the last time Kevin Hart and Snoop Dogg work together, as they really are perfect together. Their work alone made the games worth watching and, given our current situation with COVID, it served as a nice jolt of positivity. We'll have to wait and see whether Peacock brings them back for future Summer or Winter games but, in the meantime, we can still enjoy plenty of their best moments through YouTube.
Passionate writer. Obsessed with anything and everything entertainment, specifically movies and television. Can get easily attached to fictional characters.
Your Daily Blend of Entertainment News
Thank you for signing up to CinemaBlend. You will receive a verification email shortly.
There was a problem. Please refresh the page and try again.