Good News For Britney Spears Fans Hoping To See Her In Concert Again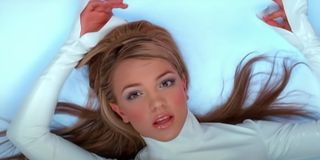 The last couple of years have been pretty eventful for Britney Spears. After cancelling what would have been her second Las Vegas residency show "Dominion" in 2019, the pop star began working to dismantle her conservatorship under father Jamie Spears as well as manage her own health and wellbeing. With all of the legal and familial drama surrounding her conservatorship case – especially Spears previously stepping away from performing under the conservatorship – it seemed unlikely that the former Mouseketeer would take to the stage anytime soon. That is, until now.
TMZ recently caught up with Britney Spears' boyfriend, personal trainer Sam Asghari, after a workout at Elite MMA Gym in Los Angeles. When asked if Britney Spears' fans would be able to see her "back on stage soon," Asghari said "absolutely!" He did follow by quickly adding "hopefully," but that still seems to be an encouraging sign for any fans hoping to see the pop star back in concert again.
So, will Britney Spears be performing soon or not? Until Spears herself makes a statement one way or the other, fans can only speculate. While Sam Asghari seems relatively optimistic, Spears did step away from performing and has kept her dance moves mostly to Instagram. And after speaking out against Jamie Spears and her treatment under the conservatorship restrictions, it doesn't seem like another world tour is a top priority.
That said, Britney Spears stopped performing while under the previous constraints of her conservatorship, and that was before Jamie Spears stepped down as lead conservator earlier this month. While it's not a total dissolution of the conservatorship, it's still a huge step towards Spears reclaiming her personal autonomy. If she is able to control her own life again, that might go a long way towards convincing her to return to the stage.
In addition, Sam Asghari seemed quite hopeful that Britney Spears would be able to perform soon. Who would know Spears better than her boyfriend of several years? It's possible that she has expressed her wish to perform again in private, and she's just waiting for the right moment to let her fans in on the news (in which case, we're waiting with bated breath).
It might be a bit too early to start making concert plans, but fans of Britney Spears can start crossing their fingers that she'll make a performance comeback. For a deeper dive into the specifics of Britney Spears' conservatorship, you can check out the documentary Framing Britney Spears on Hulu. If you're in the market for some more viewing options as the weather starts to cool and many of the biggest shows on television begin to come back to the airwaves, be sure to check out our 2021 fall TV premiere schedule.
Actor, singer, and occasional dancer. Likes: fashion, books, old buildings. Dislikes: cilantro, the NJ Turnpike, sneaker wedges.
Your Daily Blend of Entertainment News
Thank you for signing up to CinemaBlend. You will receive a verification email shortly.
There was a problem. Please refresh the page and try again.