Is A-Rod Trolling JLo With 'Down To Earth' Post About Red Porsche He Bought Her?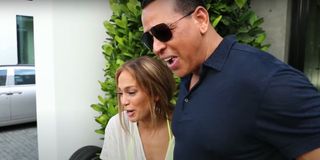 Jennifer Lopez and Ben Affleck reignited their early 2000s romance back in May, only a month after she broke up with fiancé Alex Rodriguez. One of the weird consequences of that, at least in the minds of the Internet, is that A-Rod is seemingly competing with and referring to his ex at every turn. His recent "down to earth" post, including a red Porsche he bought her years ago, has many speculating if he has in fact taken to trolling JLo now.
In the new Instagram post, Alex Rodriguez poses casually next to three of his luxury cars, with only the caption, "I'm super down to earth." Now, of course, there's no direct jab at JLo there. It's just what I would expect a typical multi-millionaire former MLB player would do to stunt. But in the comments, fans quickly pointed out that he was seemingly stunting on JLo – because that's technically her red Porsche he's sitting on. Check out his post below:
For proof that it is indeed JLo's red Porshe, look no further than Alex Rodriguez's own YouTube video of him surprising JLo for her 50th birthday. He ponders what to get for "someone who has everything." Apparently, getting a sports car for someone who doesn't drive was the inevitable answer. When presented with the Porshe in the video, JLo says:
The trolling of the red Porsche probably wasn't intentional on Alex Rodriguez's part. Yet he has to admit that this isn't the first time his actions have looked suspect regarding his ex JLo. In recent months, he reportedly vacationed down the street from her Hampton house, posed with his own ex-wife amidst the second coming of Bennifer, and was even in the comments of JLo's friends.
Even more recently, A-Rod posted supposedly only a few yachts away from JLo and Ben Affleck's yacht, which they commandeered for her 52nd birthday. Days before, Bennifer 2.0 had become Instagram official during their trip and even did a throwback to the "Jenny from the Block" music video days. If you ask me, it's getting kind of awkward around here...
A-Rod and JLo's engagement went downhill earlier this year. Cheating allegations materialized after a Southern Charm reunion special aired. (Both the reality star and A-Rod have since denied that anything physical took place between them, though the former claims they did have communication.) Not long after, A-Rod and JLo reportedly broke up multiple times before their official announcement that they were going their separate ways.
One would think that Alex Rodriguez wouldn't want to incur more speculation about him and JLo. But here we are, with a seemingly sad, red Porsche. This fan's comment on A-Rod's post is still haunting me, and probably A-Rod too, "Looks like JLo left not only you but the red car too." Let's hope the monogrammed "JLo" license plate and interior have been replaced, at least.
Movies and TV News Writer
Freelance writer. Favs: film history, reality TV, astronomy, French fries.
Your Daily Blend of Entertainment News
Thank you for signing up to CinemaBlend. You will receive a verification email shortly.
There was a problem. Please refresh the page and try again.