Lucifer Season 6 And 8 More Exciting Shows Appearing On Netflix September 2021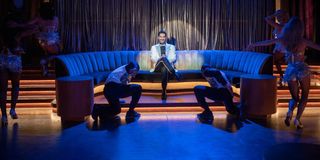 Summer is still around for the majority of September, but the swan song of the season is upon us. Slowly but surely, summer plans will give way to colder temperatures, and it'll soon be time for those cozy fall nights on the couch watching Netflix. The good news is there will be no shortage of good content this month, with something for everyone.
Cowboys, astronauts, demons, and devious dessert creations. All that and more is on tap for September, as well as some other content that subscribers will be psyched for. Let's dive in and run through the spectacular shows coming to Netflix in September 2021.
How To Be A Cowboy - 9/1
Cowboys aren't really a widespread profession in 2021, but that's not to say it's impossible to find work as one. How To Be A Cowboy host Dale Brisby used social media and his rodeo skills to rope cowboy culture into a modern era. This series will feature a bunch of wannabe cowboys learning the ropes and grabbing the bull by the horns in the most literal ways you can imagine. I mean, did you expect to see a cowboy series where no one rides a bull?
Countdown Inspiration4 Mission To Space - 9/6
The first all-civilian space mission is set to take place in September, and Netflix will be there to document every step of the way. The journey will start with behind-the-scenes footage of the training mission on Monday, September 6, with new episodes on the 13th, 14th, and later in September. It's a big historic moment in human history, and just a step further to a world where space travel among non-astronauts is the norm. In short, this is an event subscribers won't want to miss.
On The Verge - 9/6
Those who were stoked to see Elisabeth Shue's return in Cobra Kai will be excited to know she'll be on Netflix in a new comedy coming this September. This comedy set in L.A. follows four women that are "on the verge," as the title would imply. What could a chef, an heiress, a single mom, and a woman in need of a job have in common? Apparently, a mid-life crisis can hit someone no matter what they've done or are doing in life. This comedy should be a good time, and perhaps one that can give some perspective to others who find themselves at a crossroads in life as well.
The Circle (Season 3) - 9/8
Streaming's greatest reality television show has returned, and it's back much sooner than some may have expected. The Circle has another cast ready to compete and do whatever they must to win $100,000. Season 2 was a big upgrade from Season 1, and Season 3 promises to raise the stakes yet again. Expect to see more twists and turns, and get hyped that we didn't have to wait that long after Season 2 for new episodes. Hopefully, this is the trend going forward, and we can just get two seasons of The Circle a year indefinitely.
Lucifer (Final Season) - 9/10
Lucifer has had about as charmed of an existence as any television show, but with this upcoming batch of episodes, the ride is finally over. The final season is coming, and Lucifer finally got the big promotion. Unfortunately, now that he's in the role of God, does he actually want the job? The final season will also show things like Amenadiel joining the LAPD, as well as a few other surprises. Hopefully, this final run will be every bit as enjoyable as fans hoped it would be when they campaigned for the show to be saved.
Jack Whitehall: Travels With My Father (Season 5) - 9/14
Jack Whitehall's adventures with his father have provided great entertainment for audiences for some time now, so naturally, they're out adventuring again. What exactly is on the menu seems to be under wraps at the moment, but those that enjoy the duo know the travel is only an enhancement of the great chemistry they have. If I were to travel with my father, I can guarantee it would not be nearly as entertaining.
Nailed It! (Season 6) - 9/15
Cooking competition shows are a staple of modern television, but leave it to Netflix to reinvent the wheel and make a hit out of a show where folks are bad at cooking. Nailed It! will return for Season 6 in mid-September, and more amateur bakers will attempt to recreate trendy treats for a shot at $10,000. As a fan, I can say the novelty of the series still has yet to wear off, especially with someone like Nicole Byer as the host.
Chicago Party Aunt - 9/17
One can never have enough animated comedies, in my opinion, and while Netflix hasn't quite found another that delivers quite as much comedy as Big Mouth, I feel optimistic about Chicago Party Aunt. Superstore star Lauren Ash leads in this comedy about a partying aunt who isn't quite ready to grow up despite the need to. Her love for her "nerdy" nephew may just spark some change in her, though, or she'll figure out how to keep on moving or thrive in her element the way she is. I'm rooting for the latter.
Midnight Mass - 9/24
Mike Flanagan delivered some of the best original horror to Netflix with The Haunting of Hill House, so subscribers can understand why there's a lot of hype about his upcoming creepy series Midnight Mass. The series is based around a dying town that finds hope when a priest arrives performing miracles, but obviously, there's more to it than that. I'm already creeped out just talking about it, but think this may be the perfect series to warm me up for Halloween.
Netflix subscribers will be able to watch all these shows and more during the month of September. This is just a handful of shows coming to the streaming service this month, and there's a ton of movies as well. Check our full list of what's being offered this month right here, and block out your whole viewing lineup, so you're ready when those cold nights start to arrive.
Your Daily Blend of Entertainment News
Mick likes good television, but also reality television. He grew up on Star Wars, DC, Marvel, and pro wrestling and loves to discuss and dissect most of it. He's been writing online for over a decade and never dreamed he'd be in the position he is today.