What The Superstore Cast Is Doing Next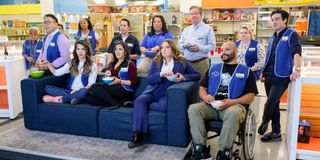 Who would have thought that when Superstore first premiered back in 2015 it would last for six seasons and end up becoming one of NBC's most acclaimed comedies? From stars like America Ferrara and Ben Feldman whose careers were boosted by the series, to some newer faces, Superstore provided a fresh change to the sitcom genre. The show mainly took place in the big box store, Cloud 9, which is shown as being very similar to a store like Walmart.
Sadly, after six seasons, Superstore officially came to a close in March of 2021, but that doesn't mean that the stars of the popular sitcom are going to disappear completely. Today, we'll take a look at what the Superstore cast has in store for the future, beginning with the main star herself.
America Ferrera (Amy Sosa)
As the hardworking Honduran-American Cloud 9 employee, I think we can all strive to be a little bit like Amy. Her hard work and perseverance are what lead to her taking a corporate job at Clout 9 at the end of the series – a true trailblazer. America Ferrera herself has been busy in the industry for nearly two decades. Prior to her role as Amy, Ferrera had plenty of roles, including starring in the popular The Sisterhood of the Traveling Pants franchise and leading Ugly Betty with her Golden Globe winning role.
Superstore really allowed the actress to continue to shine and show off her comedic chops. In terms of what she has coming up in the future, America Ferrera doesn't have any new film or TV roles lined up just yet, but she is stepping into the producer role by working on the Netflix show, Gentefied, which is all about the chase for the American Dream.
According to Deadline, Ferrera is also going to be making her directorial debut on the Netflix film I Am Not Your Perfect Mexican Daughter.
Ben Feldman (Jonah Simms)
Hired in the pilot episode of the show, Jonah Simms was a college dropout who became a sales associate for Cloud 9 and somehow won all of our hearts with how adorable and funny he was. The talent behind that was Ben Feldman, someone who's also been in the business for almost 20 years. Prior to his role in Superstore, Feldman had gigs in movies such as 400 Days, or the horror movie As Above So Below, and Cloverfield, and a recurring role in the AMC show Mad Men. Superstore gave him the chance to really show off his comedy chops, and after six seasons, his track record is good.
The future looks bright for Ben Feldman as well, because he is going to be stepping into the Disney+ world! That's right, Feldman has signed on to the main cast of the new Disney+ original, Monsters at Work, a spinoff/sequel of Monsters Inc. I'm excited to see it come out on Disney+ this summer, along with the several other 2021 summer TV releases.
Lauren Ash (Dina Fox)
Be honest – we've all had a manager or boss like Dina, who is a strict, no-nonsense kind of person. However, sometimes that is exactly what we need. Lauren Ash, known for playing Dina Fox on Superstore, was the perfect choice for this role. I almost felt like I was being reprimanded at the store, and I didn't even work there. Lauren Ash herself has had a couple of film roles, like in Lars and the Real Girl, and the biographical film The Disaster Artist, but TV has been her cup of tea, where she not only had a great role in Superstore but also a voice role in the legendary She-Ra and the Princesses of Power.
Lauren Ash doesn't have any new movies or TV shows lined up just yet, but that doesn't mean she's not busy. In her spare time, Ash enjoys making short films with her boyfriend, as well as solving murders – you read that right. Lauren Ash hosts her own podcast called "True Crime and Cocktails," talking all about murder cases.
Deadline notes that Lauren Ash is also going to be writing a comedy pilot for a new NBC show. Everything is still kept under wraps though, so there's not much known about the potential show yet, but I'm excited to see where it goes for this talented actress. If that doesn't catch your interest, I don't know what will.
Nico Santos (Mateo Fernando)
I mean, let's be honest, none of us wanted Mateo to go when we all found out he was an undocumented immigrant in Superstore, because he was just so funny. I was always happy that they kept him on the show despite the problems he would face, and that charm which Mateo brought forward was all because of Nico Santos, a Filipino-American actor who knows how to make you laugh.
Santos can also most likely be recognized from the hit rom-com Crazy Rich Asians, as Oliver T'sien, or for his role in Paul Blart: Mall Cop 2, but Santos really made a name for himself while doing Superstore. Nico Santos doesn't have anything lined up right now for the future, but he still keeps himself very active on social media in the political scene, often talking about Asian-American racism and promoting ways in which people can help fight it.
Colton Dunn (Garrett McNeil)
Okay, be real – we are all lowkey Garrett. We thrive off of sarcasm and dry humor – or is that just me? Either way, I think we all loved Garrett for the realness he offered while working at Cloud 9, and not being afraid to show his true feelings. Colton Dunn was the man behind who brought that authentic character to life, and honestly, I don't know Superstore could have chosen a better actor for the part.
Prior to Superstore, Colton Dunn had plenty of other projects, including working as a writer, producer, and occasional actor in the popular sketch show Key and Peele. He also had a role in Lazer Team and its sequel Lazer Team 2. But, after Superstore, I'm glad to say that he is nowhere near stopping in Hollywood.
Dunn is currently starring in Big City Greens, an animated TV series comprised of shorts which is airing on The Disney Channel, and has been running for two seasons. He also has an upcoming movie called The One You're With, which is expected to debut in 2021 at some point. Honestly, I am so happy, because his comedy and acting skills deserve so much credit and I can't wait to see what he has ready for us.
Nichole Sakura (Cheyenne Thompson)
For some reason, the story of Cheyenne Thompson always stuck with me more than most of the stories in Superstore, because while it was very comedic, her story felt so real. She tried to do right by her baby and got job at Cloud 9, then married her boyfriend, trying to live a happier life. I have to give it to her for being so proactive and determined to be successful. Nichole Sakura is the reason that Cheyenne was one of the best characters (in my opinion). Luckily, she has had plenty of roles.
For example, she starred in a recurring role as Amanda in the Showtime black comedy Shameless for two seasons and had film roles in the iconic college film Project X, and Lazer Team 2, which Colton Dunn was in as well. In regards to the future, Nichole Sakura is going to be in an upcoming TV series titled Maggie.
It's about a young woman trying to cope with life while coming to terms with being psychic. The series is still in pre-production, and psychic shows are one of my favorite genres, so I'm looking forward to it whenever it comes out.
Mark McKinney (Glenn Sturgis)
You know, I think as much as we all tried so hard to like Glenn Sturgis because he was overwhelmingly positive, there were so many issues with him and his nice attitude that it was almost a miracle when he stepped down from being the store manager during Superstore. Even so, Mark McKinney is the man behind the hyper-positive Glenn Sturgis, and if you don't know his name, you better now.
Mark McKinney was a part of the Saturday Night Live cast from 1995 to 1997 and was part of the sketch comedy troupe The Kids in the Hall from 1989 to 1995, which also featured a TV series of the same name, so comedy is practically in his blood. However, now that Superstore has concluded, McKinney will be returning to The Kids in the Hall, as it is being revived by Amazon Prime, so while his time on the NBC comedy might be done, we'll get to see a return to his fantastic sketch roots.
Kaliko Kauahi (Sandra Kaluiokalani)
While Sandra's role at first wasn't as big as it became, her rise from a meek woman to someone who could stand up for herself and her ideals near the end of the series is an underdog story I can root for. Kaliko Kauahi, a Hawaiian actress, played Sandra for all six seasons, with the her eventually becoming a main character.
Kauahi herself doesn't have any TV shows or movies lined up just yet, but that doesn't mean she still hasn't had some amazing roles. She's had guest spots on shows like Parks and Recreation, Modern Family, and Brooklyn Nine-Nine, and had a recurring role on the Disney Channel spinoff of That's So Raven, called Raven's Home. It's clear that she has been busy, I believe it's only a matter of time before she ends up appearing on our TV screens or in movie theaters once again.
While the end of a show is always sad indeed, I'm looking forward to what the cast of Superstore has coming up. Although, I'll always miss my Cloud 9 family.
Your Daily Blend of Entertainment News
Big nerd and lover of Game of Thrones/A Song of Ice and Fire. Will forever hate season eight. Superhero and horror geek. And please don't debate me on The Last of Us 2, it was amazing!