The Internet Is Having A Field Day After Kim Kardashian Listens To Kanye West's Donda On Mute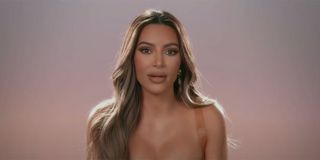 Kanye West finally dropped the Donda album his fanbase has been waiting for. Among his loyal supporters would seemingly be his ex-wife Kim Kardashian, who recently even shared a look at herself allegedly listening to West's 10th studio album. Or was she? In fact, eagle-eyed fans immediately noticed that she actually had the sound on mute when she or her team took those screenshots.
Of course, the Internet is not about to let a mistake of this caliber go. In fact, Twitter was aflutter with all the jokes directly aimed at Kim Kardashian's Instagram Stories posts, which literally had the volume button all the way to the left where the sound was clearly off. Most simply seemed bemused about what they were seeing, to be fair.
Others wanted to make sure there was ample evidence of Kim's mute listening party available to anyone who wanted to see it online. This wasn't a flub that happened on one song, but with multiple tracks, people.
Some Twitter users had a more teasing take on why Kim Kardashian might want to simply listen to her ex's brand-spanking-new album without the sound.
It's not as if the this is the first time a celebrity has tried to sell the Internet on a story that may not be the full truth, the whole truth, and nothing but the truth. Social media isn't real life after all, but when flubs of this ilk happen, people are still going to make note. Particularly when there's another telling way to tell she really wasn't listening to the music.
Meanwhile, Kim Kardashian did rectify her mistake and post some additional unmuted screengrabs. Behold: A look at Kardashian allegedly listening to a Kanye West song :48 seconds in and with the volume high!
There's always the chance she was listening to the album and then her team took some muted screen grabs after the fact just to quickly have them for social. Or you know, maybe she just was more interested in supporting her former partner than actually listening to the album.
This really is a case that could go both ways. Meanwhile, no one could argue Kim Kardashian hasn't been supportive in recent weeks. She's attended multiple Donda events in high fashion and even wore a wedding dress to one, sparking rumors the soon-to-be divorced couple may have reconciled on some level. (This has since seemed as if it is probably not true.) Regardless, I'm sure there will be more updates on the Kim Kardashian and Kanye West front, and we promise not to mute them when they happen.
Reality TV fan with a pinch of Disney fairy dust thrown in. Theme park junkie. If you've created a rom-com I've probably watched it.
Your Daily Blend of Entertainment News
Thank you for signing up to CinemaBlend. You will receive a verification email shortly.
There was a problem. Please refresh the page and try again.