Kenan Thompson's Tiny Diamond Has A Bangin' New Song In Trollstopia Season 4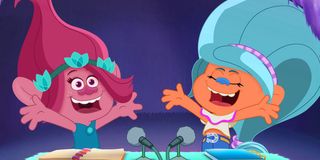 Season 4 of DreamWorks' TrollsTopia lands on Hulu and Peacock September 2 with more friends, hugs, and music. This season, TrollsTopia is thriving like never before as the trolls come together to hold their first election for Secretary of Skate, start a community garden, and welcome Tiny Diamond's newest (and imaginary) friend, Shiny Diamond! Tiny Diamond is voiced by SNL's Kenan Thompson, and the imaginary friend episode features a new song that you can check out in the clip above.
Catchy, right?! Of course, all the songs in the trolls universe are bops, but this one is quickly rising to the top of my list. Inspired by the beloved DreamWorks Animation films Trolls and Trolls World Tour, TrollsTopia is the next chapter in the hair-raising adventures of the trolls. Now that Poppy knows there are other musical trolls scattered throughout the forest, she bottles up her endless positivity and invites delegates from every troll tribe in the forest to live together in harmony in a grand experiment she calls TrollsTopia!
As we've learned from the films, Poppy's judgment is sometimes clouded by her extreme optimism, determination and sunny disposition, which gets our fearless leader into some hilarious hairy situations. TrollsTopia is no exception, and we can see in the clip above that it's Poppy's love for everyone that has set Tiny Diamond's expectations of her. When Poppy learns that Tiny Diamond has an imaginary friend, adorably named Shiny Diamond, she agrees to meet Shiny but tries to get away with just a handshake.
Tiny Diamond (voiced by Kenan Thompson) is not having this and reminds Poppy (voiced by Amanda Leighton) that she usually drops everything to get to know new people when she first meets them. Why isn't she doing the same for Shiny? Not having a good answer to this question (other than Shiny being imaginary, but don't tell Tiny that!) and wanting to stay true to her word, Poppy agrees to have a party for Shiny. At the party, Poppy and Tiny Diamond sing a song about being best friends forever (and ever and ever). The song will now be in my head forever and I am not mad about it because it just makes me want to dance, dance, dance, c'mon.
This is only a taste of the musical goodness you're going to get throughout the upcoming season of TrollsTopia. Grab the kids and crank up the stereo because every episode is a celebration. Featuring a troll-tastic musical performance written and directed by Holly Darlin' herself (Megan Hilty) and an out-of-this-world surprise party, Season 4 of TrollsTopia is bound to get you on your feet and feeling the beat! The new season has six episodes and is streaming on Peacock and Hulu on September 2. Check out our full 2021 fall TV schedule for more. Happy streaming!
Obsessed with Hamilton and most things Disney. Gets too attached to TV show characters. Loves a good thriller, but will only tolerate so much blood.
Your Daily Blend of Entertainment News
Thank you for signing up to CinemaBlend. You will receive a verification email shortly.
There was a problem. Please refresh the page and try again.