American Revolution Miniseries Sons Of Liberty In Development At History Channel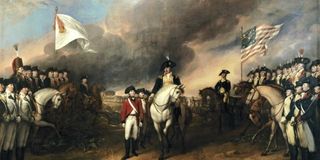 The History Channel is gearing up to bring us a new look at the heroes of the American Revolution. The network is looking to continue its success in the scripted programming arena with Sons of Liberty, a miniseries that will focus on such legendary figures in U.S. history as Paul Revere, Samuel Adams, John Adams and Benedict Arnold, among others.
With The Bible's recent successful run and the Vikings earning a second season renewal, the History Channel does seem to be on a roll. This new project in development joins the recently announced Harry Houdini miniseries set to star Adrien Brody. He's not the first big name History has brought on board; the network previously tapped Kevin Costner and Bill Paxton for their Emmy winner Hatfields & McCoys
Sons of Liberty comes from the same production company behind History's previous miniseries The Men Who Built America, Stephen David Entertainment. Although there's little information on the mini at the moment, THR says it will focus on a group of young men who call themselves the Sons of Liberty and are behind the beginning of America's fight for independence. With the recent success the network has had and the large number of plum roles in the ensemble cast a project like this will call for, I am willing to bet we see some famous faces pop up when casting starts on this one. Paul Giamatti previously played the title role in a Golden Globe-winning turn for HBO's John Adams miniseries, but from the description I am betting we see a younger actor in the role this time around.
Your Daily Blend of Entertainment News
Thank you for signing up to CinemaBlend. You will receive a verification email shortly.
There was a problem. Please refresh the page and try again.