Californication Season 5 Preview: Meet The Season 5 Guest Stars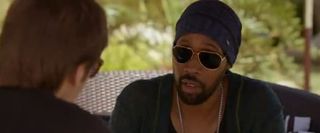 In a few short months, Hank Moody is going to make his return to television in the fifth season of Showtime's Californication. The show's creator, Tom Kapinos, and its star, David Duchovny, have crafted a really engaging, interesting and likable train-wreck lead character that is worth watching self-destruct week after week. The show also heavily relies on a stream of guest stars each season in order to fill in the faux-Hollywood world around our struggling writer and alcoholic family man and this season is no different.
In the past we've had names like Rob Lowe, Zoe Kravitz, Callum Keith Rennie (my favorite) and Carla Gugino show up but this season's social milieu is a little different and requires a different range of talents. Apparently, Hank will spend a lot of time in the Los Angeles 'Hip-Hop' world and therefore, RZA will feature prominently in the upcoming season playing a character, hilariously (and appropriately) named Samurai Apocalypse. Is Moody going to be brought in to write another music bio? Let's hope it turns out a bit better for Samurai than it did for Rennie's Lew Ashby.
The video goes through a few other interesting guest stars, highlighting both the new additions and the reactions to their additions from the returning cast. On top of The RZA, other actors that will show up in the fifth season are Meagan Good (unbelievably hot love/sex-interest for Hank), Drea de Matteo of Sopranos fame and finally, a love interest for Becca, in Scott Michael Foster's Tyler (who's supposed to be a young version of Hank). Oh, and Steven Tobolowsky is also coming back, so one more amazing reason for everyone to tune in this January.
Californication returns to Showtime for its fifth season on Sunday, January 8 at 10:30 p.m. ET. It stars David Duchovny, Natascha McElhone, Madeleine Martin, Evan Handler, Pamela Adlon, Madeline Zima and Steven Tobolowsky. Joining this season in guest spots are the RZA, Meagan Good, Drea de Matteo and Scott Michael Foster. It was created by Tom Kapinos.
Your Daily Blend of Entertainment News
Thank you for signing up to CinemaBlend. You will receive a verification email shortly.
There was a problem. Please refresh the page and try again.