The MST3K Reboot Might Get Some Awesome Guest Stars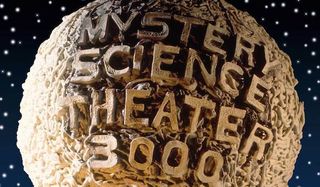 Mystery Science Theater 3000 fans have had tons of reasons to rejoice over the last few weeks. The Kickstarter campaign to reboot the show has raked in an impressive amount of dough over the past month. The Kickstarter ends tomorrow, and it's currently almost 87 percent funded for the final goal of $5.5 million, which will let the new production film up to 12 episodes.
Well, there's more potential fantastic news. In an update on the Kickstarter page released today, MST3K mastermind Joel Hodgson revealed the names of some of the stars who've expressed an interest in appearing on the show in cameos. Lucky for us, these are all some very recognizable names from the TV, film and comedy worlds.
Jack Black
First up? Comedian and actor extraordinaire Jack Black. The Tenacious D band member is known for his wonderfully odd sense of humor and the intensity of comedic timing that he brings to every role. His breakout role in School of Rock has lead to a series of off-beat, yet heartfelt performances, in films of every stripe. Nacho Libre, the Kung Fu Panda series, Tropic Thunder and recent hit Goosebumps have all enjoyed his talents, along with an extensive list of television shows and other movies. Joel Hodgson has even teased that he already has an awesome idea of how to use Black on the show.
Joel McHale
The next actor on the list is Joel McHale. Known for cult favorite TV show Community and his 11 year run as host of The Soup, McHale has gone a long way by playing up his dry sense of humor and smart alecky, too-cool-for-school, I'm-better-than-you persona. His work on Community showed this off perfectly. He was able to work as both straight man to the wilder characters on the show and display his own comedic chops in the show's absurd situations. He'll next be seen on the X-Files reboot.
Bill Hader
Bill Hader, former Saturday Night Live star and all-around master of impressions has also landed on the list. He and Joel Hodgson met backstage at SNL, but Hodgson was a fan of his talents from way before then. Hader would, no doubt, bring a crazy characterization to MST3K and be allowed to put his full, funny-voice talents to use on the show. He was recently seen as the normal guy to Amy Schumer's party girl in Trainwreck, and has provided voice talent to the Cloudy with a Chance of Meatballs series.
Neil Patrick Harris
Neil Patrick Harris may have the most MST3K cred on this list, seeing as how the actor, singer and soft shoe specialist appeared in the first MST3K documentary, This is MST3K way back when he was still Doogie Howser. The amateur magician actually first met Joel Hodgson at a magic convention. Harris, of course, has the added cachet of having starred alongside Felicia Day in Dr. Horrible's Sing-Along Blog. So, if he, hopefully, shows up to film a cameo, he could easily be paired with her Kinga Forrester to blow geeky minds everywhere.
Jerry Seinfeld
This next name is a bit of a surprise to me, but Joel Hodgson has revealed that he's known super comedian Jerry Seinfeld for over thirty years, and the comedian has noted that he'd be willing to appear. What's there to say about Seinfeld that you don't already know? He's a comedy and TV icon, having spent eight years on his eponymous television hit.
Biggest Possible Guest
Now, we've gotten to the last of the major potential guest stars for MST3K, and I must say, it's a doozy. This well-known actor has become a gem in animation and video games for his insanely inspiring voice work. He recently appeared in The Flash and Kingsman: The Secret Service, and has given his voice to Adventure Time, Regular Show, Ultimate Spider-Man and the Justice League animated series. So, have you put a name to this impressive list of credits yet? No? Well, maybe that's because I left out his most famous role, that of young Jedi Luke Skywalker in the Star Wars franchise. That's right, Satellite of Love fans, Mark Hamill would like to make an appearance on MST3K.
So, all we have to do now is wait and see which of these fine entertainment specimens will grace the screen for MST3K's almost fully financed reboot. Whoever joins them, I'm sure Joel Hodgson will have the perfect part for them in mind soon enough.
Bachelor Nation, Gilmore Girl; will Vulcan nerve pinch pretty much anyone if prompted with cheese...Yes, even Jamie Fraser.