Modern Family Adds The League's Jason Mantzoukas And Paul Scheer As Guest Stars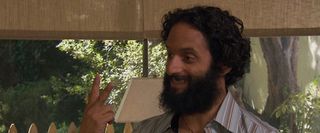 Fans of FX's The League should be well familiar with Rafi, Sofia's weird brother played by Mason Mantzoukas, who's often coming up with harebrained schemes. Mantzoukas is set to appear in Modern Family and you'll never guess what role he's playing. And he isn't the only League cast member set to cross paths with the family either!
EW shared the news that Mantzoukas is set to appear in an upcoming episode of Modern Family, playing Haley's new boyfriend. Yes, Haley Dunphy - as in, just went off to college and a few months ago, was in high school, but is now dating a man technically old enough to be her father. I can't wait to see how Claire and Phil react to this! At the very least, he's not her professor. According to EW, he's a jeans designer and co-worker of Haley's.
Meanwhile, also set to guest star on Modern Family this season is Paul Scheer, who plays Andre in The League. In addition to the FX comedy, Scheer is also known for his stand-up, and has film and TV credits that include Human Giant, Best Week Ever and the Piranha movies. In MF, he plays a Costco manager who has a run-in with Gloria and Claire. It should be interesting to see where that story goes. And it's exciting to note that Modern Family is adding some seriously funny guest stars this season. Scheer and Mantzoukas join Shelley Long and Matthew Broderick among the celebs set to appear on the show, which is currently airing new episodes on Wednesday nights.