NBC Picks Up Western From Friday Night Lights Producers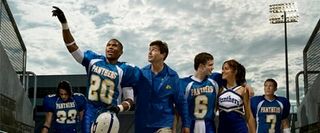 Western shows are the new hotness these days. AMC's got Hell on Wheels coming up. Yesterday, Jessica told us about A&E's greenlight for Longmire, based on Craig Johnson's novels and with a cast including Lou Diamond Philips and Battlestar Galactica's Katee Sackhoff. A few days before that, TNT picked up a western series called Gateway. Now another one is strapping on its spurs: The Hollywood Reporter says that NBC has ordered a western script from Friday Night Lights producers Peter Berg and Liz Heldens.
Unfortunately, that's about where the details end. The THR story says that the series will be "a western story told from a female point of view." Berg and Heldens will both exec produce, with Heldens writing the script. That's not much to go on, but if they can bring the same level of writing quality to this show as they did to Friday Night Lights, this will definitely be one to watch.
Of course, the trick there is getting people to watch. Friday Night Lights was consistently praised by critics and die-hard fans alike, but it never became the kind of hit it deserved to be, only surviving as long as it did thanks to a partnership between NBC and DirecTV that allowed the episodes to air first on DTV's in-house The 101 network. Hopefully Berg and Heldens will get more eyeballs for their new show.
What do you think of the glut of new western shows? Are you itching for some horse opera? Sound off over on TV Blend's Facebook page.
Your Daily Blend of Entertainment News