Parks And Recreation Watch: Season 6, Episode 11 - New Beginnings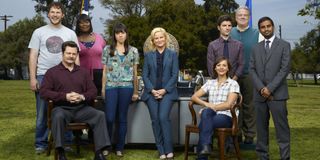 New Beginnings doesn't really seem like one for Parks & Rec, as the episode spins its wheels in another lackluster entry for the show.
Leslie is re-hired as the Parks Department Manager and her first act of business is to try and submarine the progress of Tom and his new position; huh? This makes no sense for Leslie as a character, and it is a wasted opportunity for comedy when reintroducing her to the office. The group is all together in the early scenes of the episode, but I was disappointed that they went with a traditional A, B, C story instead of finding a way to keep everyone connected to Leslie on her first day back. The storyline's final scene was the episode's best, Ron destroying his award is a classic Swanson moment, but when it became clear they were just trying to define that the office would be OK without Leslie the path they took seemed oddly planned out. They didn't even include April in this part of the episode, choosing instead to just drop a line of exposition saying how much she has grown. Odd choices.
Even odder is that April's supposed growth is shown by her pulling pranks on Ben in a rather uninspired story. Getting to see Adam Scott be a nervous wreck was great, but, really? A prank war? Plus, what the hell happened to Andy this week? Chris Pratt has been gone for weeks on the show and in his second episode back you make him the D player in your C story? Come on! The Donna fold in earlier this season pays off as it seems totally plausible she would be a part of the pranking, but that is a small victory for a rather dull plot line.
The last storyline was Ann and Chris deciding whether to get engaged or not and it is about as entertaining as you could imagine; not very. Thankfully, they get a fantastic scene with Larry to open their storyline. Getting to see Chris even be annoyed with Larry is fantastic. Doesn't make up for everything after that between the two, but, sadly, I am ready to see them go.
Speaking of going, is it time for Parks & Rec to throw in the towel? When you add "New Beginnings" to the other episodes that have come up short this season, this is practically a lock to be the worst year yet for the show. The characters aren't growing, the jokes aren't getting any sharper and the show seems to have run out of interesting story lines. The show still makes me laugh at times and is entertaining enough, but I have reached the point where I would be OK if this was it for the show. Sad, but true, lets hope the season still has some winners left in it.
Random Ramblings:
-"Totally I'm in on the joke."
-"That, literally, went on forever."
-I like boss Ben.
-"Lets sacrifice Larry."
-"Whose hair is that? It's brown."
-Stew Flutes?
-"You don't even know where it is?"
-"That's the old Tom."
-"But then you didn't realize that, and that was very embarrassing for you."
-Welcome to Illinois!
Your Daily Blend of Entertainment News
Thank you for signing up to CinemaBlend. You will receive a verification email shortly.
There was a problem. Please refresh the page and try again.