Minx Season 2: What We Know About The Series
From cancellation to rebirth, Minx Season 2 is already off to an exciting start.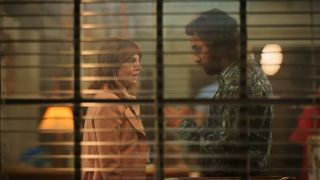 (Image credit: Lionsgate TV)
HBO Max's recent cancellations and original programming removal has caused fans of the streaming service to become concerned. No one wants another Netflix situation with many beloved TV shows not even making it past Season 1. The sudden cancellation of Minx Season 2 and its move to Starz is another example of a cancellation making fans worry.
We will have to worry for a while, because HBO Max continues to take an ax to its originals. However, there is some relief for Minx fans, as the show has gotten a new life. With an already exciting start to Minx Season 2, let's look at some other things we know about the new season.
Warning: Minx Season 1 spoilers ahead. Proceed with caution.
Minx Season 2 Premieres On Starz
Let's take a journey back to May 2022 when HBO Max renewed Minx after its March premiere. Fans were happy, HBO Max was happy, and the cast and crew were definitely happy. Production had already been well underway for the new season when HBO decided to reverse its renewal.
Deadline announced in December that the series would not be going forward at HBO Max. However, Lionsgate TV, the company that owns Minx, released an official statement that gave fans hope. It addressed the cancellation and said production would continue as the company looked for a new home.
According to Deadline, Starz "pursued Minx" and jumped on the opportunity to add it to its network. We have no further information on when fans can expect the new season to premiere on the cable network, however, it was revealed that Season 1 episodes would be available in Starz's library now that it has been removed from HBO Max.
It Finished Filming In December 2022
Deadline reports that Minx Season 2 was in its final week of filming when the cancellation was announced, but the crew continued to film despite the uncertainty of its future.
Jake Johnson even took to Instagram to assure fans that filming would continue and that the crew would still search for a new network for Seasons 1, 2, and a potential Season 3. On December 18, Ophelia Lovibond confirmed on Instagram that filming for the second season had ended.
Based on cast updates, it seems like filming for Minx Season 2 began In September or October 2022. It's unconfirmed how many episodes there will be, but if it follows the same pattern as the first season, then fans can expect at least 10 installments.
Because the second season wrapped in December, fans may want to pencil it in for the first half of 2023. The first season premiered in March, so there is a possibility that Season 2 premieres by sometime in March 2023. Minx seems like a great spring or early summer show, so I doubt that Starz would delay it for a fall or winter premiere.
Elizabeth Perkins Joins The Cast Of Minx Season 2
In September 2022, Elizabeth Perkins joined the cast in a recurring role.
Deadline revealed that she plays Constance, a wealthy widow of a Greek shipping magnate, and her appearance will be part of a season-long arc. The actress shared a behind-the-scenes photo on Instagram of her looking quite wealthy on a horse.
Elizabeth Perkins is best known for her roles in the movies Big, About Last Night, and He Said, She Said. Fans may also recognize her for roles in the TV shows Weeds, This Is Us, Sharp Objects, and AppleTV+'s Truth Be Told.
As of January 2023, there have been no other new cast announcements for Minx.
Jake Johnson, Ophelia Lovibond, And The Rest Of The Cast Return For Season 2
Minx leads Jake Johnson and Ophelia Lovibond will be back to reprise their roles as Doug and Joyce. Other returning cast members also include Jessica Lowe, Lennon Parham, Idara Victor, and Oscar Montoya.
Creator and showrunner Ellen Rapoport also shared (via her Instagram story) that she will be directing at least one episode of in Season 2. UnREAL star Shiri Appleby will also be stepping behind the camera for at least one episode.
Minx's Showrunner Wants To Explore What's Next For Bambi And Shelly
In an interview with Variety, Ellen Rapoport discussed the big Bambi (Jessica Lowe) and Shelly (Lennon Parham) kiss towards the end of Minx Season 1, and what that could mean for their relationship in Season 2. Rapoport discussed Shelly trying to figure out her sexuality going forward.
She also mentions Shelly's husband and how he fits into everything, adding that "she's confused and not sure what she wants to do, and not even sure how she really feels." It seems like Shelly has a lot to figure out in Season 2.
Shelly and Bambi could allow Minx to become a show with great LGBTQ+ representation if it fully embraces a potential romance with them. We'll have to wait to see how their relationship develops in future seasons and the evolution of Shelly's sexuality.
Minx Season 2 Could Deal With Joyce And Doug's Possible Work Reconciliation
The first season ended with Doug allowing Joyce to run the magazine on her own. Despite the major decision, it doesn't necessarily mean that they won't work together in future seasons. In an interview with Collider, Ellen Rapoport had this to say about a possible Doug and Joyce work reconciliation:
Rapoport also shared with Variety that she believes that Doug and Joyce "need each other" because they possess skills that the other lacks. The showrunner also noted that the next installment will explore whether Joyce is really capable of succeeding in this industry on her own.
Make sure to follow our 2023 TV schedule for updates on the Minx Season 2 premiere. The first season will be available to watch on Starz soon. It could be one of the best Starz shows to watch before long.
Your Daily Blend of Entertainment News
Spent most of my life in various parts of Illinois, including attending college in Evanston. I have been a life long lover of pop culture, especially television, turned that passion into writing about all things entertainment related. When I'm not writing about pop culture, I can be found channeling Gordon Ramsay by kicking people out the kitchen.