SuperKitties: 6 Things To Know About The Disney Show That Has Probably Become Your Kids' Next Big Obsession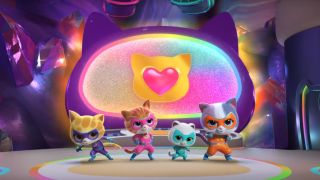 (Image credit: Disney)
A few weeks ago, my three-year-old barged into the room, threw a phone at me, and yelled out, "I want SuperKitties." I had no idea what she was talking about, and spent a few minutes trying to decipher her speech before I finally realized what was going on. A while later, the first of many episodes was playing on Disney+, and my daughter, for the first time all day, was quiet and at peace (which is a rare occurrence at this stage).
This little episode got me wondering, are there other parents who have yet to watch SuperKitties, or even know what it's about? There's a good chance I'm not alone in this experience, and so I decided to break down a few things to know about the show that will probably become your kids' next big obsession. Here's what I've discovered so far about my daughter's favorite 2023 TV show so far…
The Animated Series Is About Four Felines Who Become Superheroes To Save Their City
SuperKitties has a pretty simple premise in that it follows four feline friends – Ginny, Sparks, Buddy, and Bitsy – as they are transformed into superheroes to protect the town of Kittydale from a number of different threats. Equipped with a plethora of powers and exciting gadgets, the SuperKitties take on a number of villains like Lab Rat and my personal favorite, Mr. Puppypaws before going back to their daily lives.
It's like Paw Patrol, but the cats are the heroes and not the hench-felines for that dastardly Mayor Humdinger.
New, 22-Minute Episodes Debut Weekly On Disney Junior And Disney+
Since the show's debut in early January 2023, new, 24-minute episodes of SuperKitties have debuted weekly on Disney Junior and Disney+. Each episode is split into two short stories, ranging from adventures where the felines have to save Kittydale from a giant ball of yarn to finding a way to communicate after losing their voices.
The Show Is Rated TV-Y
Like a lot of shows geared at entertaining restless little ones, SuperKitties is rated TV-Y and is suitable for viewers of all ages. However, kids older than 7 or 8 years old may find the show a little childish. If that's the case, there are a ton of great shows on Disney+ worth checking out.
Each SuperKitties Adventure Ends With A Positive Message
Taking into consideration the fact that SuperKitties is geared towards audiences ranging from 2 to 6 years old, it shouldn't be all that surprising to hear that each adventure ends with a positive message of some sort. This includes messages like thinking about others when you want to play and learning how to listen to those who know more than you.
The SuperKitties Theme Is A Real Earworm, So Prepare For That
Kids shows have long made use of catchy theme songs to hook audiences, and the same can be said for SuperKitties. Seriously, the intro, which sounds like something you'd hear in a James Bond opening title sequence, is a real earworm, and it's been stuck in my head for a few weeks now. I mean, just take a listen for yourself.
More SuperKitties Is On The Way, As Disney Has Ordered A Second Season
The first set of episodes of SuperKitties started to drop only recently, but a second season of the popular animated series is already in the works. During aTelevision Critics Association press conference in January 2023, Disney revealed its plans for a Season 2, though no timeline was provided. It's safe to say we'll be seeing a lot more of the fearless foursome for quite some time.
Hopefully, this all helps you make sense of SuperKitties and why it has become your kids' latest obsession. If you want, you can see what all the fuss is about by using your Disney+ account to watch all available episodes.
Stream SuperKitties on Disney+. (opens in new tab)
Your Daily Blend of Entertainment News
Philip grew up in Louisiana (not New Orleans) before moving to St. Louis after graduating from Louisiana State University-Shreveport. When he's not writing about movies or television, Philip can be found being chased by his three kids, telling his dogs to stop yelling at the mailman, or yelling about professional wrestling to his wife. If the stars properly align, he will talk about For Love Of The Game being the best baseball movie of all time.