Cocomelon And 9 Other Netflix Shows To Entertain Restless Little Ones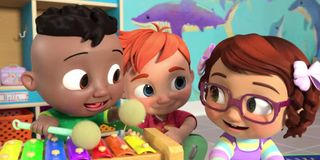 I love my kids and wouldn't trade them for anything in the world, but whenever they've been cooped up in the house (which is a lot lately) and full of sugar, I need something to calm them down just a bit. Thankfully, we have a Netflix subscription that gives us access to the hundreds, if not thousands of children's shows bring peace to our humble abode. TV series like the Cocomelon, Pocoyo, and even some of those old Leap Frog specials from back in the day have all saved the day time and time again in my house.
Shows like that are especially helpful for my four-year-old daughter who claims to be too old to take naps but still needs some downtime in the early afternoon to prevent a full-scale meltdown come dinner time. And I know I'm not alone in this, so here is a list of 10 Netflix shows you can put on to entertain those restless little ones running around like sugar-fueled, no-nap-having monsters since you can't drop them off their grandparents' house.
Cocomelon
My kids are obsessed with pretty much every animated nursery rhyme video on YouTube Kids (I'm not letting them fall down the real YouTube rabbit hole again after the Mickey Mouse kidnapping video incident) and so there was not a doubt in my mind that they would love Cocomelon when the series first migrated over to Netflix in June 2020. I was all excited to introduce those little ones to some great sing-along action, but when I went to start the first episode I noticed that they had already watched two-and-a-half of the three available episodes.
Nevertheless, in the month and change since it first appeared on the streaming platform, Cocomelon has become a go-to method of calming down the kids when they've had too much sugar and excitement and not enough rest. There's something about the calming nature of the songs with the soft voices, slightly slowed-down animation, and vibrant visuals that just transfix my kids and allow the rest of us to relax as well.
Stream it on Netflix here (opens in new tab).
Little Baby Bum
At some point over the past few years, my kids discovered and became obsessed with a compilation of nursery rhymes and other songs titled Little Baby Bum, and ever since then, they've become a fixture at my house. My two-year-old son is absolutely obsessed with everything that has anything to do with these videos, to the point where he will often wake up in the morning demanding to put one on.
Whenever my son has been running around like a madman for most of the day, hasn't really napped, and is a time-bomb waiting to explode, I put on my protective gear and hurry to get Little Baby Bum on before the clock hits zero. More times than not, as soon as the first few notes play through the speakers, my son is plopped down on the couch without a care in the world. And most of the songs not only calm him down, but also help him work on his counting and even how to pick up a beat.
Stream it on Netflix here (opens in new tab).
Pocoyo
There is just something terrifically enjoyable and pleasant about the Spanish-British animated series Pocoyo about a young boy and a handful of other characters who go off on multiple adventures in a white void. The English version of the show is narrated by British comedian Stephen Fry as he describes the boy's fun and games that mostly involve a pink elephant. Each episode on Netflix contains at least three small sections that focus on a number of topics, and all are as fun as can be.
While it doesn't have the calming songs like other shows on this list, Pocoyo still does the trick when my kids need something to help them wind down in the afternoon or early evening. The best thing about it (like some other shows later on in this list), the animated series can be enjoyed by kids of all ages as the humor and enjoyment of the show don't rely on an understanding of language. Just pop it on and listen to the lazy chuckles coming from the next room.
Stream it on Netflix here (opens in new tab).
Larva
There are some great kid shows on Netflix right now, and one of the favorites in my house is the animated Korean series Larva, which follows the day-to-day lives of two larva as objects randomly drop into their home which happens to be a gutter. I was first introduced to the series by my mother-in-law who found it one day and started watching it with my daughter and son. I kept hearing laughs (and no fighting) coming from the living room and had to check it out. All three were cuddled up on the couch having a ball with the show.
Since then, Larva has come through time and time again to help calm down my kids when they need it the most. Instead of dialogue, the show tells its series of short stories through physical comedy that is made for all ages. And after blowing through the first three seasons, we recently found the spinoff Larva Island and the movie that accompanies it, so we'll be busy for quite some time.
Stream it on Netflix here (opens in new tab).
Booba
Since we're on the topic of non-verbal physical comedy, now's as good a time as any to talk about the delightful Booba program that's currently streaming on Netflix. Centered around a strange little creature that looks like both a child and an old man, the show follows Booba as he discovers and becomes enamored by the wonders he uncovers along the way. With episodes set in kitchens, bathrooms, nurseries, and offices, Booba is transfixed by the smallest of things.
Each episode of Booba has a slow and methodical pace which makes it perfect for a relaxing watch if you're trying to get your kids from bouncing on the walls for 20 minutes. And the good thing about Netflix is that episodes autoplay, giving you time to wind down yourself or even catch up on the mess that the little hellions have left in their wake.
Stream it on Netflix here (opens in new tab).
Oscar's Oasis
The final kid show on Netflix that replaces songs and dialogue with non-verbal comedy is the classic Oscar's Oasis which I admittedly enjoyed before I even had kids. The French-Korean computer-generated series follows the exploits of a gecko by the name of Oscar and several other animals getting into all sorts of mischief in a vast desert. Honestly, I didn't know how my kids would react, but they were hooked from the start.
Each episode consists of the small sections that are long enough to tell a story but short enough to where your kids will keep paying attention and learn to relax for once. If your kids are obsessed with animals as much as mine, you won't have any problem getting them to sit down and bask in the glory of this humorous little series.
Stream it on Netflix here (opens in new tab).
Llama Llama
The Netflix animated series Llama Llama is one of those shows you tell yourself you'll never watch, but by the end of the month, you've seen every episode. Seriously, the show about a llama named Llama is a big hit in my house, especially whenever my nieces and nephews come to visit. It must have some kind of crazy word-of-mouth following at preschools and daycares around town because the kids are obsessed.
With a good blend of humor and some great lessons about sharing, caring, and even the importance of getting rest, Llama Llama not only meets, but it also exceeds the hype. There have been times when I give my daughter the iPad and the next thing I know she's in state of peace and tranquility with the show playing over and over again. If that's not a hit I don't know what is.
Stream it on Netflix here (opens in new tab).
Ask The StoryBots
If you're looking for a fun show that's also educational for your kiddos, then Ask the StoryBots is about as good as it gets. Not only does it have some great animation, stories, and guests ranging from John Legend to Snoop Dogg, the Netflix original series also teaches kids about the day/night cycle, computers, volcanoes, and even music.
My son, like every two-year-old, is going through the phase where he asks "why" everything I tell him something and Ask the StoryBots is a great way of explaining how things work when he's in one of those moods. Plus, you have some songs sprinkled in throughout, which does the trick for all three of my kids. It even gets me, the most restless of the kids in my house, to relax sometimes,
Stream it on Netflix here (opens in new tab).
Leap Frog: Read-Along, Sing-Along
In the spring of 2020, Netflix became host to three different specials from the educational software brand Leap Frog, including the Sing-along, Read-along program that serves as a fun way of teaching your restless kids while they're stuck at home and going to school over the internet. While not as fun or flashy as something like Cocomelon or Little Baby Bum, this 2011 educational program more than does the trick with the help of a funk band that's set on having fun and helping young learners develop their verbal language skills.
My son isn't the biggest fan of the Leap Frog: Read-along, Sing-along, but my daughter is all about that life at this point. I just get it ready to go on the iPad and away she goes into a funky world of music and learning.
Stream it on Netflix here (opens in new tab).
Number Blocks
And then there is the animated series Number Blocks in which each episode focuses on a different number getting into all sorts of trouble along the way. There are a total of 20 five-minute episodes to enjoy, and with each being so short, you could knock it out in a couple of hours. Each episode not only helps kids understand numbers, they also include some pretty catchy songs that you won't be able to get out of your head.
Older kids probably won't be entertained for too long here, but put this on for anyone under the age of four and you'll have a quiet house in no time at all. Just don't lose touch with time as anxiously await what kind of song 13 has in store for you.
Stream it on Netflix here (opens in new tab).
Well, hopefully that is more than enough shows to keep your restless little ones entertained for an hour or so (or days if you find yourself trapped in an endless series of episodes). Do you have any experience with these shows or have some recommendations of your own? If so, make sure to drop a comment down below and share the wealth.
Philip grew up in Louisiana (not New Orleans) before moving to St. Louis after graduating from Louisiana State University-Shreveport. When he's not writing about movies or television, Philip can be found being chased by his three kids, telling his dogs to stop yelling at the mailman, or yelling about professional wrestling to his wife. If the stars properly align, he will talk about For Love Of The Game being the best baseball movie of all time.
Your Daily Blend of Entertainment News
Thank you for signing up to CinemaBlend. You will receive a verification email shortly.
There was a problem. Please refresh the page and try again.