SNL Hosts: All The Hosts And Musical Guests For Season 47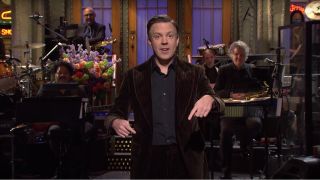 (Image credit: NBC)
Over the years, Saturday Night Live hosts like Tom Hanks or Melissa McCarthy and musical guests like Paul Simon or Lady Gaga have taken the stage at 30 Rockefeller Plaza's Studio 8H to create some of the most iconic moments in live television. The sketch comedy series' 47th season saw its fair share of memorable moments, courtesy of hosts like Jason Sudeikis and musicians like Billie Eilish, who also made her hosting debut this year.
There are plenty more memories to relive from Saturday Night Live Season 47 through streaming on Peacock. The following is a list of who joined the cast for a night of laughs and tunes during the 2021-2022 season.
October 2, 2021 - Owen Wilson With Musical Guest Kacey Musgraves
The latest season of Saturday Night Live kicked off with an episode hosted by Loki and The French Dispatch star Owen Wilson, who finally led the show for the first time in his career. And, even though he has admitted in the past that his nervousness has stopped him from doing something like this in the past, Wilson did a tremendous job with his hosting duties, especially the sketch that saw him reprise his Cars character, Lightning McQueen. The SNL Season 47 premiere also featured Kacey Musgraves making history with her instant-classic performance.
Stream it on Peacock. (opens in new tab)
October 9, 2021 - Kim Kardashian West With Musical Guest Halsey
On October 9, Kim Kardashian West hosted Saturday Night Live for the first time, and proved that she actually had great comedic timing. The episode, which was watched by millions of viewers, saw the reality TV star poke fun at her ex-husband Kanye West, multiple members of her family, and even O.J. Simpson to make her mark. The second episode of the season also featured musical guest Halsey, who performed on the very popular show for the fourth time throughout her career.
Stream it on Peacock. (opens in new tab)
October 16, 2021 - Rami Malek With Musical Guest Young Thug
On October 16, Rami Malek, hot off the long-awaited release of No Time to Die, hosted Saturday Night Live for the first time in his career. One of the highlights of the episode was the sketch that saw Malek share the screen with his 007 co-star Daniel Craig, and SNL mainstay Kenan Thompson, in an audition for a Prince biopic. The third episode of the season also featured musical guest Young Thug, who made his SNL debut with a pair of electric performances.
Stream it on Peacock. (opens in new tab)
October 23, 2021 - Jason Sudeikis With Musical Guest Brandi Carlile
On October 23, Saturday Night Live alum Jason Sudeikis returned to his old stomping grounds to host the long running series for the first time since departing the cast in 2013, although he has made multiple cameos during the years since then. The Ted Lasso star was featured in the majority of the sketches, including the cold open that saw three different versions of Joe Biden conversing in the Oval Office. Sudeikis also gave an impassioned opening monologue about the show's history and what it means to him. Musical guest Brandi Carlile made her SNL debut in spectacular fashion.
Stream it on Peacock. (opens in new tab)
November 6, 2021 - Kieran Culkin With Musical Guest Ed Sheeran
On November 6, Kieran Culkin hosted Saturday Night Live for the very first time and became the second Culkin brother to take the stage (Macaulay Culkin had the honor of hosting during the 1991 season). In the years since making his acting debut as the soda-loving Fuller McCallister in Home Alone, Culkin has appeared in movies ranging from Father of the Bride to Scott Pilgrim vs. the World. He has also been one of the major players on the HBO drama series Succession, for which he has received both Golden Globe and Primetime Emmy Award nominations for his portrayal of Roman Roy.
Filling the role of musical guest on SNL on November 6 was Ed Sheeran, who took the stage for the third time in his career. Sheeran previously appeared on SNL in April 2014 and February 2017.
Stream it on Peacock. (opens in new tab)
November 13, 2021 - Jonathan Majors With Musical Guest Taylor Swift
On November 13, Jonathan Majors hosted Saturday Night Live for the first time in his young, yet highly-successful career, delivering an impressive opening monologue and showing off his comedy chops in many of the night's best sketches. This probably won't be the last SNL appearance by Majors, whose career reached new heights following his portrayal of He Who Remains on Loki in Summer 2021, especially with his continued involvement in the Marvel Cinematic Universe.
Stepping in as the musical guest on November 13 was Miss Americana herself, Taylor Swift, who broke from tradition and gave a single ten-minute performance of "All Too Well." This marked the fifth time Swift has taken to the SNL stage since she made her first appearance on the show in November 2009. Now, we just need to get T. Swift back on hosting duties.
Stream it on Peacock. (opens in new tab)
November 20, 2021 - Simu Liu With Musical Guest Saweetie
On November 20, Simu Liu added Saturday Night Live host to his list of 2021 achievements when he appeared on the long-running sketch comedy program. Liu made waves earlier in the year when he portrayed the titular hero in Shang-Chi and the Legend of the Ten Rings, making him the third Marvel star (so far) to host SNL this season. Liu is also no stranger when it comes to comedy, as he was a fixture of the sitcom Kim's Convenience and also made guest appearances on Fresh Off the Boat and Awkwafina Is Nora from Queens.
Rap sensation Saweetie served as the Saturday Night Live musical guest for the first time in her career on November 20. In addition to her successful music career, the MTV Video Music Award-winning performer has also been featured on Grown-ish, Wild 'n Out, and Cooking with Paris.
Stream it on Peacock. (opens in new tab)
December 11, 2021 - Billie Eilish
On December 11, Billie Eilish followed in the footsteps of Lady Gaga, Taylor Swift, and a few dozen other famous singers who have pulled double-duty as Saturday Night Live host and musical guest. Hot off the July 2021 release of her sophomore effort Happier Than Ever and the long-awaited release of No Time to Die (which features the Grammy-winning title track), Eilish showed off her comedy chops in multiple skits and the impressive opening monologue.
Billie Eilish also took care of the musical duties with renditions of "Happier Than Ever" and "Male Fantasy" alongside her brother and musical partner Finneas.
Stream it on Peacock. (opens in new tab)
December 18, 2021 - Paul Rudd With Musical Guest Charli XCX
Paul Rudd officially became a member of the prestigious 5-Timers Club when he hosted Saturday Night Live on December 18, but not in the way in which everyone hoped. Due to an increase in COVID-19 cases in New York City, Saturday Night Live's Christmas episode became a collection of pre-shot segments filmed throughout the week and classic skits from holidays past. Rudd was joined by fellow 5-Timers Tom Hanks and Tina Fey in studio, as well as Steve Martin and Martin Sheen via video. Fey even stuck around to appear alongside Michael Che in the Weekend Update segment.
Charli XCX was originally scheduled to be the episode's musical guest, but her performance was cancelled due to the decision by Saturday Night Live producers to have a limited cast and crew and no live audience due to the uptick in COVID-19 cases, according to a Tweet the singer made.
Stream it on Peacock. (opens in new tab)
January 15, 2022 - Ariana DeBose With Musical Guest Bleachers
On January 15, Golden Globe winner Ariana DeBose made her Saturday Night Live debut when she hosted the first episode of 2022. DeBose became the second member of the Hamilton cast to serve as SNL host, and first since the Broadway hit's creator Lin-Manuel Miranda hosted back in October 2016. To star things off, the West Side Story star was joined by SNL mainstay Kate McKinnon to perform a medley of numbers from Steven Spielberg's 2021 adaptation of the iconic Broadway musical.
Several days before Saturday Night Live was set to air, Roddy Ricch was replaced by Bleachers as that week's musical guest. The Jack Antonoff-led group performed the hit songs "How Dare You Want More" and "Chinatown."
Stream it on Peacock. (opens in new tab)
January 22, 2022 - Will Forte With Musical Guest Måneskin
On January 22, Saturday Night Live alum Will Forte returned to 30 Rockefeller Plaza's Studio 8H, and became the latest in a long line of SNL greats to host the show for the first time (even if he was the last of the core 2000s group to do so). Forte was joined by Kristen Wiig and the two went to town with some of their most iconic characters and tons of laughs throughout the night.
Italian rock outfit Måneskin served as the Saturday Night Live musical guest, performing their hits "Beggin" and "I Wanna Be Your Slave."
Stream it on Peacock. (opens in new tab)
January 29, 2022 - Willem Dafoe With Musical Guest Katy Perry
Willem Dafoe took to Studio 8H for the first time in his legendary career when he hosted Saturday Night Live on January 29. During his hilarious and endearing monologue, the Spider-Man: No Way Home star touched on everything from his over-the-top facial expressions to comparisons with the Joker.
Serving as musical guest was Katy Perry, who performed "When I'm Gone" and "Never Really Over during her fourth appearance on the long-running sketch comedy program.

Stream it on Peacock. (opens in new tab)
February 26, 2022 - John Mulaney With Musical Guest LCD Soundsystem
Former Saturday Night Live writer John Mulaney joined the "Five-Timers Club" in a sketch during his February 26 hosting gig with cameos by Steve Martin, Candace Bergen, Paul Rudd, Tina Fey, Elliott Gould, and, most surprisingly, fellow former writer Conan O'Brien. Following a moving, choral tribute to Ukraine, the comedian gave a very personal, but thoroughly hilarious monologue and, later, kept tradition with a new musical sketch that pokes fun at New York's subway system.
Also appearing in said sketch was musical guest LCD Soundsystem, the Grammy Award-winning rock outfit led by singer James Murphy. For their first appearance on Saturday Night Live since May 2017, the band performed two songs off of their self-titled, 2005 debut album - namely "Thrills" and "Yr City's a Sucker."
Stream it on Peacock (opens in new tab).
March 5, 2022 - Oscar Isaac With Musical Guest Charli XCX
Just in time for the Disney+ premiere of his Marvel TV show, Moon Knight, later in the month, Oscar Isaac made his Saturday Night Live hosting debut on March 5. During his opening monologue, the actor mentioned his MCU induction as a segue into showing clips from his childhood home movie - coincidentally called The Avenger - and capping it off with some encouragement for kids to be "weirdos" on the chance that they might host SNL one day.
Performing some tunes from her latest album, Crash, in between the humor was Grammy winner Charli XCX. This was the British singer's second time on SNL, which was supposed to happen the night Paul Rudd hosted on December 18 before her appearance was canceled in response to the Omicron variant in New York.
Stream it on Peacock (opens in new tab).
March 12, 2022 - Zoë Kravitz With Musical Guest Rosalía
Making her SNL debut on March 12 was Zoë Kravitz, whose role as Catwoman in The Batman became a point of conversation that night. Her monologue saw the return of past Catwomen (Kate McKinnon as Batman Returns' Michelle Pfieffer and Ego Nwodim as Eartha Kitt from the 1960s TV Series) as well as Aidy Bryant as a "Cat Lady" and Chris Redd as comedian Katt Williams. The actress also starred in a Please Don't Destroy video (featuring a cameo by Riddler actor Paul Dano) in which the titular trio attempt to give their host a cat.
That night's musical guest was Rosalía, who became the first in the show's history to sing entirely in Spanish for both performances. This was also the first Saturday Night Live appearance ever for the singer-songwriter whose sophomore album El Mal Querer won the Latin Grammy for Album of the Year in 2019.
Stream it on Peacock (opens in new tab).
April 2, 2022 - Jerrod Carmichael With Musical Guest Gunna
It was actually surprising to learn that Neighbors cast member Jerrod Carmichael had never hosted SNL before he hit the stage when the show returned on April 2, 2022. In his monologue, the actor, writer, comedian, and filmmaker commented on recently coming out as gay on his new HBO Max stand-up special, Rothaniel, and his unwillingness to talk about a certain Oscars ceremony incident before later starring in a sketch about it.
The audience was also treated to a pair of performances by Gunna, who released his third and most recent studio album, DS4Ever, in January. The Georgia-based rapper also starred in a music video with Pete Davidson about some people's preferences for watching "short-ass movies" depending on the time of day.
Stream it on Peacock (opens in new tab).
April 9, 2022 - Jake Gyllenhaal With Musical Guest Camila Cabello
The last time Jake Gyllenhaal hosted Saturday Night Live was 15 years earlier, followed by a few memorable cameos - most recently in February 2020 as a "guy who travels in pajamas" at LaGuardia Airport. The Academy Award nominee and Ambulance star actually mentioned his Dreamgirls song performance in drag at that first 2007 gig when he re-entered the Studio 8H spotlight, front-and-center, on April 9.
Also celebrating her sophomore SNL gig was Camila Cabello, who previously appeared as the show's musical guest during Season 45 in 2019. The Cuban-American Grammy nominee, who made her acting debut with Amazon Prime's Cinderella cast in 2021, was also joined by Willow Smith for the first live performance of their new song, "Psychofreak."
Stream it on Peacock (opens in new tab).
April 16, 2022 - Lizzo
After making her Saturday Night Live debut as a musical guest on the night Eddie Murphy returned in Season 45, Lizzo made her hosting debut on April 16, 2022, with an opening monologue that she promised would break the record for the most times "bitch" has been said on live TV, and she just might have achieved it. The Grammy-winning artist had previously admitted to being nervous about breaking out in laughter, which did happen often, but actually leant to the appeal of the show and solidified Lizzo as one of this season's most charming and enthusiastic hosts yet.
The Hustlers cast member also served as musical guest, performing two songs from her new album, About Damn Time (first introduced by herself and secondly by her mother). She also collaborated on a funny track with Please Don't Destroy and demonstrated her masterful skills with a flute in a sketch that also utilized her twerking talent.
Stream it on Peacock (opens in new tab).
May 7, 2022 - Benedict Cumberbatch With Musical Guest Arcade Fire
For the second time, Benedict Cumberbatch hosted Saturday Night Live while promoting his lead performance in a Marvel movie - namely Doctor Strange in the Multiverse of Madness, this time. This being Season 47's Mother's Day show, the Oscar nominee paid tribute to his mother and his wife in his hilarious monologue and later shared the screen with his MCU co-star, Elizabeth Olsen, for a funny moment from a later sketch.
Joining the Five-Timers Club on May 7, 2022 (if the membership rules also apply to musicians) was the episode's musical guest, Arcade Fire, who also once performed on the show as special guests with then-host Mick Jagger in 2012. The Grammy-winning, Canadian indie rock group played the two-part song "The Lightning" and "Unconditional (Lookout Kid)" off of their latest album, We.
Stream it on Peacock (opens in new tab).
May 14, 2022 - Selena Gomez With Musical Guest Post Malone
Former Disney Channel star Selena Gomez, who previously performed on Saturday Night Live as a musical guest in Season 41, made her debut as a host on May 14, 2022. In her monologue, the Only Murders in the Building cast member made fun of her co-star, Steve Martin (before also appearing in a sketch with him), and paid homage to her days on the children's program, Barney.
While Gomez did not perform any music that night in Studio 8H, as that gig was secured by Post Malone. This was the first SNL appearance for the Grammy-nominated rapper and Wrath of Man cast member, who was also joined on stage by Roddy Rich and Fleet Foxes.
Stream it on Peacock (opens in new tab).
May 21, 2022 - Natasha Lyonne With Musical Guest Japanese Breakfast
Closing out Season 47 of Saturday Night Live on May 21, 2022 was Natasha Lyonne - the former Orange is the New Black cast member and star and co-creator of Russian Doll on Netflix. The actor made her hosting debut on what would also be the last episode for cast members Kate McKinnon, Pete Davidson, Aidy Bryant, and Kyle Mooney.
Also making their SNL debut as musical guest was Japanese Breakfast. The Grammy-nominated indie rock group, headed by Korean-American singer Michelle Zauner, performed two tracks from their third studio album, Jubilee, called "Be Sweet" and "Paprika."
Stream it on Peacock (opens in new tab).
As someone who thought that Season 47 was, overall, a success, I am excited to see what they have in store with Saturday Night Live Season 48.