High School Musical 3 Brings Up Bloopers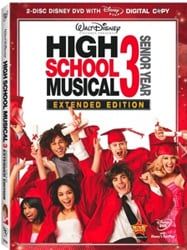 High School Musical 3 is rapidly approaching its release date, appearing on store shelves on February 17th on both DVD and Blu-Ray. In celebration of the upcoming release, Disney's stars started dishing some dirt on the making of he movie, revealing some of what you didn't see on screen.
Which cast member managed to get stuck on set? Who wound up needing multiple prom dresses due to excessive persperation? Read on to see the secrets of the making of High School Musical 3: Senior Year. Then see the bloopers on the DVD and Blu-ray disc, just part of the bonus material, which also includes sing-along features, deleted scenes, and featurettes focused on the dresses, the prom, and the goodbyes behind HSM3.
FOOT FIASCO!
Zac Efron: I don't know how it happened, but my foot slipped through a theatre seat during a scene and I couldn't get it out! It was so funny because they had to take the seat apart to rescue my foot. The cameras had to stop rolling and people were brought on set to unscrew the bottom of the chair. I was mortified!
FALL OUT BOY!
Corbin Bleu: Whenever you're dancing with an ensemble, something is always going to go wrong. Tons of the cast would fall over or trip over each other's feet – but it was me who fell over the most. The camera would always catch me, which was really embarrassing. Look out for the falls on the DVD's blooper reel!
TUTU MUCH!
Olesya Rulin: During the prom number, I was wearing a ballet tutu – but I didn't have the right boy shorts underneath for the first take. When I twirled, my tutu went up and it looked like I wasn't wearing any underwear because the shorts underneath were flesh-coloured! I was so embarrassed…
HIGH-HEEL HORROR!
Jemma McKenzie-Brown: I feel down the stairs on stage loads of times during my dance scene because they were so slippery! I had these high heels on, but luckily there were 10 boys below to catch me. I guess it wasn't too bad being caught by 10 lovely boys – but I still went bright red with embarrassment!
SWEATY BETTY!
Monique Coleman: I had to have three copies of my High School Musical 3 prom dress because I sweated a lot on set – and it would show through three layers of clothes! I'd have to run to the room next door to change, which was pretty embarrassing. But by the end of the first day, everyone knew I was really sweaty, so I didn't bother running next door. I would just stand in the corner of the room with a blow dryer drying out the dress!
BLACK-EYE BUDDY!
Vanessa Hudgens: I'm so clumsy. It's terrible! I managed to hit Ashley several times by accident on set – and I felt awful about it. At one point, I hit her in the eye and she had to put ice on it. Another time, I whacked her in the face with my elbow. I was always bashing her – but it was completely by accident. Oops!
WATER WOE!
Matt Prokop: There was a hilarious wipeout during the scene where I run around wearing just a towel! The crew sprayed water on Justin and me to make us look wet, but I guess they forgot to wipe it off the floor because Corbin went flying. We came running around the corner in our towels to find Zac crying with laughter – and the camera got all of it! It was hysterical.
MODEL MOVES!
Zac Efron: We had a lot of fun with a mannequin's hand on set. I think it fell off a prop, so I picked it up and made full use of it. I'd put it in my sleeve and place the fake hand in my pocket – but then had my real hand would be hidden underneath the front of my shirt. When people least expected it, I would punch out my real hand – and they would think there was an alien popping out of my chest! It was hilarious. People were screaming out loud in terror!
DANCE DISASTER!
Monique Coleman: On the very first day of filming, [HSM3 director] Kenny Ortega insisted that the floor was sparkling clean. The crew diligently polished away for hours, but they cleaned it so well that it became a slippery nightmare. During the first dance scene, everyone went flying! It was like we were dancing on water as we slipped and slopped all over the room. We were cracking up all over the place!
HELICOPTER HIGH JINKS!
Vanessa Hudgens: One of the funniest bloopers happened during "Can I Have This Dance." A helicopter kept flying overhead and when that happens, you lose the sound so you can't continue a scene. The helicopter wouldn't go away, so in the end Zac just looked at me and said, "That's actually my helicopter… Do you want to go for a ride?" We both ran to the edge of the building and pretended to jump off the balcony, but we were only joking. It was like Mission Impossible and we couldn't stop laughing at the crew who thought we were being serious!
OOH, THE SHAME!
Olesya Rulin: I embarrassed myself constantly on the set of High School Musical. I'm so awkward! I was always tripping over on set – and I would also somehow trip into my trailer. I'd always be hoping that no-one would be around to watch me fall – but there would usually be one or two people or loads of cameras catching me goof up!
ZAC ATTACK!
Jemma McKenzie-Brown: Zac was a huge practical joker on the set of HSM3. He loved to throw water bombs on people, which was really funny. He never got me, but Vanessa tried to at one point. She ran into my trailer with a water bomb, but she fell over and it went all over her!
Your Daily Blend of Entertainment News
Thank you for signing up to CinemaBlend. You will receive a verification email shortly.
There was a problem. Please refresh the page and try again.