Psychonauts 2 Has A Publisher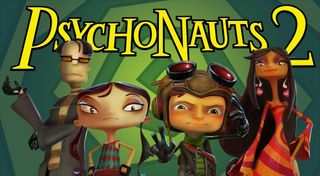 (Image credit: Double Fine Productions)
After crowdfunding Psychonauts 2 through Fig, Double Fine Productions has managed to secure a publisher in order to release the game on home consoles and PC. This is a major milestone achievement in the development of the game as they moved toward the release.
Polygon is reporting that Starbreeze has picked up the publishing license for Psychonauts 2. The deal comes with some serious stipulations on Starbreeze's end. They'll put pumping up to $8 million into advertising Psychonauts 2 along with distributing the game on multiple platforms. They'll also be taking up to 85% of the revenue until they recoup their investment, and then following that they'll settle for 60% of the take thereafter.
Those kind of publishing terms are common in the world of video games, it's just rare that we find out what the details are. In fact, the only reason we know the details is because Psychonauts 2's core development has been crowdfunded through the equity platform called Fig. Double Fine Production managed to accrue up to $3.8 million in backer funds in order to make the game into a reality.
The extra marketing and distribution muscle provided by Starbreeze could help ease some of the development burden resting on the shoulders of Double Fine. Even still, the transparency of the deal is a good sign and a show of good faith toward backers.
Some Kickstarter, IndieGoGo, or Fig projects will keep some of the details of extraneous publishing deals from their backers and it leads to all sorts of crazy and unnecessary drama. Those kinds of fallouts can also seriously tarnish the reputation of the development studio, making gamers far less likely to invest their own money into a crowdfunded project from that studio.
In the case of Psychonauts 2, the game has been a highly requested title since the original game launched more than a decade ago. The story ended with a cliffhanger and gamers have been waiting ever since for the whole thing to reach a satisfying conclusion.
Tim Schafer, the head of Double Fine Productions, had revealed publicly that it would be difficult getting Psychonauts 2 made due to the high cost of production and the amount of time it would take to get the game shipped for home consoles and PC. Minecraft creator Marcus "Notch" Persson at one point offered to help Schafer finance the game, however, Schafer threw out a ballpark figure of $35 million.
Even with the additional $8 million being invested into the project, Psychonauts 2 has only managed a budget of $11.5 million, which isn't even half of what Schafer figured they could make the sequel for.
On the upside, development tools have dropped in price drastically. Projects require fewer animators given that there are a lot of procedural tools to help make, blend and share animations among 3D actors, and lip-synching can be done using phonemically procedural mouth animations provided by middleware suites like FaceGen or HumanIK.
Whether or not they're licensing newer tech to help make the Psychonauts sequel a lot easier to develop remains to be seen, but at least we know that they have a publisher secured for the game. Psychonauts 2 currently without a release date.
Your Daily Blend of Entertainment News
Staff Writer at CinemaBlend.