Fortnite Is Getting Into The eSports Game In A Big Way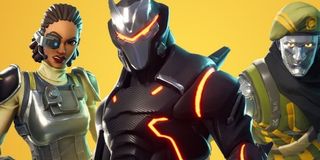 (Image credit: Epic Games)
Epic Games couldn't stay out of the eSports arena; it's just too big and too lucrative as an opportunity right now. It's why the company decided to follow in Blizzard's footsteps and push forward with Fortnite becoming a major player in the eSports arena.
Over on the official Epic Games website, the company announced that as part of the 2018 through 2019 season, there will be a $100 million dollar fund of prize pools for Fortnite eSports competitions. This is a massive amount of money being funneled into the eSports market, and will surely further bolster the appeal of both competitive eSports and the free-to-play Battle Royale mode in Fortnite.
According to Epic, the company wants to get behind competitive play in a big way, but it wants to do things differently, with the goal of being more "inclusive" and focused more on the joy of playing and watching the game.
I'm not sure if this means Epic will follow in Blizzard's footsteps, where the company takes extreme measures to ensure that nothing is said or done out of turn, whether it be in games like Heroes of the Storm or Overwatch, or outside of the game on social media. Blizzard monitors off-site behavior to ensure that memes, language, gestures, and comments made in personal streams or videos don't reflect badly on the Overwatch League. Some players feel as if Blizzard has gone a step too far, while others feel as if Blizzard is doing what's necessary to protect the company and brand image.
Epic will likely roll out the details on how it plans to handle community monitoring when it also outlines the competitive structures for Fortnite. There's also going to be details on which platforms will be eligible for eSports competition as well.
I imagine the game will be playable through the Xbox One, PS4 and PC for competitive play, but I doubt that the iOS and Android platforms will be included in that line-up as well. Then again, maybe the reverse will happen and Epic will focus on championing and growing the eSports community through mobile devices?
In any case, when the eSports tournaments do arrive it will be with plenty of support and feature-rich content added over the last several months to the Battle Royale shoot-and-build action title.
In fact, the latest update appears to add jetpacks to the fold, which will surely add a whole new element of competitive and strategic play to the game. This could definitely change the way players engage with one another and how they roll out tactical strategies with fellow teammates.
Epic appears to be capitalizing on the mainstream appeal that Fortnite has picked up over the last couple of months, thanks to streamers like Ninja getting musical artist Drake to the play the game, and for cross-promotion events like the one featuring Thanos from Avengers: Infinity War... even though Josh Brolin didn't really understand the whole dancing thing.
Anyway, keep your eyes peeled for more info on Fortnite's eSports endeavors.
Staff Writer at CinemaBlend.
Your Daily Blend of Entertainment News
Thank you for signing up to CinemaBlend. You will receive a verification email shortly.
There was a problem. Please refresh the page and try again.