When Fortnite Battle Royale Will Arrive On Android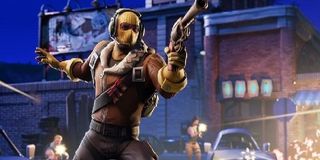 If teachers were worried about Fortnite distracting their students due to its arrival on iOS, we've got some bad news for next semester. Epic has announced that the Android version of the game will be ready to roll out soon, meaning anyone with a decently modern phone will now be able to get in on the action.
While "summer" isn't all that specific, that's the window Epic has given for the Android launch of its insanely popular Battle Royale mode in Fortnite. Still, that means Android users should have a maximum of about three months left to wait, with this fresh crop of gamers expected to be invited to the party in plenty of time to ring in the new school year.
Obviously, we don't encourage any students to play games while they should be paying attention in class, we're just saying it will be an option.
Fortnite hit iOS in a limited capacity early this year, with fans invited to sign up for a beta test just as 2018 was kicking off. Shortly after that, the game went live for all iOS fans in April, but there was still no word on when the Android crowd would be brought in on the fun. According to a recent update from Epic, that time is nearly upon us.
It will be interesting to see if the mobile numbers shift similar to those on other platforms. PUBG was the king of the hill for the longest time, with Fortnite Battle Royale taking the crown as 2017 gave way to 2018. On the mobile front, though, PUBG has been available on both iOS and Android for months, giving it time to establish a fan base on an Android market where the competition is lagging behind. It'll be interesting to see if Fortnite on Android turns out to be a massive draw.
The thing about Fortnite's mobile version is that it is totally linked to other versions of the game. No matter where you're playing the game, you're all in one big pool of potential players. That obviously puts mobile players at a bit of a disadvantage, but that version of the game still serves as a quick fix if you're nowhere near your console or PC.
Along with the summer Android launch, Epic has announced several other revisions that will be soon added to the mobile version of Fortnite. Perhaps the biggest news is a customizable HUD. The one in the game is decent enough, but fans have been begging for the ability to put buttons where they would feel most comfortable on the screen. According to the update, that's going to happen soon.
Voice chat is also coming to the mobile version of the game, and Epic is working on making the game's install size and update experience less of a burden for mobile devices. Finally, they're also looking to include a battery saver mode that will grant better performance if you're willing to take a hit in the graphics.
Your Daily Blend of Entertainment News
Staff Writer for CinemaBlend.