Could The Game Awards Tell Us More About The Upcoming Avengers Game?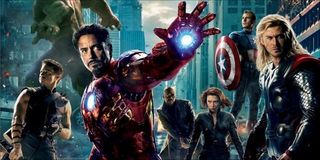 One of the least talked about but biggest games set to come out is the Avengers project that is currently being worked on by various game studios under the Square Enix publishing label. It was briefly teased some time ago but hasn't been discussed much thereafter. However, some speculation has arisen that it might make an appearance at this year's Game Awards show.
The speculation began to seriously mount after Geoff Keighley announced via Twitter that the Joe and Anthony Russo, the directors for Avengers: Infinity War, will be present at this year's Game Awards event as presenters.
Now while this alone doesn't mean much, and could literally just relate to the Russo Brothers presenting an award for any number of categories, some gamers, pundits, and news outlets are reading into the tweet as possibly relating to either an announcement for the Avengers 4 or maybe something relating to Square Enix's Avengers Project that was announced some time ago.
In fact, the project was originally revealed back at the start of 2017. Since then we haven't really had any news about the project, other than that the game will be jammed pack with characters, environments, and moments that fans of the Avengers have grown to love. That didn't really sate the thirst for more news and info about the Avengers Project, but this is precisely why some gamers are hoping that the Russo Brothers will reveal something at this year's TGAs.
Now typically when high-profile guests appear at the awards show it's not just to present but also to reveal. Hideo Kojima and Norman Reedus were there to present and to reveal new footage of Death Stranding. Josef Fares showed up not as a presenter but he did unleash brand new trailer for the two-player cooperative action game, A Way Out, which went on to become a sleeper hit earlier in the year.
There are supposed to be 10 big reveals taking place at this year's awards show, which could include the Avengers Project. Then again, maybe it's not even the Avengers Project that will get the spotlight at the event... what if it's related to the upcoming Avengers 4 movie?
However, some people might be reading too much into all of this and there's a really good possibility that the brothers are simply there as presenters. We do know that both Russos are actually into gaming, and that it was because of their love of gaming that it made it easier for Epic Games to connect with Marvel and feature Thanos from Infinity War in Fortnite.
So while there's all this speculation about what the Russos might reveal at The Game Awards, it's completely possible that as gamers themselves, they're just there to present an award about gaming and help honor the achievements made within the realm of interactive entertainment.
Of course, no matter what the outcome is you can expect gamers to talk about their presence at this year's awards show with all of the potential possibilities that it entails until December 6th rolls around.
Your Daily Blend of Entertainment News
Staff Writer at CinemaBlend.