Dragon Quest Heroes Is Coming To PC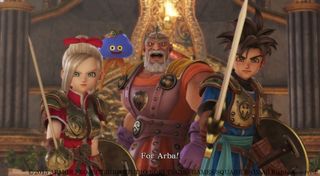 Tecmo Koei and Square Enix are bringing the thousand-army, hack-and-slash action-RPG that was previously exclusive to the PS4, to Steam. Dragon Quest Heroes: Slime Edition will release on PC starting December 3rd. This will mark the first time one of the newer Dragon Quest games will be made available on Steam.
According to PC Gamer this news was definitely bound to happen given that news leaked previously that Dragon Quest Heroes would be making the leap from the PlayStation 4 to Steam. Of course, without confirmation a leaked bit of news is just a rumor. However, recently Koei Tecmo and Square Enix have confirmed that the third-person, fast-paced hack-and-slash title will be making the jump to Steam in an official capacity at the start of December.
The news definitely shocked a lot of gamers given that no one saw that coming. It's true that out of all the games in Square Enix and Koei Tecmo's library most people would not have assumed that Dragon Quest would have been one of the more recent games to make the port leap from PlayStation to PC.
This comes alongside the news that Square Enix is also porting Final Fantasy XIII: Lightning Returns to PC as well, and the game will be available on Steam in December alongside Koei's Dragon Quest Heroes. Lightning Returns obviously wasn't the most beloved game out there, and it seemed as if Lightning's boob physics and clothing options were the two most talked about features leading up to the game's release, which gives an indicator of just how uninterested gamers were in the rest of the gameplay.
I would presume things are a bit opposite for Dragon Quest Heroes given that it features Omega Force's signature, high-impact and fast-paced gameplay reminiscent of the Dynasty Warriors and Warriors Orochi games. What's more is that players will lead a team into battle and will be able to switch players to unleash the kind of damage they feel best suits the occasion.
The PC version will gain access to all of the previously released DLC from the PS4 version at no extra charge, which includes multiple weapons and a brand new map.
But what about the system requirements? Koei Tecmo has had a rather unfortunate recent history of porting games to PC where some of them underperformed or carried over console-specific limitations (like hard-locking the gameplay at 30fps) for titles like Toukiden Kiwami and One Piece Pirate Warriors 3. However, with games like Samurai Warriors 4-II, the company managed to win back some favor from the PC gaming crowd on Steam by doing right by the port and ensuring that the title played right and proper.
According to the Steam page gamers will need an i7 870 at the bare minimum with 4GB of RAM and a GeForce GTS 450 or AMD Radeon 5770 to at least play the game on the barest of settings. The recommended stats see an i7 2600 at 3.4ghz as the CPU choice for the title, along with 4GB of RAM and a GTX 650ti for the GPU.
I'm a bit shocked that the RAM requirements are so lo, most eighth-gen PC ports require 6GB of RAM, so it's a bit of an undercut on the typical recommendations. The game will be available on Steam for $59.99.
Staff Writer at CinemaBlend.
Your Daily Blend of Entertainment News
Thank you for signing up to CinemaBlend. You will receive a verification email shortly.
There was a problem. Please refresh the page and try again.