The Last of Us: American Dreams Comic Is Prequel To The Game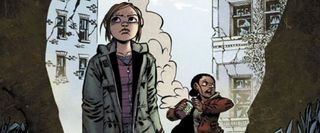 Naughty Dog and Dark Horse Comics are teaming up to produce a comic book miniseries for The Last Of Us. The Last of Us: American Dreams is a prequel to the events of the post-apocalyptic action game.
Dreams, written by Naughty Dog creative director Neil Druckmann, centers on Ellie. Her parents are dead and she's spent her childhood being passed between different military orphanages. When she becomes an adult, she'll either have to join the armed forces or set out on her own in the parasite-ravaged world.
However, her life doesn't go according to this sad little plan. She meets an older girl who soon shakes up her life. Eventually she'll also meet Joel, the grizzled survivor who serves as her companion in the game.
Dark Horse will release the four-part comic sometime in Spring 2013. Around the same time, Dark Horse will also release a hardcover art book that shows off the many characters and locations from the game. Hopefully the game will be out by then, too.
Image 1 of 5
Staff Writer at CinemaBlend.