League Of Legends Will Add Bilgewater Map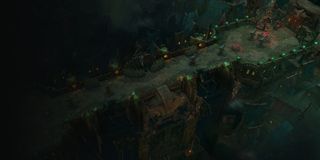 League of Legends is adding a new map. Today Riot Games released an extended preview of the Bilgewater battleground that will be hitting the Public Beta Environment soon.
Bilgewater is an island nation run by pirates. It's home to a number of tough characters including Miss Fortune, Gangplank and Graves. The new map is set on a run-down bridge overlooking a marketplace. Bilgewater's status as a trade hub means the map is covered in diverse ornaments: techology stolen from Piltover, Freljordian longships, and sea monster carvings:
The map is only used in one mode: All Random, All Middle (ARAM). In ARAM matches, two teams are randomly assigned champions and then duke it out in a single lane. The Bilgewater map is laid out the same as the usual Howling Abyss battleground for ARAM: each side has two turrets, an inhibitor, and a nexus protected by another pair of turrets.
Riot will introduce the map as part of a wider "Bilgewater: Burning Tides" event coming later this summer. While the Butcher's Bridge map will replace Howling Abyss for the duration of "Burning Tides," Riot hasn't decided what they'll do once the event has concluded.
The developers didn't mention any other details about Burning Tides. Past events have included discounts on champions, new summoner icons, and limited-edition skins. I imagine Riot will include some kind of incentive for players if there's no new mode to dive into.
I suspect that this event might mark the debut of Tahm Kench, the new champion revealed earlier this week. His teaser video seemed to be set in Bilgewater so it would make sense for his launch to be attached to the Rising Tides festivities.
Your Daily Blend of Entertainment News
Staff Writer at CinemaBlend.