Skate 3 Release Date, Roster Announced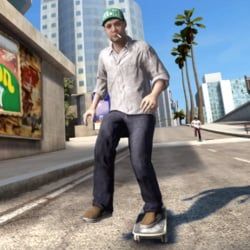 As you may already know, Skate 3 is coming to PS3 and Xbox 360 this spring. Today Black Box announced the exact dates you can pick the game up in North American, Europe, and everywhere else in the world.
Skate 3 will hit North America on May 11th. If you live elsewhere in the world, you can buy the game on May 14th. As much as everyone loves to watch fanboys throwing feces at each other, I'm sorry to say that the game is a simultaneous release on the PS3 and Xbox 360.
The third installment in this skateboarding series adds a new city called Port Carverton. A new Skate.Park editor allows you to create the skate park of your dreams or edit Port Carverton itself. Players can form skate teams for online and offline multiplayer modes.
Like its predecessors, Skate 3 will have cameos from a number of real-world skaters. Black Box also announced the full list today:
Andrew Reynolds
Benny Fairfax
Braydon Szafranski
Chris Cole
Chris Haslam
Colin McKay
Dan Drehobl
Danny Way
Darren Navarrette
Dennis Busenitz
Eric Koston
Jason Dill
Jason Lee (as Coach Frank)
Jerry Hsu
Joey Brezinski
John Cardiel
John Rattray
Josh Kalis
Lizard King
Lucas Puig
Mark Appleyard
Mike Carroll
P.J. Ladd
Pat Duffy
Ray Barbee
Rob Dyrdek
Ryan Gallant
Ryan Smith
Terry Kennedy
Your Daily Blend of Entertainment News
Staff Writer at CinemaBlend.