7 Anne Hathaway Romantic Comedies, Ranked
Time to start singing "Somebody to Love" again.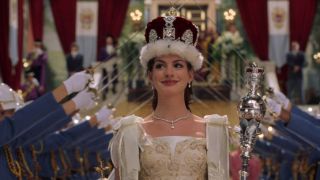 (Image credit: Disney)
The early aughts were a peak time for fans of Anne Hathaway romantic comedies. She won over hearts as the socially awkward future Princess of Genovia, Mia Thermopolis, and people loved the Princess Diaries movies so much that they're constantly wanting Princess Diaries 3.
With Ella Enchanted, she then got viewers to start singing "Somebody To Love," and for some fans, she was truly a movie princess. Anne Hathaway romantic comedies continued going strong into the mid-2000s with a slew of titles, and some of these are the Hathaway's best movies.
Because her rom-coms are a must for romance fans, here's a ranking of her best ones, based on how well they fit into the genre, and what the star brought to the movie overall.
7. Bride Wars (2009)
Bride Wars shows that a lifelong friendship can be undone by wedding planning. This is not a movie to add to the best movies about female friendship list. If anything, it sets female friendships back a few decades.
The film is classified as a rom-com, but it definitely falls more into the regular comedy category. There is some romance in it, but that is a minor detail compared to the whole story of friends being horrible to each other. It won't make you swoon, but it may make you laugh at some of the over-the-top things each woman does to bring a friend down.
This, probably, will also make you sad. Both Hudson and Hathaway give all-right performances, but it's far from either of their best work. The lack of many romantic comedy elements also makes this not a great pick if you want Hathaway at her romantic comedy best.
6. Valentine's Day (2010)
There was a time in movie history when the ensemble cast film, especially revolving around a city or holiday, was a popular format. This resulted in films such as Valentine's Day. It's a movie with many A-list actors, including Hathaway, Julia Roberts, Bradley Cooper, and Queen Latifah.
Taylor Swift even makes an appearance with Taylor Lautner. Valentine's Day tells multiple love stories during one Valentine's Day. Hathaway's character in the movie moonlights as a phone sex operator, but this is something that her new boyfriend, played by Topher Grace, doesn't know about yet.
Her romance is one of the storylines that doesn't get much attention or development, so Valentine's Day doesn't really highlight Hathaway's romantic lead potential.
5. Locked Down (2021)
Locked Down is a pandemic movie that came out a little too soon. It received mixed reviews from critics, and according to Rotten Tomatoes, audiences didn't exactly love it either. I also didn't enjoy it during my initial viewing.
However, after rewatching the movie, it's actually pretty clever in its approach to the pandemic, and Linda (Hathaway) and Paxton (Chiwetel Ejiofor) are actually a fascinating couple, especially their dynamic during lockdown. The Locked Down ending is unrealistic but fun. Anne Hathaway and Chiwetel Ejiofor also have plenty of chemistry. You grow very invested in them.
You find yourself rooting for them, both in the completion of a crime and in making their relationship work — despite its many flaws. However, the movie is romantic in a more sensible sort of way, which may be a little too romantically uneventful for some rom-com fans.
4. The Princess Diaries (2001)
The Princess Diaries book series was a major part of my youth. I adored Mia and Michael, played in the film by Anne Hathaway and Robert Schwartzman. Therefore, the original movie has a special place in my heart. However, after rewatching it as an adult, The Princess Diaries movie has a lot of issues.
It's also not as romantic as I remember. Mia and Michael don't get nearly enough romantic development, especially compared to their love story in the books. It's still a fun movie for its time, and there are plenty of romantic moments, like the foot pop, which is still a cute little scene. The line, "because you saw me when I was invisible" is also still a top-tier romantic declaration.
This is Hathaway's first major film performance, and it's easy to see that she will be a huge star in the future. Her on-screen charm makes you feel like she's your next best friend, and that type of on-screen charisma really makes you root for a romantic heroine.
3. Love And Other Drugs (2010)
Love and Other Drugs deals with a couple that knows their relationship has hard times ahead. It starts with casual hookups and escalates into a deep love story.
The film explores more serious topics than many romantic comedies, but it definitely falls into the comedy part of rom-coms because there are so many jokes and gags. They love each other enough to try to make it work, despite knowing that her illness will make things harder for them. That's true romance.
Jake Gyllenhaal and Anne Hathaway are really good actors, so not only do they have great on-screen chemistry, but they put their all into these performances. This is a movie that can be very ridiculous at times, but they make you buy every moment of it. She truly deserves praise for making a movie involving a pharmaceutical salesman endearing.
Their relationship also makes them both more mature, and less insecure and judgmental of themselves. This movie shows that romantic comedies can have very serious elements and still be funny. Additionally, it shows the beauty of loving without caution. However, many fans may prefer to keep things light, so, it may have too many dramatic elements for some viewers.
2. Ella Enchanted (2004)
Ella Enchanted is another romantic comedy with a target audience that seems to be families and children. It's a good family movie because it's a little (or a lot) silly and embraces a world of fairytale elements, including giants and elves. It may not be the most sophisticated rom-com, but it has its charm.
The Cinderella story has been made time and time again because it's the story of finding love, leaving poverty, and getting to wear really nice shoes and dresses. This is one of the best Cinderella movies because it adds some fun twists to the story. Hathaway is very charming as Ella, and she and Hugh Dancy have great on-screen chemistry.
The comedy highlights Hathaway's ability to play sweet characters who aren't just the standard nice girl; they have more depth to them than that. Ella isn't just sweet and charming, but she's fierce, strong, and determined. She also knows that obedience isn't a virtue but a curse. Ella Enchanted is also not afraid to just be a silly, uncomplicated romantic comedy. Sometimes, that's all you want.
1. The Princess Diaries 2: Royal Engagement (2004)
As previously stated, the original Princess Diaries movie is tied to a beloved childhood book series. Therefore, when I originally saw this sequel, I hated it because it departed too far from the books. I also took it personally when Mia and Michael were not the focus of this sequel. I know this is because Robert Schwartzman was not available, but recasting happens all the time in films. There was no logical excuse to discard Michael.
As an adult, however, I can objectively say The Princess Diaries 2: Royal Engagement makes the rom-com element more of a focal point, so it better fits the genre than the first film. It uses such popular romance tropes as enemies to lovers, big romantic gestures, sort-of love triangles, and the quest to find one's soulmate.
This movie also focuses heavily on Joe (Hector Elizondo) and Queen Clarisse's (Julie Andrews) love story. This is one of the movie's strongest elements, because it shows that love and romance don't have any age limits. It's also a movie all about love in its many forms, including love for one's country.
It also has a powerful message of female empowerment. Mia shows she doesn't need a man to rule, and it also doesn't end in a wedding, but a coronation. This is a powerful statement without negating that Mia can also have love and romance. Additionally, Chris Pine as Nicholas is a good addition to the Princess Diaries cast.
This film proves that Hathaway was the best casting choice to play Mia. She gives the character a people's princess/girl next door charm that really sells the character as a likable and realistic heroine. You end the film wanting Mia (and the actress) to be your queen.
Anne Hathaway romantic comedies have their own quirk, fun, adventure, and lots of romance. We'd gladly watch her in more of these movies if and when she returns to the genre.
Your Daily Blend of Entertainment News
Spent most of my life in various parts of Illinois, including attending college in Evanston. I have been a life long lover of pop culture, especially television, turned that passion into writing about all things entertainment related. When I'm not writing about pop culture, I can be found channeling Gordon Ramsay by kicking people out the kitchen.