The Princess Diaries Cast: What The Disney Actors Are Doing Now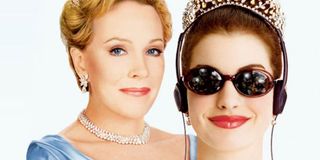 CinemaBlend participates in affiliate programs with various companies. We may earn a commission when you click on or make purchases via links.
It's the movie that turned Anne Hathaway into a superstar. It's the film that rejuvenated Julie Andrews' career. And it's the Disney picture that introduced Garry Marshall to a new generation of comedy lovers. That's right, we're talking about The Princess Diaries, one of 2001's most profitable movies and a well-beloved family film for, gosh, 20 years.
Though it received mixed reviews upon release, this endearing, entertaining coming-of-age farce spawned a sequel (maybe even a threequel someday) and it cemented Anne Hathaway as one of our next great talents. Now that two decades have passed since this royal movie premiered in theaters, it's fair to ask, what's The Princess Diaries cast, including Mandy Moore and Sandra Oh, working on now? Let's take this time to find out!
Anne Hathaway (Mia Thermopolis)
As Mia Thermopolis, a gawky, ineloquent high school student who's stunned to learn that she's the new heir to a royal throne, Anne Hathaway played our titular princess in Garry Marshall's The Princess Diaries and The Princess Diaries 2: Royal Engagement.
Most notably, Anne Hathaway won an Oscar for her supporting turn in Les Miserables following her previous nomination for Rachel Getting Married. Her other starring roles include The Devil Wears Prada, Colossal, Love & Other Drugs, Havoc, Ella Enchanted, Bride Wars, Get Smart, The Intern, Serenity, and The Witches. Hathaway also reunited with Marshall for Valentine's Day. Furthermore, the actress can be seen in Brokeback Mountain, The Dark Knight Rises, Alice in Wonderland, Interstellar, Ocean's 8, and Dark Waters. Most recently, Hathaway starred in HBO Max's Locked Down. She also guest-starred in Amazon Prime's Solos. Currently, Hathaway is filming WeCrashed for Apple TV+. She'll star in Sesame Street, She Came to Me, Bum's Rush, and Armageddon Time.
Julie Andrews (Clarisse Renaldi)
In the role of Clarisse Renaldi, Mia's absent grandmother and the Queen of Genovia, Julie Andrews provided an autocratic part in The Princess Diaries and its sequel. Most famously, Andrews won an Oscar for Mary Poppins. The actress was also nominated for The Sound of Music and Victor Victoria. Additionally, Andrews starred in Thoroughly Modern Millie, The Americanization of Emily, 10, S.O.B., That's Life!, and The Tamarind Seed. Furthermore, she's heard in Despicable Me 1 & 3, Aquaman, Enchanted, and the Shrek sequels. Moreover, Andrews can be seen in Tooth Fairy and the Eloise movies.
Additionally, on television, Julie Andrews co-created and hosted Netflix's Julie's Greenroom, for which she was Emmy-nominated. She also won Emmys for The Julie Andrews Hour and Broadway: The American Musical. Most recently, the actress was heard in Netflix's Bridgerton. Next, Andrews lends her voice to Minions: The Rise of Gru.
Heather Matarazzo (Lilly Moscovitz)
Playing the part of Lilly Moscovitz, Mia's eccentric and socially awkward best friend, Heather Matarazzo was an outspoken supporting character in Disney's The Princess Diaries movies. Most notably, the former child actress is known for her breakout role in Welcome to the Dollhouse. Matarazzo's other film credits include The Devil's Advocate, Scream 3, Hostel: Part II, Saved!, Sorority Boys, 54, Sisters, Company Man, and Don't Worry, He Won't Get Far on Foot. Furthermore, she starred in and produced Magnus!
Additionally, on television, Heather Matarazzo frontlined CBS's Now and Again. She's also seen in Roseanne, The L Word, Grey's Anatomy, The Adventures of Pete & Pete, Townies, Exes and Ohs, ER, Law & Order, Life on Mars, and Raymond & Lane. The actress also wrote an episode for the latter show. Last year, Matarazzo played Phyllis Lyon in HBO Max's Equal. Next, she'll appear in The Estate and Generation Wrecks.
Hector Elizondo (Joe)
As Joe, Clarisse's head of security-turned-Mia's limousine driver, Hector Elizondo played a dryly funny character in The Princess Diaries. He also returned for the sequel, though the character actor has appeared in every Garry Marshall movie, including Pretty Woman, Runaway Bride, Overboard, Beaches, Young Doctors in Love, The Flamingo Kid, Nothing in Common, The Other Sister, Frankie and Johnny, Georgia Rule, Valentine's Day, and Mother's Day. Additionally, Elizondo is seen or heard in The Taking of Pelham One Two Three, American Gigolo, Beverly Hills Cop III, The Landlord, How High, Tortilla Soup, Diary of the Dead, Being Human, The Book of Life, and The LEGO Batman Movie.
Furthermore, on TV, Hector Elizondo won an Emmy for CBS's Chicago Hope. He also played Ed Alzate in ABC/Fox's Last Man Standing. This year, Elizondo starred in Music.
Mandy Moore (Lana Thomas)
In the role of Lana Thomas, a preppy, popular cheerleader who often bullies Mia, Mandy Moore played a rare antagonist in Garry Marshall's The Princess Diaries. Most notably, Moore is Emmy-nominated for her starring role in NBC's This Is Us. She also voiced Rapunzel in Disney's Tangled. Additionally, Moore starred in A Walk to Remember, Chasing Liberty, Saved!, Because I Said So, 47 Meters Down, How to Deal, All I Want, Dedication, and License to Wed. Her other film credits include Southland Tales, American Dreamz, Romance & Cigarettes, Midway, and Love, Wedding, Marriage. Furthermore, Moore was heard in Dr. Dolittle 2, Racing Stripes, and Brother Bear 2.
Moreover, on TV, Mandy Moore reprised her role as Rapunzel in Disney Channel's Tangled: Before Ever After and Tangled: The Series. She also voiced Sheriff Callie in Disney Junior's Sheriff Callie's Wild West. Next, Moore will star in This Is Us Season 6.
Caroline Goodall (Helen Thermopolis)
Playing the part of Helen Thermopolis, Mia's artist mother, Caroline Goodall is the caring matriarch in The Princess Diaries and its sequel. Her other film credits include Schindler's List, Hook, Cliffhanger, Shattered Glass, and Disclosure. She's also seen in Chasing Liberty, Haven, Hotel Sorrento, Every Time We Say Goodbye, My Life in Ruins, Third Person, The Best of Me, Hunter Killer, and The Dressmaker. Additionally, Goodall wrote, produced, and acted in The Bay of Silence.
Furthermore, on TV, Caroline Goodall starred in Sky One's Bulletproof and BBC's The Moon Stallion. She also appeared in Half a World Away, A Difficult Woman, The Mists of Avalon, Mrs. Biggs, The White Queen, and The White Princess. Moreover, Goodall had a recurring role in Epix's Berlin Station. Most recently, the actress played a part in The Hitman's Wife's Bodyguard. Next, Goodall will star in Birds of Paradise and The Islander.
Robert Schwartzman (Michael Moscovitz)
As Michael Moscovitz, Lilly's insecure older brother who has a crush on Mia, Robert Schwartzman plays a lovelorn character in Disney's The Princess Diaries. Outside of this role, the actor is best known for playing Paul Baldino in Sofia Coppola's The Virgin Suicides. Additionally, he appeared in Somewhere, Look, It Happened in L.A., and Lost Transmissions, which he also produced. Furthermore, Schwartzman co-wrote, directed, and acted in The Unicorn. Moreover, the actor wrote, produced, and directed Dreamland (which also featured his original music) and, most recently, last year's The Argument.
Additionally, outside of acting, Robert Schwartzman produced this year's Mainstream. He's also composed Palo Alto and short films like 2012's Casino Moon and 2013's Modern/Love. Away from film, the actor is the lead vocalist of the rock band, Rooney. Schwartzman is also the co-founder of Utopia Media. Next, he'll appear in Not an Artist.
Erik Von Detten (Josh Bryant)
In the role of Josh Bryant, Mia's popular, egomaniac crush, Erik von Detten played a self-absorbed guy in The Princess Diaries. Most famously, the actor voiced Sid in Toy Story 1 and 3. He also lent his voice to the role of Erwin Lawson in ABC's Recess, as well as Recess: School's Out and several direct-to-video movies, and to the role of Flynt in Tarzan and UPN's The Legend of Tarzan. Additionally, von Detten is heard in Hercules, Avatar: The Last Airbender, Family Guy, The Wild Thornberrys, Jimmy Neutron: Boy Genius, and Aaaah!!! Real Monsters. Moreover, he starred in The Pinocchio Shop, Odd Man Out, So Weird, Dinotopia, Complete Savages, and Disney Channel's hit film, Brink!
Furthermore, Erik von Detten's other film credits include Smile, National Lampoon's Barely Legal, American Girl, Top Dog, All I Want for Christmas, and Amanda. Next, the former actor will make a cameo as a fictional version of himself in The Tonopah Five.
Patrick Flueger (Jeremiah Hart)
Playing the part of Jeremiah Hart, Mia and Lilly's magician friend, Patrick Flueger was a passionate personality in Gary Marshall's The Princess Diaries, which served as his acting debut. Most notably, he's recognized for his performance as Shawn Farrell in USA Network's The 4400. Currently, Flueger plays Adam Ruzek in NBC's Chicago P.D., Chicago Fire, and Chicago Med. His other TV credits include Scoundrels, Boston Public, Judging Amy, CSI: Miami, Grounded For Life, JAG, Criminal Minds, and Special Skills.
Additionally, Patrick Flueger's other film credits include Footloose (2011), Brothers, Kill Theory, The World's Fastest Indian, Spin, The Job, Loaded, The Tell-Tale Heart, The Super, and Lawless Range. He also appeared in Mother's Day, but not Garry Marshall's final film of the same name. Most recently, Flueger was seen in the web series, Beta.
Sean O'Bryan (Patrick O'Connell)
As Patrick O'Connell, Mia's English teacher who later dates her mother, Sean O'Bryan had a notable supporting turn in The Princess Diaries movies. Elsewhere, he played Ray Monroe in Olympus Has Fallen and London Has Fallen. O'Bryan's other film credits include Crimson Tide, Chaplin, I'll Be Home For Christmas, Big Fat Liar, Deck the Halls, Yes Man, Beatriz At Dinner, and Vantage Point. Also, the actor worked with Gary Marshall on Frankie and Johnny, Exit to Eden, New Year's Eve, and Mother's Day.
Additionally, on TV, Sean O'Bryan starred in ABC's Brother's Keeper. He also had lead parts in Abby, Persons Unknown, and Pig Sty. Moreover, O'Bryan had a recurring role in ABC's The Middle. His other TV credits include Shameless, Dexter, Good Luck Charlie, Six Feet Under, and Murder, She Wrote. Most recently, O'Bryan guest-starred in Fox's 9-1-1: Lone Star and Hulu's Love, Victor. Next, he'll appear in Boy Makes Girl and Babylon.
Sandra Oh (Geraldine Gupta)
In the role of Geraldine Gupta, Mia's vice principal, Sandra Oh had a pre-fame part in Disney's The Princess Diaries. Most notably, she won Emmys for her starring roles in Grey's Anatomy and Killing Eve. Likewise, Oh was Emmy nominated for co-hosting The Golden Globes and hosting Saturday Night Live. Her other TV credits include Arliss, Judging Amy, and American Crime. Additionally, Oh was heard in American Dad!, The Proud Family, Mulan II, Phineas and Ferb, and She-Ra and the Princesses of Power.
Furthermore, Sandra Oh's other film credits include Sideways, Double Happiness, The Diary of Evelyn Lau, Under the Tuscan Sun, Hard Candy, Rabbit Hole, and Dancing at the Blue Iguana. Recently, she lent her voice to Under the Moon, Raya and the Last Dragon, and Invincible. This past weekend, Oh starred in Netflix's The Chair. Next, she'll be seen in The Same Storm and Umma and heard in Turning Red and The Tiger's Apprentice.
Larry Miller (Paolo Puttanesca)
Playing the part of Paolo Puttanesca, Mia's demanding hairdresser and beautician, Larry Miller had a memorable role in The Princess Diaries movies. Previously, Miller appeared in Garry Marshall's Pretty Woman, Dear God, and Runaway Bride. The character actor later reunited with the director with Raising Helen, Valentine's Day, New Year's Eve, and Mother's Day. Additionally, Miller is known for his work with Christopher Guest. Specifically, the actor appeared in Waiting for Guffman, Best in Show, A Mighty Wind, and For Your Consideration. His other film credits include The Nutty Professor movies, 10 Things I Hate About You, Max Keeble's Big Move, L.A. Story, Chairman of the Board, Kiss Kiss Bang Bang, For Richer Or Poorer, Radioland Murders, and Second Act.
Furthermore, on TV, Larry Miller was seen in Mad About You, 8 Simple Rules, Monk, and Law & Order. Most recently, the comic reprised his role as Ed Slater on NCIS in 2019.
Stream The Princess Diaries on Disney+.
Your Daily Blend of Entertainment News
Will is an entertainment writer based in Pittsburgh, PA. His writing can also be found in The Playlist, Cut Print Film, We Got This Covered, The Young Folks, Slate and other outlets. He also co-hosts the weekly film/TV podcast Cinemaholics with Jon Negroni and he likes to think he's a professional Garfield enthusiast.