Ben Affleck Caught Cheating On Dunkin Donuts Just Weeks After Viral Super Bowl Ad
The end to this love story?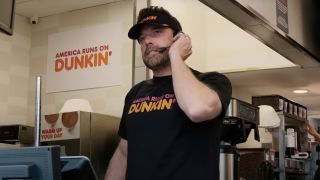 (Image credit: Dunkin' Donuts)
The love story between Ben Affleck and Dunkin Donuts is one that spans decades. The actor has been a loyal customer of the coffee chain for years and has been constantly photographed sipping Dunkin beverages with his wife, Jennifer Lopez. Some of these pics have gone mega viral, as they often depict him struggling to hold multiple coffees at once. Affleck and Dunkin decided to make their relationship official for a viral Super Bowl ad. Now, one has to wonder if the two may be on the rocks, as the Good Will Hunting star appears to have cheated on the brand that he's loved for so long.
Ben Affleck was photographed this week with his son, Samuel. The photos published obtained by Hollywood Life suggest the two decided to complete their father/son day with some fun drinks from Starbucks. Since he's a loyal Dunkin fan, and now spokesperson, this is unusual for the actor/director. Is this a sign of the relationship falling apart? That remains unclear, but we will continue to keep you updated.
The Argo director's history with the Dunkin Donuts coffee brand runs deep. The chain began primarily as New England-centric company, with most locations based in Massachusetts. The Oscar winner is famously from Boston, so he must've caught the bug early. He was even seen drinking the company's morning brew in the movie Good Will Hunting back in 1997. Considering that he continued to be seen supporting the brand over the course of his movie stardom, it was probably only natural that the star opted to join the corporation on an official basis.
In the now-viral Super Bowl ad, the DC alum surprised Dunkin customers in Mendon, MA by working the drive-thru. Ben Affleck enthusiastically serves the people of Massachusetts coffee while also talking about his own enthusiasm for the brand. This all comes to a hilarious conclusion when JLo comes by the drive-thru, wondering where he's been. It's an adorable ad, and it seems like both Affleck and Lopez had a blast promoting Dunkin so close to the former's hometown. Check it out down below:
After all of this history, it seems out of character for the A-lister to go to Starbucks. Maybe there wasn't a Dunkin Donuts in sight and the Hollywoodland star had to satisfy his coffee hankering regardless. Maybe his son is more of a Starbucks fan, and, like any good dad, he decided to put his kid's needs first. I'm sure there's a plausible explanation for this alleged betrayal, as I'm not ready to give up on this power couple quite yet.
While you keep tabs on Ben Affleck's coffee runs, you can also catch him in his latest film, Air, in which he stars in alongside his longtime pal Matt Damon. He directed the sports biopic as well, and its theatrical run begins on April 5th, before it becomes available for Amazon Prime subscribers sometime in the near future. For more information on other films hitting cinemas and streaming later this year, make sure you consult CinemaBlend's 2023 new movie release schedule.
Your Daily Blend of Entertainment News
Writer, podcaster, CinemaBlend contributor, film and television nerd, enthusiastic person. Hoping to bring undying passion for storytelling to CinemaBlend.