Chris Pine Reveals Harry Styles Interaction That Lead To That Spit Rumor AKA Spitgate
Chris Pine provides some context surrounding spitgate.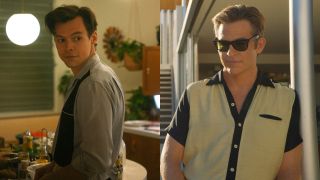 (Image credit: Warner Bros.)
All the alleged drama surrounding Don't Worry Darling was overwhelming, and it felt like every day there was a new rumor about the reported feud between the film's director Olivia Wilde and its star Florence Pugh. While that alleged drama was pretty serious, the film's press tour also had its fair share of hilarious moments too. One of the funniest moments to come out of all of this was the rumor that Harry Styles spat on Chris Pine, creating what's now known as spitgate. Well, now Pine is setting the record straight, and explaining what led up to the interaction that caused the spit rumor, and how he feels about what went down in Venice.
The Venice Film Festival felt like the epic climax in the story that was the Don't Worry Darling press tour. From Florence Pugh not attending to the press conference, to the constant rumors surrounding Olivia Wilde and Harry Styles' relationship, to spitgate, there was no shortage of things to worry about. I'd assume that the cast of Don't Worry Darling was not into all the buzz about the alleged drama, however, the internet was, especially when it came to spitgate.
While it's been confirmed that Harry Styles did not spit on Chris Pine, the Dungeons and Dragons star did explain why the internet thought the popstar spat on him to Esquire:
This joke that Pine is referring to goes back to the aforementioned press conference that Florence Pugh skipped. While there was no drama at that event, there were a fair number of memes to emerge from it, like Pine zoning out and starring off into nothingness, and Harry Styles saying (via Newsweek):
So, when it came time to watch the film, it sounds like both men had realized what they said and did at the press conference had gone viral. They then addressed it with each other at the festival, but instead of clearing the air for the internet it just added fuel to the metaphorical fire, and started the outrage surrounding the ridiculous spitgate. Pine went on explain how he found out about the spitting rumor, saying:
There you have it folks, Harry Styles did not spit on Chris Pine, so we can officially put this case to rest. To be clear both men confirmed that there was no spitting involved in Venice right after the festival ended. Pine's rep released a statement denying the claim, and Styles joked about spitgate at one of his concerts. So, while there might have been some serious rumors flying around regarding this movie, this silly one has proven time and time again to not be true.
Now, we're months removed from all this Don't Worry Darling drama, and Pine's responses have shown that he hasn't taken it all too seriously, and has not seemed to worry about it much, darling.
Wilde's sophomore film had its moment, and now its stars are moving on to other projects and hopefully less drama. In Pine's case, the silly memes and rumors have seemed to follow him as he promotes his movie on the 2023 movie schedule Dungeons & Dragons: Honor Among Thieves, which hits theaters on March 31. However, he has a good sense of humor about it all, and luckily this moment allowed him to make it as clear as day that Harry Styles did not spit on him.
Your Daily Blend of Entertainment News
Riley Utley is a Weekend Editor at CinemaBlend. She spent many years working in local journalism across the country writing about art, news and sports. One of her favorite films is When Harry Met Sally and she walks around constantly quoting Ted Lasso.