How Lindsay Lohan's Parents Reportedly Reacted To Her Pregnancy News
Lindsay Lohan's parents' reported reactions to being future grandparents.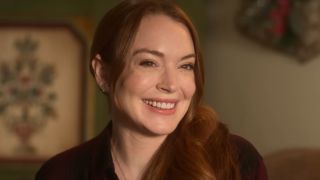 (Image credit: Netflix)
Lindsay Lohan's next starring role will be a very important one in her life- that of being a mother. It was recently announced The Parent Trap star is pregnant with her first child. As for what her parents think about their daughter's exciting pregnancy news, you better believe they had plenty to say on the subject.
Being a first-time parent can be a scary adjustment for anyone But according to TMZ, Lindsay Lohan has got all the love and tools she needs from her parents to help her become a mother. Her father, Michael Lohan, has reportedly been on good terms with his daughter for years as well as his ex-wife, Dina Lohan. Thankfully, this means she won't have to "parent trap" her folks again for them to get along. This celebratory news of the Falling For Christmas star being a new mom has allegedly brought the whole family closer together as they plan on introducing this new baby to their extended relatives when he or she is born.
Michael Lohan reportedly believes he may not be able to be there if his daughter gives birth in Dubai where she lives with her husband, Bader Shammas. But he's still very excited about being a grandfather to this new member of the family. There's also a little secret of his that he apparently hasn't clued us in on- he knows the gender of the baby but has refused to reveal it. He says the most important thing about this baby is that it's healthy.
As for how Dina Lohan feels, she's reportedly "over the moon" about being a second-time grandmother as her son, Michael Lohan Jr., became a first-time father back in June 2021. She plans on being present for the birth of the former Disney star's baby and is already working on the nursery. The 36-year-old actress and her mother always had a very close relationship in that she managed her daughter at the start of her career as well as her other daughter, Ali. There was even a time in 2013 it was reported that Lohan lived with her mother in her childhood home on Long Island back when she had money trouble. With how active Lohan's mother was in her own life, I can't imagine anything different with her future grandchild.
With Lindsay Lohan and Bader Shammas living in Dubai, does that mean this new baby will be raised there too? According to the proud grandmother, the Freaky Friday star plans on splitting her time between Dubai and New York since a lot of her projects tend to be filmed in the U.S. She did, after all, have to leave Dubai in order to film the Netflix Christmas movie Falling For Christmas which was filmed in Utah. With all of the motherly advice she's giving her daughter, I'm confident this talented actress will be a pro in no time in taking care of her new baby. Especially since she hopes to have more than one kid. If she has girls, will they be named Annie and Hallie? Probably not, but it would be interesting to find out what name she decides to choose.
After all of the media scrutiny that Lindsay Lohan has faced growing up in the public eye, I'm so happy things are turning around for her in her career and her future role as a mother. You can watch her movie Falling For Christmas on your Netflix subscription and her next film Irish Wish will be coming soon to Netflix in 2024.
Your Daily Blend of Entertainment News
Just your average South Floridian cinephile who believes the pen is mightier than the sword.