Insider Claims There's Nothing Between Leonardo DiCaprio And 19-Year-Old He Was Spotted With, But That Hasn't Stopped Twitter Users From Roasting Him
The internet did not hold back.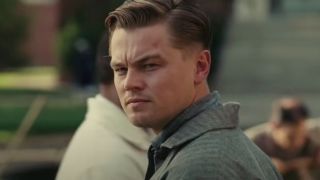 (Image credit: Paramount Pictures)
Over the years, there has been a lot of talk about Leonardo DiCaprio's dating life, and his reported rule about only dating women under 25 years old. Well, now, rumors have started that the Titanic star was dating a 19-year-old. And while these claims have been shut, the internet can't stop roasting the 48-year-old for allegedly dating such a young woman.
The rumor mill was ablaze earlier this week when DiCaprio was spotted with 19-year-old model Eden Polani. They were seen sitting next to each other at a launch party, which sparked dating rumors. Now, a source is telling the New York Post that there is "absolutely no truth" to those rumors, and the two just happened to be sitting next to each other as part of a larger group.
While these rumors have been dispelled according to this article, the internet is not slowing down, and Twitter is roasting the Oscar winner over the claim he was dating a 19-year-old.
One of the major points of the discussion Twitter has centered itself around is using the 2023 TV schedule mega-hit The Last of Us to illustrate how uncomfortable they are by DiCaprio reportedly dating a 19-year-old. Many fans were quick to point out that Pedro Pascal and Bella Ramsey, who play Joel and Ellie, a reluctant father-daughter-like duo, in the series, basically have the same age difference. Pascal is 47 and Ramsey is 19, and people like Cooper were quick to post about the similar age differences, and the vastly different relationships between the duos.
Twitter was also quick to point out that Stranger Things' David Harbour, 47, and Millie Bobby Brown, 18, another on-screen father-daughter duo, share a similar age difference to DiCaprio and Polani. Making the rumor they might be dating even more uncomfortable.
Others used the fact that Titanic turns 25 this year this month to roast DiCaprio. Like The Sopranos Guy, who tweeted this:
Meanwhile, Uju Anya, pointed out that DiCaprio is almost 50, and if these rumors were true, he'd be dating someone who finished high school during the Zoom era.
Rohita Kadambi was on a similar wavelength as she also pointed out that Polani likely finished high school during the pandemic, tweeting:
Mohanad took the age joke to another level, noting that they felt like DiCaprio is trying to one-up another actor by dating someone younger. However, when the Romeo + Juliet star asks his date to hold his beer, she can't because she's underage.
Meanwhile, linkshund decided to flip the narrative and say it's the women who decide to leave DiCaprio once they hit 25. As they wrote it's an "objectively funnier explanation" to them.
This intense reaction to roast DiCaprio on Twitter is not all that surprising, considering his track record of dating and breaking up with really young women, especially now that he's nearing 50. Earlier this year, rumors swirled that The Wolf of Wall Street star was dating Gigi Hadid, and while that made its way around the internet it was reported that the actor went yachting with a bunch of models, so this new rumor isn't off-brand, however, it is surprising how young the model is.
DiCaprio's track record of dating very young women has made recent dating rumors about him dating women under 25 predictable. However, 19 is a new low age, that many can't get behind, hence the roast on Twitter.
Your Daily Blend of Entertainment News
Riley Utley is a Weekend Editor at CinemaBlend. She spent many years working in local journalism across the country writing about art, news and sports. One of her favorite films is When Harry Met Sally and she walks around constantly quoting Ted Lasso.