Is There Anything Cuter Than The Little Mermaid Actress Halle Bailey Getting Support From Snow White Actress Rachel Zegler After New Video Drops?
Disney princesses continue to stick together!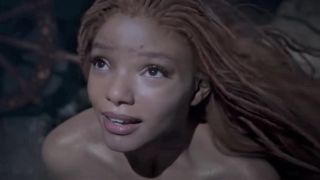 (Image credit: Disney)
Ever since Disney's live-action The Little Mermaid cast Halle Bailey as Ariel, this upcoming Disney movie has received a lot of attention. Unfortunately, Bailey has also been experiencing backlash as a result of Disney hiring a Black actress to take on a role that has previously been portrayed as white before. Fortunately, she has gotten a whole range of loving support from her admirers. One of those admirers includes Snow White actress Rachel Zegler after a new promo video of The Little Mermaid dropped.
If you were already excited about Disney's live-action take on The Little Mermaid, prepare to be even more so, as new footage came out that shows the swimming stylings of Ariel and a glimpse of Melissa McCarthy as Ursula displaying her evil cackle. After Halle Bailey posted the 30-second video on Instagram, another Disney actress, Rachel Zegler, showed her outgoing support with her comment, "babygirl. my ariel. ❤️" You can check out this fascinating new promo below.
This proves that Disney girls have to stick together! This promo gives us a preview of the stunt work in The Little Mermaid that we'll see the 22-year-old take on. Her intense physical training involved her being in the water all day, on wires or a harness. Considering a big portion of the movie will be spent with Ariel's legs in the form of a tail, I'm sure it will involve extraneous movement for her to play a mermaid. This video also features the emotional rendition of "Part of Your World," as well as the colorful scenery of the underwater world. It looks like Avatar: The Way of Water won't be our only glimpse of the beauty of the deep.
This isn't the first time the West Side Story actress has shown her support for Halle Bailey on social media. There was a time when a social media user posted the hashtag #NotMyAriel in reference to Bailey and Zegler stood up against the harsh post saying "if you don't support my girl halle, who is the perfect ariel, you don't support any of us." Rachel Zegler can absolutely relate to this, as she's a Latina actress cast as Disney princess Snow White, who was also previously played by white actresses in the past. While the Colombian/Polish descent star has said she's never imagined having an opportunity to play such an iconic Disney princess, she feels grateful for a door to be open to her.
The positive responses that Halle Bailey has gained during the promotion of The Little Mermaid have been extraordinary from many other people. Young girls who were watching the previous trailer for the first time felt so happy seeing a Black girl like them being represented on screen playing the celebrated mermaid. Late night talk show host Trevor Noah also responded to the backlash, as well as Splash's Daryl Hannah in defending the casting decision. Most importantly, the Grown-ish actress' unwavering support from her family reminded her of the importance her new Disney role has brought to the Black community. This American actress/singer is already earning the praise that's worthy of a Disney princess.
Halle Bailey and Rachel Zegler are taking the world by storm with roles previously played by white actresses and showing the public there is room for diversity and inclusion. Watch Ariel swim across the big screen in The Little Mermaid's 2023 movie release on May 26th, while Snow White hits theaters on March 22nd, 2024.
Your Daily Blend of Entertainment News
Just your average South Floridian cinephile who believes the pen is mightier than the sword.